If you are a startup or small business, having the right growth strategies is going to make all the difference. A growth strategy is often defined as a long-term vision that you have for the direction of your business, taking into consideration current market conditions and forecasting future challenges. The idea is to pick the right growth strategy to ensure the long-term success of your business.
It is a known fact that small businesses and startups have limited resources but face the same (if not more) challenges as their bigger counterparts do. Getting your growth strategy right in the beginning will clarify your mission, vision, and purpose. This also ensures that your business continues to grow even if there is a change in management, given that your direction has been defined. 
The general goals behind any business include a combination of one or more of the below:
To introduce a new improved version of an existing product or service in the market
Realize that there is potential for growth for a particular sector where you have the expertise
Grab a major share of the market and become a player to be reckoned with
Value addition to a product that already is in high demand
Release a completely new product because you see the need for it in the  market
While the above are some excellent reasons to start a new business, it is also important to define your growth strategy.
Growth strategies for your business
Existing market penetration
Often seen as a simplistic but effective growth strategy, this involves improving your share in an existing market. In most cases, it would involve reducing prices to increase sales and, therefore, market share. If you think this is a viable strategy, it is essential to streamline your expenses and improve productivity before doing so. While planning this technology, you should be certain that you can improve revenue with volume sales, as you are reducing your profit margin.
Expand to a new product
Many a time, this strategy becomes a necessity due to the way the product is evolving. For instance, the development of cellular technology made devices like a pager redundant. Manufacturers or sellers of pager devices had to move to sell mobile phones instead. 
Move to a new market
If your current market has no potential to yield more sales or profits, then this strategy comes into place. And by new market, it does not necessarily mean new areas or geographies. It could be something as simple as moving from the wholesale market to retail. For example, a food ingredient manufacturer has gone from selling only to hotels and restaurants directly to selling from supermarkets.
Diversify your product portfolio
This is a case where you are already manufacturing or selling one product but decide to move to another product and that too a new market. One of the best examples is when a jeans manufacturer saw the need to expand their product portfolio to shoes and bags as these seem to be in demand in the new market they have entered. 
Acquire other businesses
Many companies use acquisitions and mergers as an effective growth strategy as they can step into a new market or introduce a new product without going through the teething stages. However, mergers and acquisitions require the company to be rich in funds to do this, which would mean knowing the types of venture capital your business would need.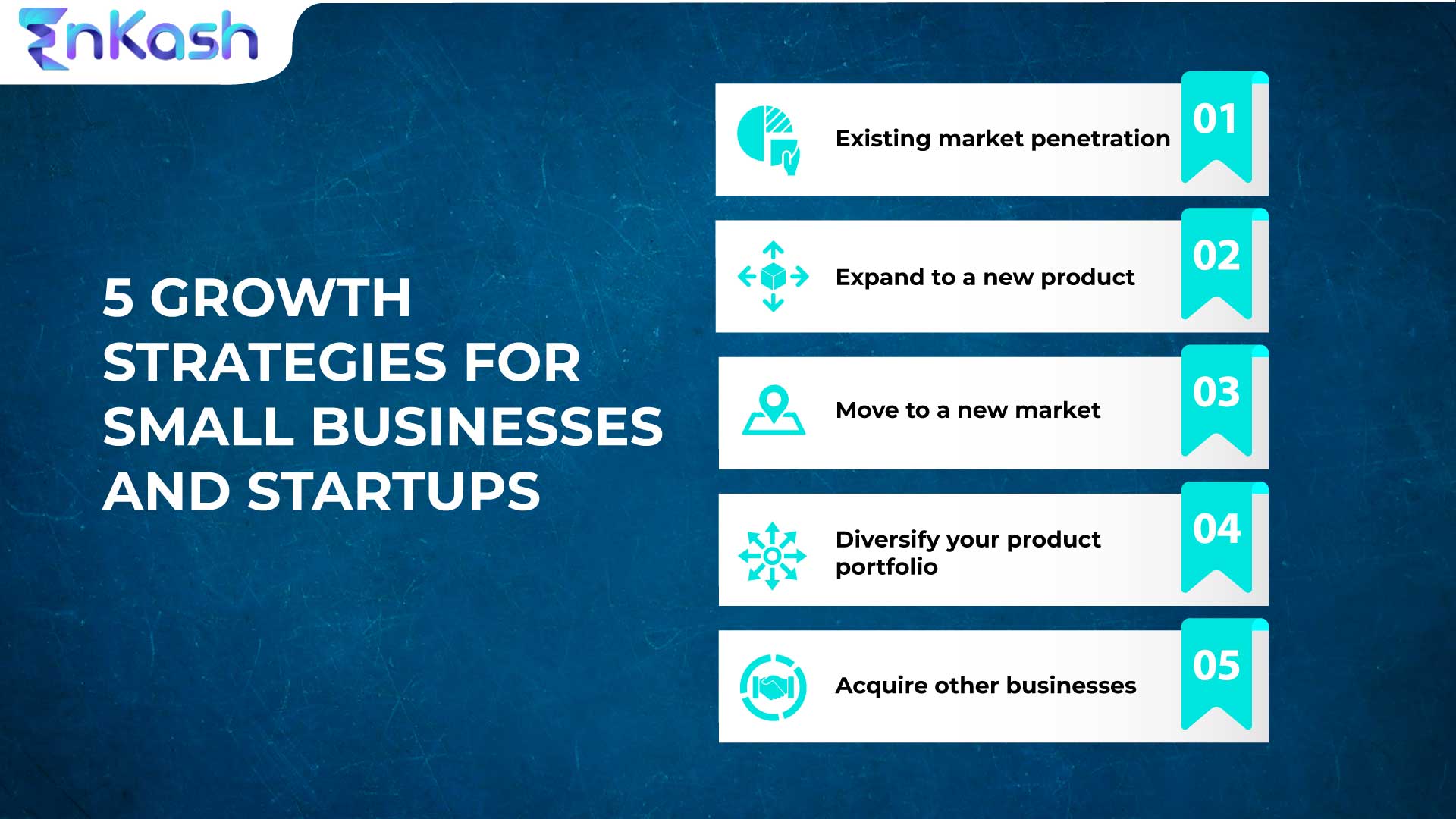 In conclusion, business growth strategies require a solid foundation of streamlined operations to work well. 
At EnKash, we help you streamline your financial operations with smart technology. As Asia's 1st and smartest spend management platform, EnKash not only enables you to improve collections, payables, and expense management but also manage aspects like bank reconciliation, audits, etc.