From startup expenditure to sourcing business assets to improvement costs, a huge expense is involved in running a business. Moreover, the expenditure may vary depending on the business type. Therefore, monitoring these expenses is crucial for your business's growth. This is where spend management comes into being. 
Your business needs spend management software solutions to build competitive strength, boost productivity, eliminate needless expenses, and generate value through digital transformation.
Wondering what it is? Here is a detailed guide to how the spend management software can help you keep things simple and strategic. Read on for a broad view – 
What is a spend management software?
Spend management software helps an organization keep a check on their spending. Doing this helps the businesses to save extra and gain maximum from their operations. Using the SAAS spend management software offers complete visibility and control to the businesses over their spending, ensuring they can cover all their debts and fetches maximum profits. The main goal behind using the spend management tools is to: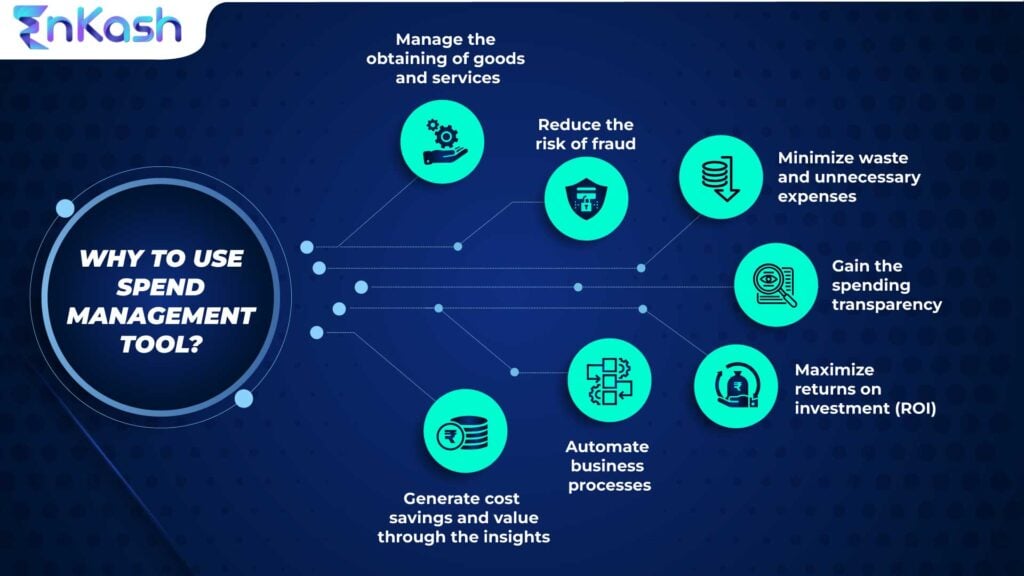 Advanced accounts payable automation software integrated into the procure-to-pay workflow significantly outperforms standalone solutions in optimizing and automating accounts payable. Its goal is to maximize efficiency and value generation across the procure-to-pay (P2P) process while simultaneously reducing errors and waste.
A crucial part of any company's digital transformation plan is to decide on the spend management software. EnKash is, therefore, the best spends management platform to help you. It plays a significant role in corporate process management as well. Continuous improvement, data-driven strategic planning, and centralized, real-time collaboration and communication are a few of the areas it helps.
How does spend management software benefit your business?
The spend management software helps to offer numerous benefits to the companies by consolidating their spend management and integrating the improvements whenever required. Therefore, it helps offer users a centralized and comprehensive hub to extract value. So, let's take a closer look at how you can keep things simple and strategic with SaaS spend management software.
The spend management tools use process automation, iterative improvement, centralized data management and analysis techniques to increase the speed and accuracy of routine tasks. In addition, this software improves the efficiency of the business by:
Controlling the spend
Offering real-time spending analysis
Strategic sourcing for an accurate spending
Maintaining the positive supplier relationship management
Automating the invoice processing to reduce the manual task
To ensure profits, you need to avoid unnecessary expenses. The spend management software helps in achieving these goals via the number of ways that are listed below:
The comprehensive analysis of spending data and supplier performance helps the users stay updated on internal and external risks
The Key Performance Indicators (KPIs) can be established to help measure the business's internal process and spending efficiency
The software helps fetch complete and accurate information to simplify the complex task of financial forecasting, reporting, and audits
It helps to simplify supplier relationship management, encourage strategic partnerships, and reduce costly misunderstandings
Lower the cost of goods and services
The spend management tools help to make it easier for the business to negotiate for the lower cost of goods and services. It creates insights for the business by offering spend visibility and high KPIs for vendor performance. Having this knowledge, therefore, helps to create the contract management negotiating power to empower companies for better pricing. The better your relationship with the supplier is, the clearer your vision will be regarding the upcoming needs and expenses, and the better you can negotiate for lower prices.
Using this spend management software helps to make it easier to pay for the approved invoices.
Fully integrated software environment
The best spend management software integrates the existing enterprise resource planning (ERP) solutions and other systems to create a central hub. As a result, the users can access all the relevant information for the cost-effective purchase of goods and services, collaborative initiatives that help support the organization's goals and implement the best practices across the entire organization.
Stronger business intelligence
Business intelligence, a natural by-product of the analytics and insights offered by spend management software, and results in better spending and sourcing. Instead of entering data or looking for exceptions, it enables procurement teams to concentrate on critical strategic planning and relationship building.
Teams can analyze internal procedures, vendor performance, and overall spending trends using business intelligence information to make decisions and implement policies that increase productivity. This intelligence ensures that business continuity is safeguarded from unforeseen disruptions and promotes a profitable supply chain.
Boost your savings and productivity with EnKash
Global procurement experts know that how you spend your money impacts your company's capacity to create value and effectively compete. An effective spend management software solution makes managing spending considerably more efficient, simple, and controllable.
The spend management software enables you to take charge of business spending. It promotes strategic decision-making, better cash-flow management, supplier relationship management, process optimization, and continuous improvement. In the end, it produces a healthier bottom line and increases the worth of your company.
EnKash is undoubtedly the best spend management platform that helps users streamline the budgeting process, control spending, and improve the organization's cash flows. So, you can set budgets, optimize expenses, and increase savings as per your business requirements. The customizable budget can track and optimize expenses and improve savings. To ensure there is no unjustified overspending, you can set the limits with EnKash and fetch maximum benefits.  So, without further ado, connect with us today, and keep track of all the expenses with SaaS spend management software.