Virtual account allows businesses to initiate seamless financial transactions and maintain track records. Various large, medium, and small-scale businesses are shifting towards virtual accounts as they are more convenient and easier to monitor. These accounts are highly advantageous compared to traditional bank accounts and boost business transactions providing a hassle-free banking experience.
Maximum organizations tend to have multiple bank accounts for different purposes, such as payroll distribution, vendor payments, reimbursements, client-specific accounts, etc. Manual handling of these accounts through traditional banks makes the process more confusing and time taking, often resulting in multiple discrepancies during the auditing. Virtual account bridges all these gaps with its numerous features. Let us learn what is virtual banking account and how it can help your business.
What is Virtual Banking Account?
A virtual bank account is a type of financial account that allows you to conduct financial transactions and manage your money online without needing a physical bank branch or chequebook. These virtual accounts are like sub-ledgers that are linked to a primary account. You can create multiple accounts for different business purposes such as receiving and making payments, managing cash flow, and tracking expenses. All the information will be archived at one source. These accounts have their own unique number linked to the primary bank account. Now that you are aware of what is a virtual banking account, here are its benefits:
1. Convenience: Virtual accounts are entirely online, which means you can manage your finances and make transactions from anywhere with an internet connection. It can be useful for businesses that do not have a physical location or that have employees working remotely.
2. Lower costs: Virtual banking accounts often have lower fees than traditional bank accounts. Reason being, they do not have the overhead costs associated with maintaining physical branches.
3. Increased security: Virtual accounts have strong security measures to protect against fraud and unauthorized access. This can give you peace of mind and help protect your business's financial information.
4. Flexibility: Virtual banking accounts offer a range of features and options, such as the ability to accept and make payments online, manage expenses, and track employee spending. This can help you streamline your financial processes and make managing your business's cash flow easier.
5. Easy integration: Many virtual accounts can be easily integrated with other financial tools and software, such as accounting programs or invoicing platforms. This can make tracking and managing your business's financial data easier.
How Can You Make More Profit with the Presence of Virtual Accounts?
Virtual accounts play a pivotal role when it comes to making profits. Your bank statement will always be up to date without visiting the bank, it will help your company maintain relations with additional sources, such as suppliers, and you can easily find whether you are making more profit or losing money and from which area. There are immense ways a business can make a profit with the presence of virtual accounts, and some of them are: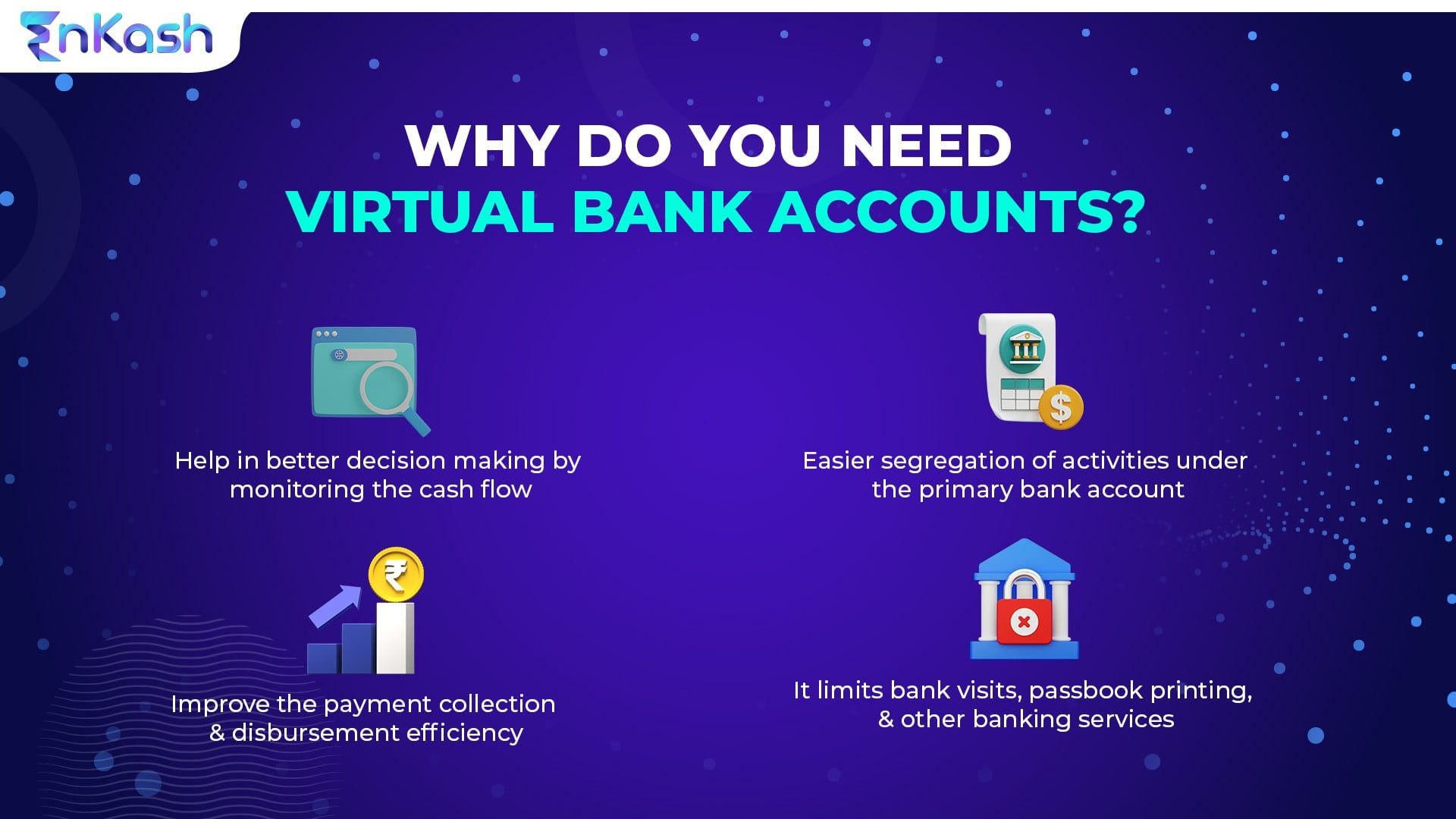 Virtual banking accounts can help businesses reduce costs by eliminating the need for physical checks, bank visits, and other traditional banking services. This can save the business money on bank fees, printing costs, and other expenses.
It can also increase efficiency by automating certain financial processes, such as payment collection and disbursement. This can free up time and resources to be better spent on other business areas.
Virtual banking accounts can enable businesses to accept various payment methods, such as electronic and mobile payments. This makes it easier for customers to pay, potentially increasing sales and revenue.
Virtual accounts can help businesses improve their cash flow by automating financial processes and streamlining payments. This can allow the business to invest more in growth and expansion, potentially increasing profits.
It is important to note that virtual accounts alone may not necessarily increase profits for a business. However, when used effectively as part of a broader financial strategy, they can be a powerful tool.
What Can a Business Achieve with Virtual Accounts?
Any business, be it small-scale, medium-scale, or large-scale, can achieve numerous things with virtual accounts. The biggest benefit is the possibility of expanding internationally and tapping new markets by easily accepting payments from clients or consumers from different countries. From the expansion point of view, payments often create the biggest hurdle, and these virtual accounts are the best measure to bridge the gap.
Explore Virtual Account Management Solutions With EnKash
With the immense benefits mentioned above, creating virtual accounts for your business is about time. Reduce manual efforts and increase your staff productivity by just opening a virtual account with EnKash. EnKash is a spend management platform offering businesses virtual account management solutions. With EnKash, you will get the flexibility to structure all the complex account hierarchies and enable a self-service orientation. From collection and disbursement to reconciliation, you can depend on EnKash to help streamline your financial requirements with the services provided. Explore our website for more information and solutions on virtual accounts!