Do you need help keeping up with employee medical reimbursements? Is tracking payments and data sync in real time taking too long? It does not have to be that way. Processing employee reimbursements quickly and accurately is critical to keeping your business running smoothly. It ensures that your employees receive the money they are entitled to in a timely fashion.
However, real-time tracking payments and data sync can be challenging. Manual processes are slow, labor-intensive, and prone to errors, while outdated systems can lead to delays and missed deadlines. Fortunately, there are multiple ways to streamline and automate medical expenses reimbursement by employer. By leveraging technology, employers can speed up the processing of employee reimbursements and track payments online in real time. This makes it easier to ensure that employees receive their dues quickly and accurately.
By taking advantage of technology, you can ensure that medical expenses reimbursement by employer is processed quickly and accurately. This will help ensure a smooth cash flow and keep your employees happy.
Difference between Medical Reimbursement and Allowance
The difference between employee medical reimbursement and allowance is an important one to understand. Medical reimbursement is a type of insurance plan where a provider pays for certain medical expenses after they are incurred. It is used as a form of a health plan or to supplement other insurance plans. Companies themselves offer medical expenses reimbursement by employer, and the amount of reimbursement provided will depend on the specific project. The employer will define which medical expenses will be eligible for reimbursement, and the employee will be required to submit a claim for reimbursement.
A company gives its employees an allowance as a form of financial aid to help cover certain expenses. This allowance can be provided for various reasons, such as to help with transportation costs, to cover the cost of purchasing tools or equipment necessary for the job or to help with the cost of continuing education or training. The allowance is usually given regularly and is included as part of the employee's salary package. It's important to note that an allowance provided by a company is not the same as financial aid provided by educational institutions or government-funded programs, which are typically based on financial need or academic merit. An allowance provided by a company may be a negotiated benefit or part of the compensation package for the employee.
What comes under employee medical reimbursement?
Medical reimbursement from employer is essential to any health insurance plan if you are employed in a well-structured company. They can help to offset costs associated with medical treatments, surgeries, and other services, making them a crucial part of health care coverage. Primarily, medical expenses reimbursement by employer is designed to cover medical expenses that are necessary and reasonable. This means that your health insurance provider will only reimburse the costs of medical treatments and services essential for your diagnosis and care. Examples of expenses eligible for medical reimbursements are hospital stays, prescription medications, physical therapy, outpatient services, and more.
In addition, medical reimbursements from employers can also cover preventive care. This includes preventive exams, tests, and other services that help to detect or prevent illnesses or diseases. Preventive care covers immunizations, wellness visits, routine physicals, and screening tests. Medical reimbursement from employer also covers the cost of medical devices and equipment necessary for your treatment. Examples of medical devices and equipment covered under medical expenses reimbursement by employer include wheelchairs, prosthetic limbs, hospital beds, and more.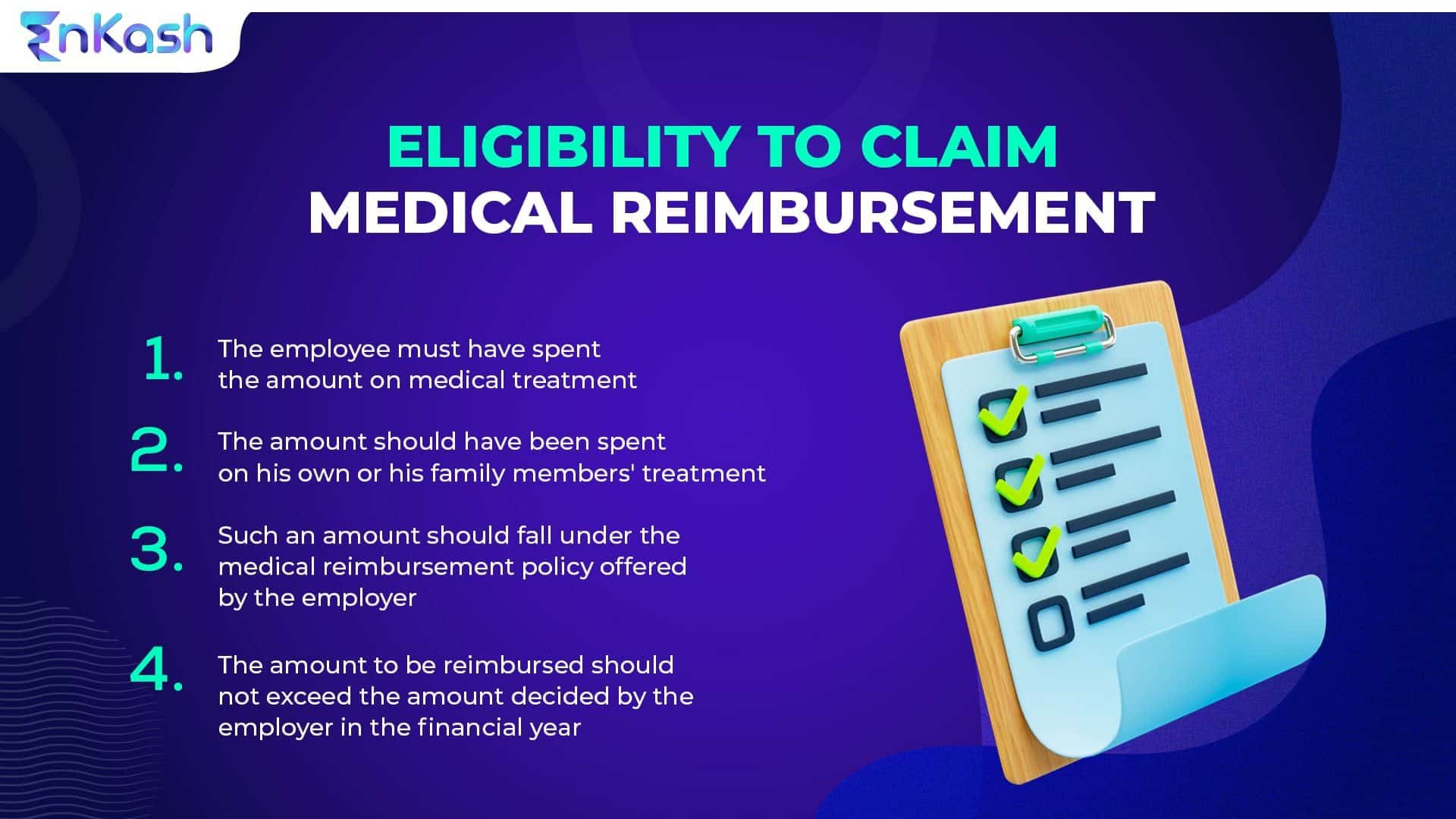 By understanding what comes under medical expenses reimbursement by employer, you can better plan your health care budget and ensure that you have access to the care you need. Your health insurance provider should be able to provide you with a list of covered medical expenses reimbursement by employer to avoid any confusion in an emergency.
Conclusion
If you are an employer, you need to understand the basics of reimbursements. EnKash, one of the best spend management platforms, assists you with reimbursement of business expenses. With EnKash, your departments can have a clear flow of reimbursement status, allowing them to track expenses easily. Furthermore, since the whole system is transparent, there is no need for constant follow-ups. So, if you are ready to simplify your business expense reimbursement process, EnKash is the perfect solution!