If you are new to the corporate ecosystem or planning for a start-up, then understanding the nuances of rental payment is crucial. It is important for corporates to understand their rental payment obligations and make timely payments per the terms of the rental agreement or lease. Failure to do so may result in legal action being taken by the landlord, such as eviction or huge monetary penalty So, to make corporate rental payments, a company typically sets up a system for managing and tracking the payments.
For example, it could include automatic payments under an all-in-one comprehensive commercial payment platform. In addition, companies need to keep accurate records of their rental payments, as this can help them avoid misunderstandings or disputes with landlords or property managers.
Moreover, companies must maintain good communication with their landlords or property managers. It can help to resolve any issues that may arise and ensure a smooth and positive rental experience. If you are still unsure what rental payment is and its necessity to help you focus on the core business activities, then we are here to cover it all for you. Read on!
What Do Rental Payments Mean?
Rental payments are payments made by a tenant to a landlord or property owner for the use of a rental property, such as a company space, an apartment, or a house. The rental payment amount is typically agreed upon in a written lease agreement, which is a legally binding contract between the landlord and tenant.
In technical terms, a rental payment is a financial transaction between a landlord and a tenant by which the owner provides the company right to occupy the rental property for a specified period in exchange for the rental payment. This transaction is governed by the terms of the rental agreement or lease, which may include provisions related to the amount and frequency of the rental payment and any additional charges that may be incurred.
Important factors to consider for rental payments
Payment due date
The due date for rental payments is typically specified in the lease agreement. It's important to make sure you pay your rent on time to avoid late fees and potential eviction.
Payment methods
Landlords may accept different forms of payment, such as cash, check, or electronic payment. Make sure you ask your landlord what payment methods are accepted and follow their instructions.
Late payments
If you are unable to pay your rent on time, it's important to communicate with your landlord as soon as possible. Many landlords will work with tenants to devise a payment plan, but it's important to be proactive and avoid escalating the situation.
Security deposit
Many landlords require tenants to pay a security deposit, a sum of money that is held as collateral in case the tenant causes damage to the rental property or fails to pay rent. The security deposit is typically returned to the tenant at the end of the lease period, provided the property is in good condition and all rent has been paid.
Rent increases
Some landlords may increase the rent during the lease period, usually in accordance with local laws and the lease agreement terms. Therefore, it's important to be aware of potential rent increases and budget accordingly.
Renters insurance
It's generally a good idea for tenants to purchase renters' insurance, which can help protect their personal property in case of damage or loss. In addition, some landlords may require tenants to have renters' insurance as a lease condition.
By understanding these key aspects of rental payments, you can ensure you comply with your lease agreement and avoid any potential problems with your landlord.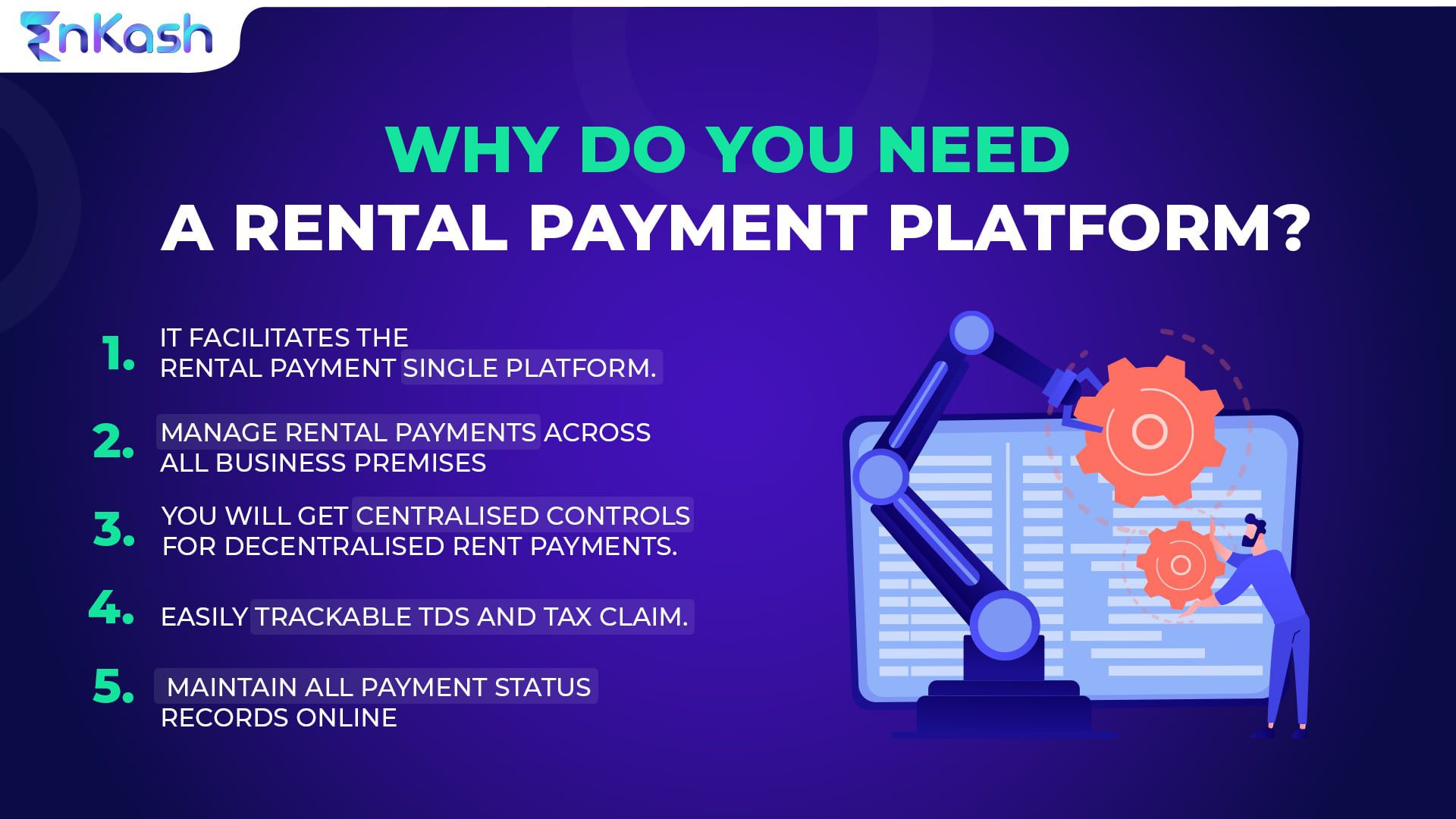 Rental Payment: Advantages and Processes
Rental payment refers to the payment made by a tenant to get the right to occupy a rental property. To understand EnKash's rental payment platform, we have mentioned a few advantages below.
You can automatically fetch and pay all the rent from one platform
You can also get a configurable centralized/decentralized payment or approval system on one screen
You can easily make payments through a virtual credit card and manage cash flow from any device
Easily manageable TDS certificates across all payment
Get automated prepopulated digital payment receipts
Track the advance or deferred payments easily
The rental payment process is easy to understand; you will know the details, such as the duration of the tenancy, the amount of rent to be paid, and any other rules or obligations that apply to the tenancy. The following process will help you understand the rental payment process:
Firstly, you need to get the rent records that will automatically be fetched from the platform
Then review the advance payments, ad hoc deductions, and recoverable
Manage GST and TDS deductions against the rent record
Approve the bill records, whether single or bulk
After that, make a rental payment with a single click
In the end, you will get MIS in your ERP compatible format
Process Of Paying Rent through Credit Card
Customers can pay rent through credit card, but it is important to consider the potential costs and benefits before using this payment method. The process of paying rent through a credit card generally involves the following steps:
1. Check with your landlord
Some landlords may not accept credit card payments, so it is important to check with your landlord to see if this is an option
2. Set up automatic payments
If your landlord does accept credit card payments, you may be able to set up automatic payments through your credit card company or opt for a virtual credit card
3. Provide your landlord with your credit card information
You will need to provide your landlord with your credit card information, including the card number, expiration date, and security code
4. Authorize the payment
You will need to authorize the payment, either through a written authorization form or by providing your signature on a credit card authorization form
5. Credit card rent payment charges
Some credit card companies, or third-party services charge a fee for processing credit card payments, so check if you have enough credit to cover the rent payment and fees
It is important to note that if you pay the rent through credit card, it will ask for additional fees and impact your credit score, although it depends upon your credit card terms and how you use it. Therefore, reviewing your credit card agreement and considering the potential costs and benefits before using your credit card to pay your rent is always a good idea.
EnKash for Rental Payments
The rental payment platforms allow landlords and tenants to make and receive rental payments online. These platforms can offer a convenient and secure way to pay rent and can be especially useful for landlords and tenants in bulk payments. In addition, EnKash is a spend management platform that helps businesses track their overall expenditure and manage transactions such as rental payments to optimize their financial performance. Explore our solutions today to streamline the rental payment procedure of your business.