A fascinating step towards sound business spending are virtual credit cards. They provide businesses with a safer, more personalized, and transparent way to pay for rent, vendors, GST, bills, and many other things. A company can make purchases using a virtual card directly from their desktop, which makes managing finances easy for the finance team.
Reduced processing costs, simplified vendor payments, and improved internal accountability are just a few advantages that the virtual card business offers to businesses. Compared to physical cards, these well-known virtual card businesses aid in more cost savings while enhancing simplicity and security for employee purchasing.
This article will cover all that you need to know about using a virtual card business, including how to get an instant virtual credit card free right away and the advantages of doing so. Continue Reading!
What is a virtual card for business?
A virtual credit card is just like a standard credit card, except that you do not possess a physical copy. The cardholder's name, credit card number, billing address, CVV, and expiration date are all included in a virtual card business, along with all other relevant facts and identifying details.
It acts like a Visa, MasterCard, or any other physical card when making an online transaction. Its ease of use has helped the virtual card business grow swiftly into one of the most affordable, practical, and secure e-payment methods, especially for online transactions.
A digitally constructed virtual card business can be issued for recurring payments, to settle a single transaction issue for a predetermined amount, or to establish a card that can be created on demand and used individually. The cardholder might make further purchases up to the monthly business spending limit in the second circumstance.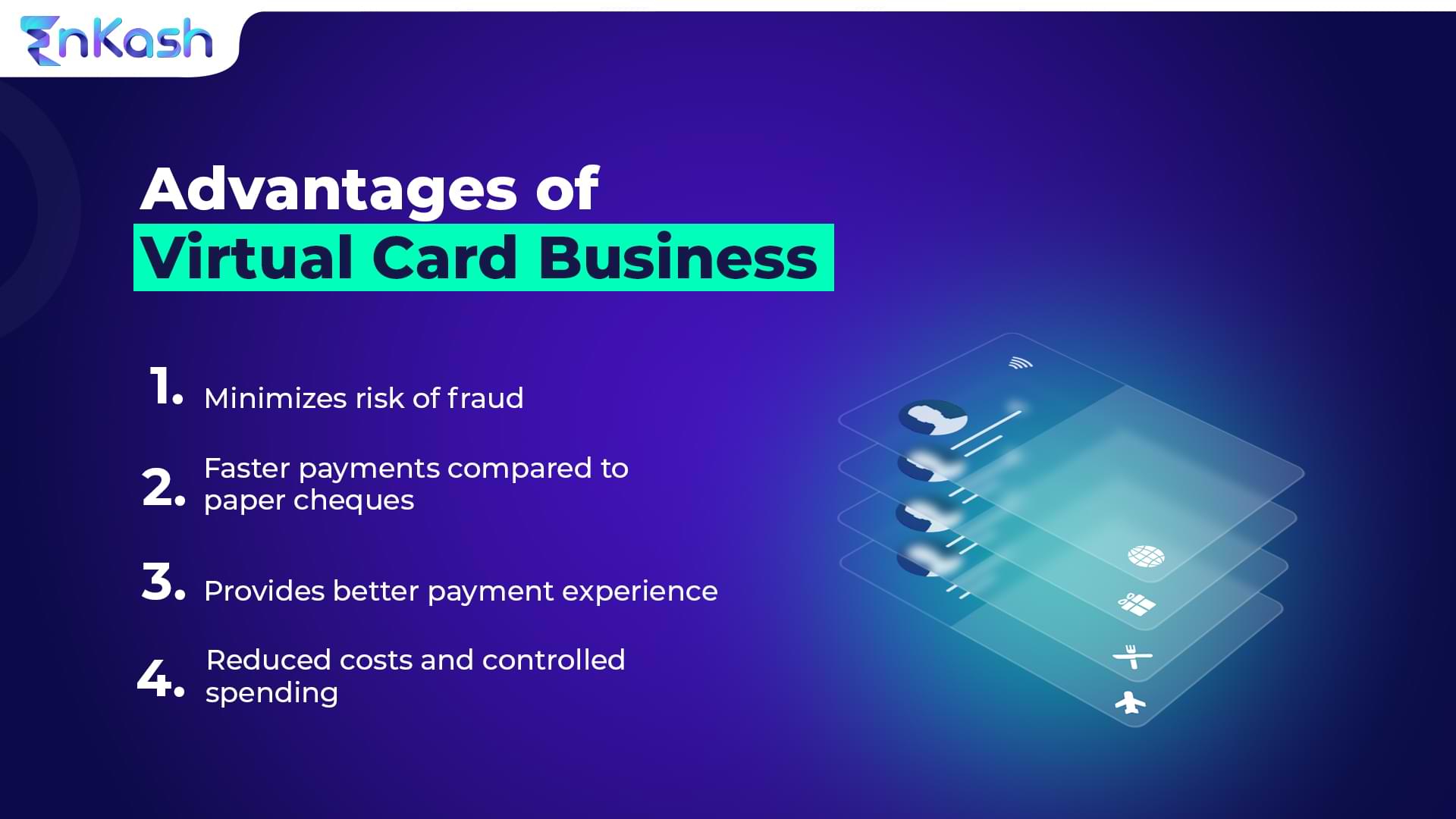 Benefits of virtual card business as a payment solution
The primary objective of virtual credit cards is enhanced safety in an increasingly digital world, as is the case with the new financial technology. However, security is just one aspect of the innovative technology connected to virtual card business payments. There are other additional advantages listed below:
Security: Your physical and virtual cards are connected to your primary account. Still, the virtual card business protects your data by restricting the information revealed when you make a transaction. These systems tokenize data, encrypting your account details and generating a random sequence or token that you can only use to make one-time payments.
Easy to use: The ease of use of virtual cards over real ones is one of their key advantages. With the help of these solutions, users may make timely payments without having to deal with the trouble of passing around a business card.
Control on expenses: You may choose your spending limits and the number of merchants you wish to pay using virtual cards. These measures ensure that your employees use business money appropriately and defend your account from hackers.
Get it free of cost: Most card issuers offer this free virtual card, and that too without charging extra. As a result, you can get an instant virtual credit card free right away, and you don't need to pay anything more to get one.
Enhances accountability: You should no longer stress about making payments or track down the accounts department to acquire receipts for processed payments because of the categorization, labeling, and orderly organization of every payment made so far or still to be paid.
The remaining balance can be transferred: If your virtual card business expires and you still have available credit on your card, it will be transferred to your main credit card to ensure full utilization of your credit card limit.
Steps to apply for a virtual card
Follow these 6 steps to apply for a virtual card:
Visit EnKash's Website and click on sign up tab
Tap on the credit card tab under the freedom section
Enter GSTIN/PAN details for verification
Save the details and enter the OTP received on your phone number
Upload your company documents, director's PAN card, e-mail, and mobile number for verification
Submit your application and get your free virtual card
How is a virtual card helpful for businesses?
Manages your budget across teams: When a team member needs a virtual card number, the virtual card business can help you generate, manage, and distribute them. Then, it will be simple for you to keep an eye on that team member's spending and make sure they stick to the allocated budget.
Act as a business travel card for employees: You can use your virtual card business to arrange travel for personnel representing you at events or on business travels, including lodging and travel.
Serves as an expense management tool: By offering spend analysis and other financial reporting data, some virtual card businesses act as an expense management tool. This helps you know how much money an employee spends and where you don't want someone to end up overspending or making unwanted expenses.
Monitoring subscriptions and campaigns: Your company may have subscriptions that require monthly or yearly payments. The virtual card business eliminates the hassle of coordinating various payments for multiple subscriptions by filling the card with funds that will cover each subscription service.
Virtual credit cards are superior in many ways compared to traditional credit cards. These cards lower the danger of credit card fraud because they don't reveal your credit card information to anyone other than you. One of the top digital spend management platforms, EnKash enables companies of all sizes to automate payments and take advantage of paperless transactions.
EnKash lets you manage your financial transactions across your company's divisions from a single platform. So, manage vendor payments easily, pay recurring bills on time, and allow your finance department to conduct an audit without difficulty with EnKash.