In this digital era, everyone has become more aware of the product prices in the market. They are well aware of new vouchers that can help them save money while making bill payments. The power of 'offers' is quite evident in the present market, and businesses are gaining massive benefits from it. Here is a detailed guide to bill payment offers and how they benefit companies of all sizes.
What is a bill payment offer?
A timely bill payment is an integral part of everyone's life, as it helps to keep you away from financial trouble. Bill pay service is the facility businesses offer their customers or vendors to help them easily make utility payments online without missing any payment. In addition, you will not have to worry about heavy penalties, poor credit scores, and other unnecessary issues by making timely payments.
Bill payment offers refer to different discounts that your vendor offers to the business to pay bills online, along with saving some extra money. Bill payment offers are undoubtedly the best way companies can invite new customers or vendors to their page, along with retaining the existing ones.
How bill payment offers are helpful for the business?
Today, numerous online bill pay service platforms have been introduced that offer ease of bill payment to help businesses make their regular payments on time. These platforms provide various bill payment offers so that the users can enjoy the payment process while saving an extra amount on each bill they pay.
By using a particular platform each time to make a payment, your business can enjoy numerous advantages and gain trust and loyalty. EnKash is a spend management platform that offers online bill payment services to ensure timely and automatic payment. In addition, they offer a single platform to easily make all the payments and provide the best bill payment offers.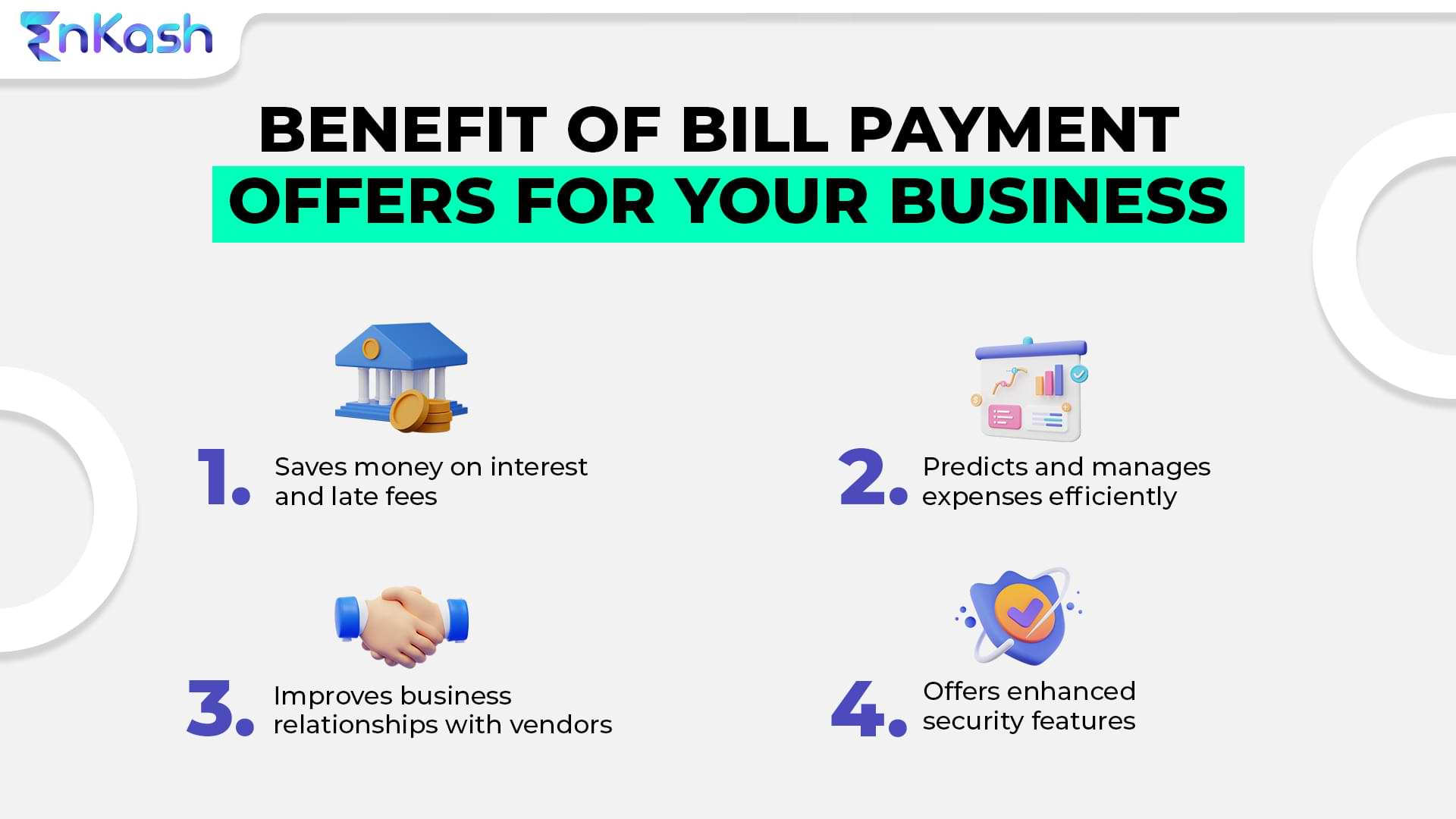 Benefits of online bill payment
Opting for a pay bill online is a way of getting financially organized. It helps to eliminate the chances of errors and makes financial management much easier for businesses. Below listed are some of the benefits your business can gain from making an online bill payment:
Convenient
While you set up an automatic pay bill online method for your business, you let recurring payments for your bills be made easily and on time. Enrolling the details is a one-time process, after which your bank takes over the recurring payment process. All the account details are organized and stored at one centralized location, and there are no chances of any late or missed payments. One of the most significant advantages of using online payment options is that it offers various advanced features to businesses.
Secure
By using an online payment method, you don't need to be concerned about sharing your private information. Paying online also protects your identity and privacy by removing the possibility of lost or stolen documentation.You will no longer be required to pay for checks, stamps, or envelopes, and you can also cut your petrol expenses. By eliminating paper bills, your business can even reduce the environmental impact.
Instant payment
Instant payments are made possible for businesses through online payments. Making a payment is simple and convenient while seated at home or work. It eliminates geographical limitations and enables buyers to make purchases even when they are not there physically. In addition, the online payment gateway offers businesses a quick transaction confirmation, allowing them to feel secure about their purchases.
Control payments
With the online bill pay service and its advanced features, you can control when and how your business can pay the bills. You can even change or cancel the payment request until the payment is completed.
Get rewarded
Pay bill online method has gained popularity, wondering why? The online bill payment platform offers numerous rewards and advantages to businesses for making regular and timely payments. You can get bill payment offers or reward points if you use your credit card to make regular payments. Due to all these expenses, numerous points are added to your credit card account each month.
Build credit score
When your business pays bills on time by automatically setting payments, it helps boost your credit score. A good credit score positively affects your business processes as you can easily avail of a loan. The higher the credit score, the better it will be for your business processes in the future.
Best cards for bill payment offers
The virtual card is a unique and digitally generated 16 digits credit card that helps users to pay online. It is the same as the physical card that contains all the details like credit number, CVV and validity date, but the details are available online. These cards offer instant online application advantages to the users. EnKash provides the best virtual cards for business needs and offers customized services. With our virtual card, businesses can make timely bill payments, decentralize spending with DIY factors and take advantage to block, unblock, track, and manage expenses without any additional support. So, with virtual cards powered by our trusted banking partners, you can easily reduce costs and make timely payments.
Conclusion
Paying bills on time is crucial for every business's growth and stable operations. Various online platforms, like EnKash, provide bill payment offers to help save money on every payment.
Do you want to streamline payment processing for your business? Connect with us and enjoy the best bill payment offers. With our platform, we help companies to pay their bills automatically. You can now set auto reminder notifications for the bills from our platform and never miss a chance of timely payments. Explore our solutions to improve spending quality and plan your cash flow in the best way possible.