The Goods and Services Tax is a comprehensive tax system introduced in India in 2017 to replace a multitude of indirect taxes. The GST is levied on the supply of goods and services and is collected at each stage of the supply chain. Under GST, taxpayers are required to pay taxes based on their turnover and the nature of their business.
Payment of tax under GST is made through the portal, a user-friendly online platform with various features to facilitate tax payment. Taxpayers can pay taxes using multiple methods, such as debit cards, credit cards, net banking, and NEFT. The portal also allows taxpayers to generate a challan, a document used to pay tax, and facilitates GST challan payment online.
Continue reading and learn more about GST payment, its importance in India's tax system, and the significance of timely payment of tax under GST for businesses. Also, read more about the consequences businesses face due to delays in payments.
Tax Payment under GST and its importance in India's tax system
Tax payment under GST refers to paying the Goods and service tax liability to the government. It is a tax system that has replaced indirect taxes like VAT, excise duty, service tax, etc.
Under the GST system, registered businesses must file their returns regularly and pay the GST liability within the due date. The GST liability is the tax a company owes to the government after considering the available input tax credit (ITC). Therefore, businesses must comply with the regulations and pay their taxes on time to avoid penalties or legal issues.
Importance of payment of tax under GST in India's tax system
Payment of tax under GST is crucial for the government to generate revenue. The government uses this revenue to fund public services and infrastructure projects, which in return benefit citizens
With the implementation of GST, a single tax system has replaced several indirect taxes. As a result, taxpayers find it easier to comprehend and abide by tax laws due to the simplified tax structure
The GST system requires businesses to register and file regular returns, which has improved tax compliance. The increased compliance has led to a broader tax base, ensuring that more taxpayers contribute to the country's tax revenue
Significance of timely payment of tax under GST for businesses
For several reasons, timely tax payment under the Goods and Services Tax is crucial for businesses. Some of the key reasons are:
Avoiding penalties and interest: The GST law mandates that delayed tax payments will attract interest and penalties. The interest is charged at 18% per annum
Compliance with the law: Goods and service tax is a legal obligation, and businesses must comply by filing returns and paying taxes within the prescribed time. Timely payment helps companies to remain compliant with the law and avoid legal consequences
Maintaining a good credit score: Timely payment also helps businesses maintain a good credit score. Credit rating agencies consider a business's compliance with tax laws when determining its creditworthiness
Avoidance of disruption to business operations: Non-payment or delayed payment can result in suspending a business's GST registration. This can lead to irregularity in business operations and loss of credibility with customers and supplier
Building trust with customers and suppliers: Timely payment of tax under GST also helps businesses build trust with their customers and suppliers. This is because the timely payment of tax demonstrates a commitment to ethical and responsible business practices
Consequences faced by businesses due to delay in GST payments
Businesses in India must comply with the Goods and Services Tax regime and promptly pay their tax liabilities. Delays in payments can result in severe consequences, including: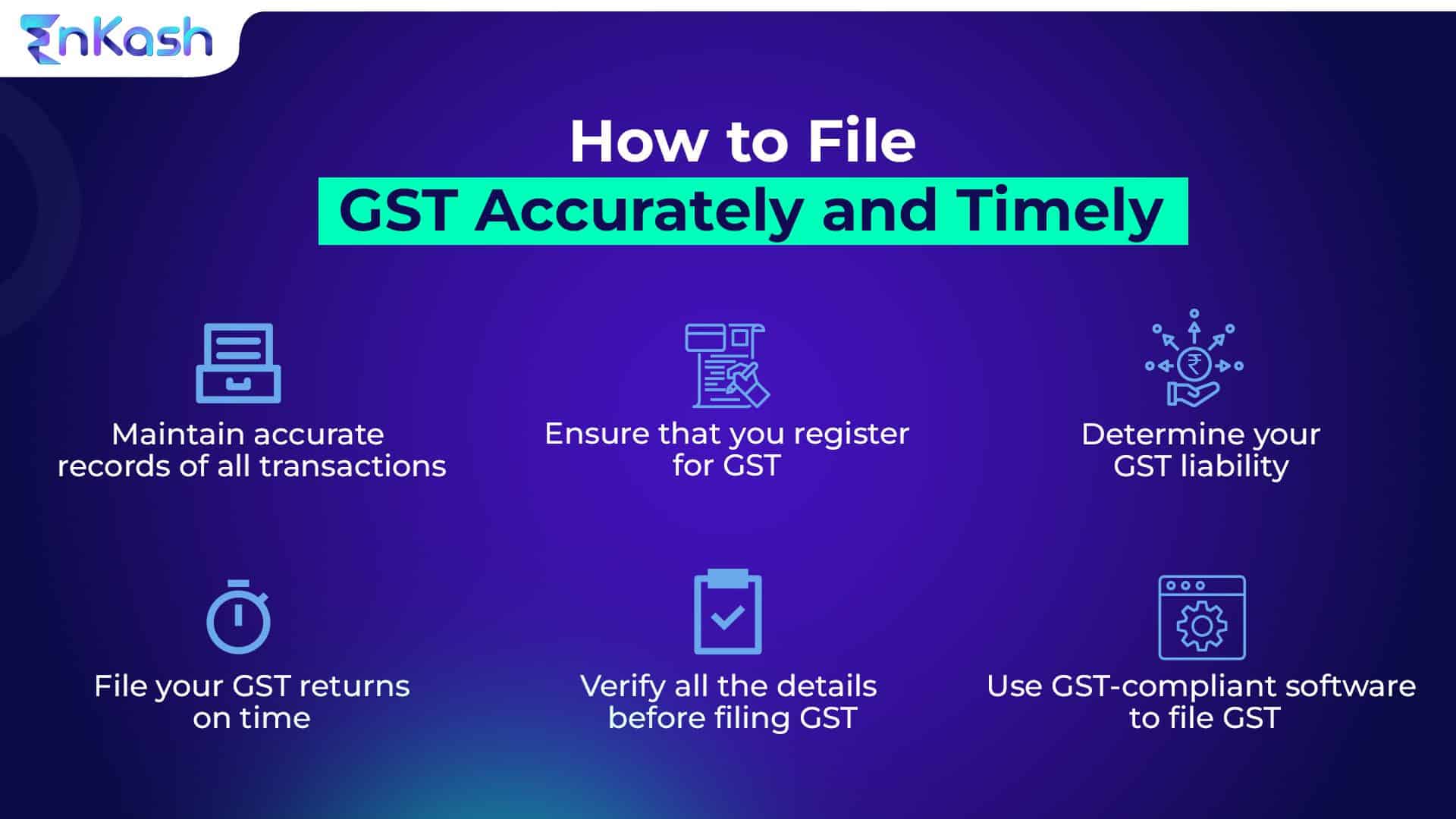 Interest and penalty: Businesses that delay their payments may have to pay interest and penalty charges. The interest rate is 18% per annum, and the penalty is 10% of the unpaid tax
Legal proceedings: The GST authorities may initiate legal proceedings against businesses that fail to pay their dues on time. This can lead to additional expenses and reputational damage to the business
Loss of credit: Delayed payments may result in input tax credit (ITC) loss. A business must pay GST within the specified timeline to be eligible for ITC, which can increase the cost of production and reduce the competitiveness of the business
Blocking of e-way bill: The GST authorities may block the e-way bill of businesses that have failed to pay their GST on time. This can result in transportation delays and impact the business's supply chain
Suspension of GST registration: The GST authorities may suspend or cancel the registration of businesses if they do not pay on time. This can result in the business's closure and impact the employees' livelihood
EnKash is a spend management platform that offers a range of fintech solutions to help businesses manage their finances efficiently. One of the ways EnKash can help businesses with the timely payment of tax under GST is by providing a seamless and automated process. It offers a payment platform integrated with the GSTN, making it easy for businesses to file their returns and make timely payments.
EnKash's payment platform allows businesses to quickly generate challans and pay their GST challan payment online without manual intervention. In addition, EnKash's platform can also help businesses with GST compliance by providing real-time updates on regulations and changes in the tax system. This ensures that businesses stay up to date with the latest rules and regulations and avoid penalties or fines for non-compliance. Join EnKash and unlock a world full of financial possibilities.