In today's competitive corporate culture, every business faces immense challenges to etch their presence in the market. Homogenous firms are batting against each other to gain market share, Fortune 500 firms are influencing consumer behavior to earn profits and start-ups are innovating mechanisms to enter the commercial playing field. But one of the most imperative functions that every business takes utmost care of is vendor relationships and financial transactions concerning them. Vendors make the backbone of businesses and are responsible for the latter to realize their commercial goals and commitments.
The primary component that shapes the relationship between businesses and vendors is a robust account type for vendors. A reliable account type for vendor must advance seamless transactions between dealing parties to build confidence and trust among them ,So, it becomes even more essential to develop a smooth and fast payments account type for vendors. Additionally, account type for vendors play a key role to ensure a strong commercial relationship with them and viz a viz promote productive operations. Let us further understand how a great account type of vendor has the potential to elevate the portfolios of businesses.
Account type for vendor: the ingredient for excellence
An account type for vendors is a type of financial account that is used to manage the transactions and payments between a business and its suppliers. It is a critical component of a business's vendor accounting system that is used to record all transactions made to suppliers, including the purchase of raw materials, supplies, and other goods. The vendor account is also used to track significant payments made to suppliers, including invoices, credit memos, and other financial transactions.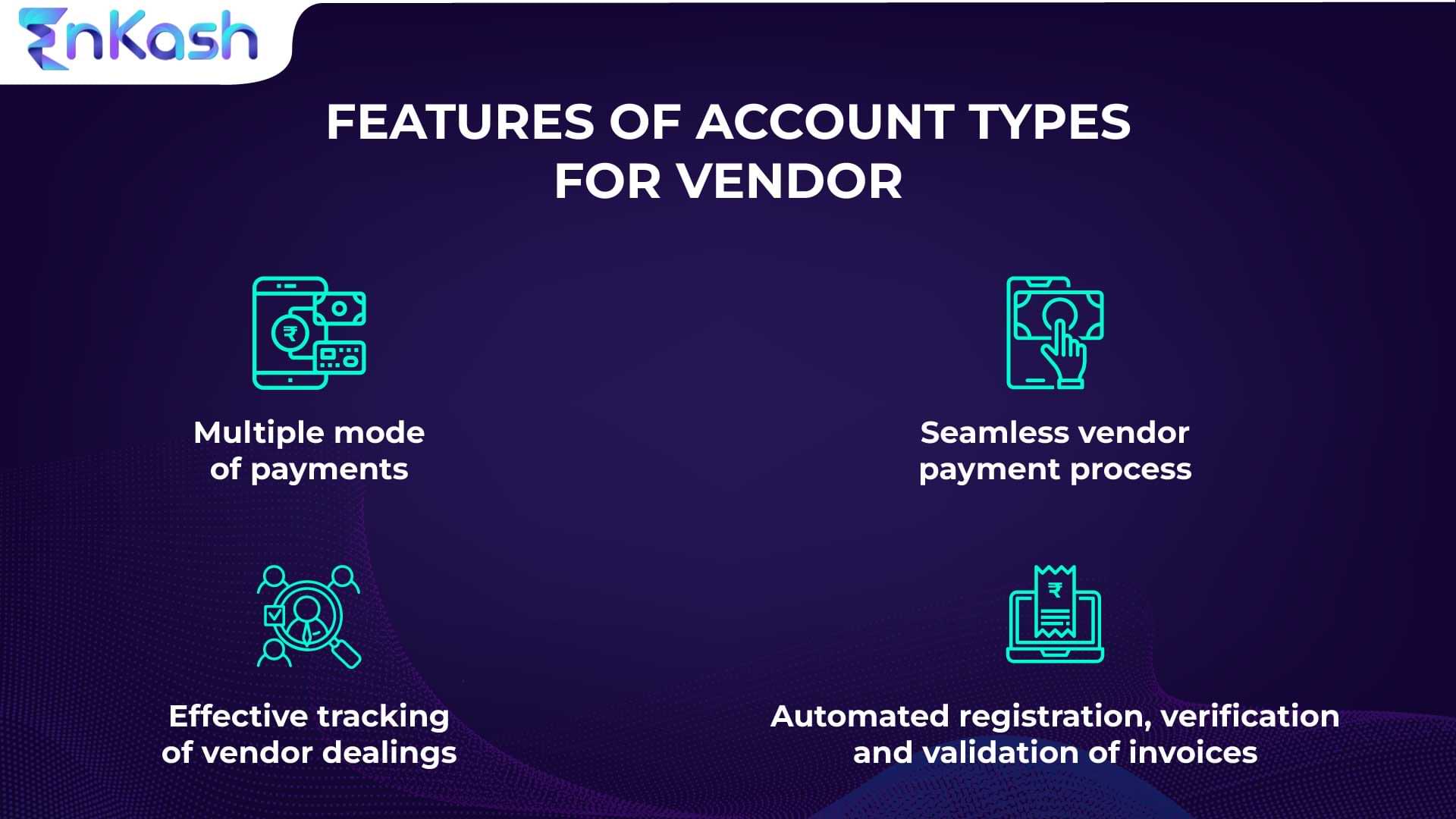 An effective account type for vendors can assist businesses to manage their cash flow and build a strong network of loyal vendors that can upskill and upscale firms exponentially. By keeping track of the transactions made with suppliers, businesses can ensure that they are paying their bills on time and accurately. This helps to avoid late payment penalties and maintain a good credit rating, which is critical for a business's success.
Furthermore, a solid account type of vendor provides valuable information for financial reporting and analysis. This information is used to track the cost of goods sold, calculate the average cost of inventory, and determine the profitability of a business. Therefore, emerging businesses need to opt for the best-in-class payments platform which promises a seamless and secure account type for vendors.
Simplifying the steps of vendor payment process
There are several structured steps of a vendor payment process that includes an organized account type for vendors and with EnKash payments services, you can conduct every step with accuracy and accountability.
Manage invoices
When a firm raises a purchase order, they are served with certain invoices that account for the total payable amount to the vendors. These invoices must be audited and GST-compliant. They are also responsible for kickstarting the payments process for vendors. To ensure the proper registration of these invoices, EnKash provides a strong automated system of entries which smoothly creates a database of relevant entries and exhibits transparency to the concerned parties.
Verification and validation
This process is incredibly significant for businesses as it assures the authenticity of the invoices and prevents them from getting scammed. With EnKash as your payments service, you can create and utilize an ultra-secure and efficient account type for vendors that vigilantly matches the purchase orders to the invoices. Moreover, our highly encrypted platform offers digital validation and verification methods to safeguard businesses from commercial frauds and bottlenecks.
Vendor accounting
The systematic accounting of vendor dealings is the core responsibility of a business to ensure smooth payments and timely deliveries. Whether it is the cost of goods sold or the calculation of the average cost of inventory, a regulated account type for vendors is necessary for businesses to make informed financial decisions.
We at EnKash understand this sensitive process and have built a highly interactive and user-friendly interface. This interface quickly integrates with your ERP and accounting platform to promote methodical accounting of vendor payment processes.
Coherent payments and transactions
To conclude this process cycle through a systematic account type for vendors, consistent and flexible payments create a strong mutual relationship between the parties. With versatile modes of payments advanced by EnKash, you can carry out streamlined transactions within a few seconds. Our payment mechanism supports all modes of online payments and can process multiple payments with minimal effort and no time. Through our portal, you can stay rest assured of your transactions and catalyze your growth incrementally.
Thus, it becomes evident what an account type of vendor is and how it plays a key role in developing a prominent and successful business. Furthermore, vendor accounting keeps you aware and agile about your company's financial dealings and makes a good name for your firm in the corporate market. It is often believed that effective vendor relationships progress the company's stance in the market. For the same, we provide you with an efficient platform that will ensure a successful engagement with all your suppliers. Therefore, to attain excellence through this process, choose EnKash as your payments platform and envision a reliable and smooth vendor accounting system.
What is Vendor Payment Portal?
The vendor payment portal is an online platform that enables businesses to streamline and automate their payment processes with their vendors or suppliers. It serves as a centralized hub where businesses can manage and track their payments to vendors in a convenient and efficient manner.
The primary purpose of a Vendor Payment Portal is to facilitate the payment cycle between a company and its vendors, providing a secure and transparent method for processing invoices, making payments, and maintaining a record of transactions. It offers a range of features and functionalities that simplify the payment process, including invoice submission, invoice approval workflows, payment schedules, and reporting.
By implementing a Vendor Payment Portal, businesses can significantly reduce the time and effort involved in manual payment processing. It eliminates the need for paper-based invoices and manual data entry, minimizing errors and improving accuracy. Additionally, it enables businesses to maintain a real-time view of their financial obligations and monitor the status of payments, ensuring timely payments to vendors and avoiding any disruptions to the supply chain