Invoice processing includes a complete cycle of receiving the invoice, verifying, reviewing, approving, processing it for payment and keeping a record. Companies often receive multiple invoices, including freelancers, vendors, subscriptions etc. Therefore, a smooth invoice processing cycle is essential, as not paying the additional resources on time may damage your relationship with them.
However, for businesses, manually keeping track of multiple invoices is tedious and may result in delayed payment. Making invoice processing easier, automated invoice processing tools enable businesses to carry out the whole procedure on software and archive the information for the auditory purpose.
Understand Invoice Processing
An organization mingles with various suppliers, vendors, freelancers, and other service providers for various purposes depending upon the business requirement. It can be for raw materials, daily-use office items, and more. These suppliers send invoices either as a PDF or an e-invoice to their Point of Contact (POC), which is verified and then sent to the finance department for clearance.
It is a series of multiple steps, from when the invoice is received to when it is paid and recorded. Without an effective workflow, these invoices will not be processed promptly. Verification requires maximum effort as the POC must match all the supplied goods with the items billed in the invoice. If there is any discrepancy, it is essential to address it and send the invoice back to the supplier. A wrong invoice may create problems during the monthly audits. Here is the invoice processing workflow:
1. Receiving the invoice
The first step in the invoice processing workflow is to receive the invoice. This could be in the form of a paper invoice mailed to the organization or an electronic invoice emailed or sent through a vendor portal.
2. Verifying the invoice
Once the invoice is received, it is important to verify that it is complete and accurate. This may involve checking that the invoice contains all necessary information, such as the correct invoice date, vendor name and contact information, and a clear description of the goods or services being invoiced.
3. Coding the invoice
Once the invoice has been verified, it is typically coded for financial reporting purposes. This may involve assigning the invoice to a specific department or cost center within the organization or assigning it to a specific project or contract.
4. Approving the invoice
After the invoice has been coded, it must be approved for payment. This may involve reviewing the invoice to ensure it meets the organization's payment terms and policies and obtaining the necessary approvals from the appropriate parties.
5. Matching the invoice to the order or contract
In some cases, the organization may require that invoices be matched to a purchase order or contract to ensure that the goods or services were received as expected and that the price is correct.
6. Processing the payment
Once the invoice has been approved and matched to any necessary documentation, it can be processed for payment. This may involve creating a check or electronic payment to the vendor or entering the invoice into the organization's accounts payable system for future payment.
7. Archiving the invoice
After the invoice has been paid, it is typically archived for record-keeping purposes. Depending on the organization's policies, this may involve storing the invoice in a physical or electronic filing system.
How Automated Invoice Processing Can Help?
Automated invoice processing helps organizations reduce manual verification efforts and streamlines the entire process. This can reduce the time and effort required to process invoices, freeing staff to focus on other important tasks. Automated invoice processing can also help reduce errors and improve the accuracy of the accounts payable process since it can automatically verify that invoices are complete and accurate and meet the organization's payment terms and policies. Some benefits of automated invoice processing include the following: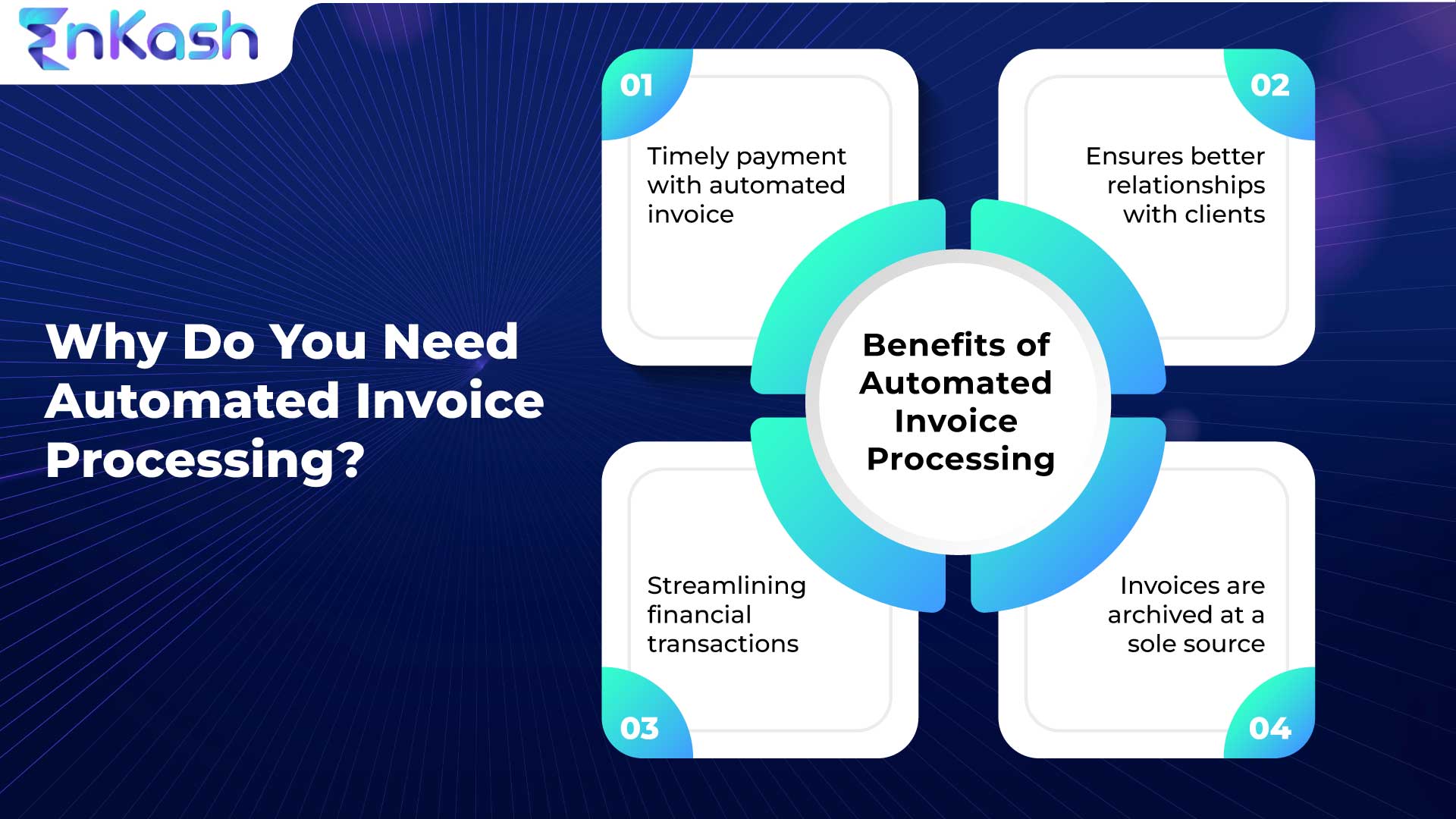 1. Increased efficiency
The automated system can reduce the time and effort required to process invoices, freeing staff to focus on other important tasks
2. Improved accuracy
Helps reduce errors and improve accuracy of accounts payable process by automatically verify that invoices are complete and accurate and meet all terms and policies
3. Enhanced visibility
Automated invoice processing systems often provide detailed reporting and analytics capabilities, helping organizations understand their payment process better
4. Reduced risk of fraud
The automated system also contributes to reducing the risk of fraud by providing additional controls and safeguards to ensure invoices are being processed correctly
5. Improved vendor relationships
This can help organizations pay their bills on time and accurately, which can help to improve relationships with vendors and suppliers
How Does Automated Invoice Processing Help Increase Cashflow?
Invoice processing can help increase cash flow in several ways:
By automating invoice processing, you can quickly send invoices to your customers and follow up on overdue payments, which can help you receive payments faster
Automated invoice processing can help reduce errors in invoices, such as incorrect amounts or missing information. This can help avoid disputes or delays in payment
It can provide better visibility into your invoicing and payment processes, allowing you to track the status of invoices and identify any bottlenecks that may be causing delays
Automated invoice processing can save time and resources, as it eliminates the need for manual data entry and allows to focus on other important tasks, increasing productivity
Overall, automating invoice processing can improve the efficiency and accuracy of your invoicing and payment processes, leading to faster payment collection and increased cash flow.
How EnKash Can Help You with Invoice Processing?
EnKash is a spend management platform that helps small, medium, and large organizations manage cash flow and streamline the transaction process and invoice processing. Our platform allows you to save manual effort and focus on other productive tasks. In addition, our automated invoice solutions help keep track of invoices, which is beneficial during monthly or annual audits. Connect with us today to avail numerous benefits with our automated invoice processing solutions.