The foundation for any business's efficient operation consists of creating precise budget, keeping close check on the business expenses, and streamlining cash flow. We cannot overstate the importance of optimizing your company's cash flow. The landscape has dramatically changed due to automation and technology today, and expense management is now more integrated and uncluttered. It has increased productivity and enabled businesses to use their workforce more effectively.
Regularly monitoring cash flow can identify the possibility of a bank account being exhausted and take preventive actions. and also allows you to take preventative actions. With the best expense management software or best expense tracking software, you can maintain control over cash flow.
Continue reading and learn more about software for expense tracking and how to streamline cash flow with the best expense management software.
What is cash flow?
The term 'cash flow' depicts the influx and outflux of money in a firm. It points toward the amount of cash generated or spent during a given period. In addition to identifying potential inflows, the study also pinpoints the current sources of the cash flow and how the businesses can work on the areas that are hindering the positive influx of cash.
Cash flow analysis must be done with income statement and balance sheet analysis to determine a company's liquidity status. Before coming to any firm conclusions regarding the organization's cash flow, it is essential to do a thorough examination.
With bulk data, it can be time-consuming and labour-intensive to analyze the cash flow manually but deploying the best expense management software can elevate things threefold and increase overall efficiency.
What is an expense management software?
However, we must acknowledge that every business requires the best expense management software to cut down unwanted slack and keep track of the company's expenses so that they can put the money in the right direction where it is needed. The software for expense tracking automates the organization's gathering, tracking, approval, and reimbursement of claimable charges.
Companies can automate a time-consuming procedure, have better control over specific employee expenses, and lower errors by using the best expense management software. Additionally, they offer accurate tracking, quicker reporting, and improved adherence to corporate regulations.
Streamline your cash flow with the best expense management software
Enhanced productivity, cost control, employee happiness, and compliance are all benefits of an automated process. Here are a few ideas to assist you in improving your cash flow:
Simple and quick process: Automated expense management software has made collating data about expenses simpler and more comprehensive. The previous procedure involved printing the document, comprising receipts, and forwarding reports to supervisors. Today, however, the information is shared for approval once the employee submits it through the software, and the amount is instantly credited.
Minimum errors and delays: Automation features in the software improve accounting accuracy and shorten employee payback times. The best expense management software makes identifying mistakes easier, prevents overpayments, and alerts managers.
Efficiency in operations: Employee reports need to be accurate and prompt to enhance cash flow when you bill expenses directly to clients. Accounting, project management, and ERP software are all types of software that track costs and give essential data.
Enhanced Visibility: Employee expense data is easily represented in a visual style using charts and graphics on the dashboard of the best expense management software. Managers may view trends in expenses like how much money an organization spends on a specific individual or department and the typical time it takes to approve an expense report.
Better compliance: The best expense management software helps businesses follow the proper compliance with every agency at all levels. Costs can be bundled and suitably tagged into categories like office, travel, mileage, etc., by businesses.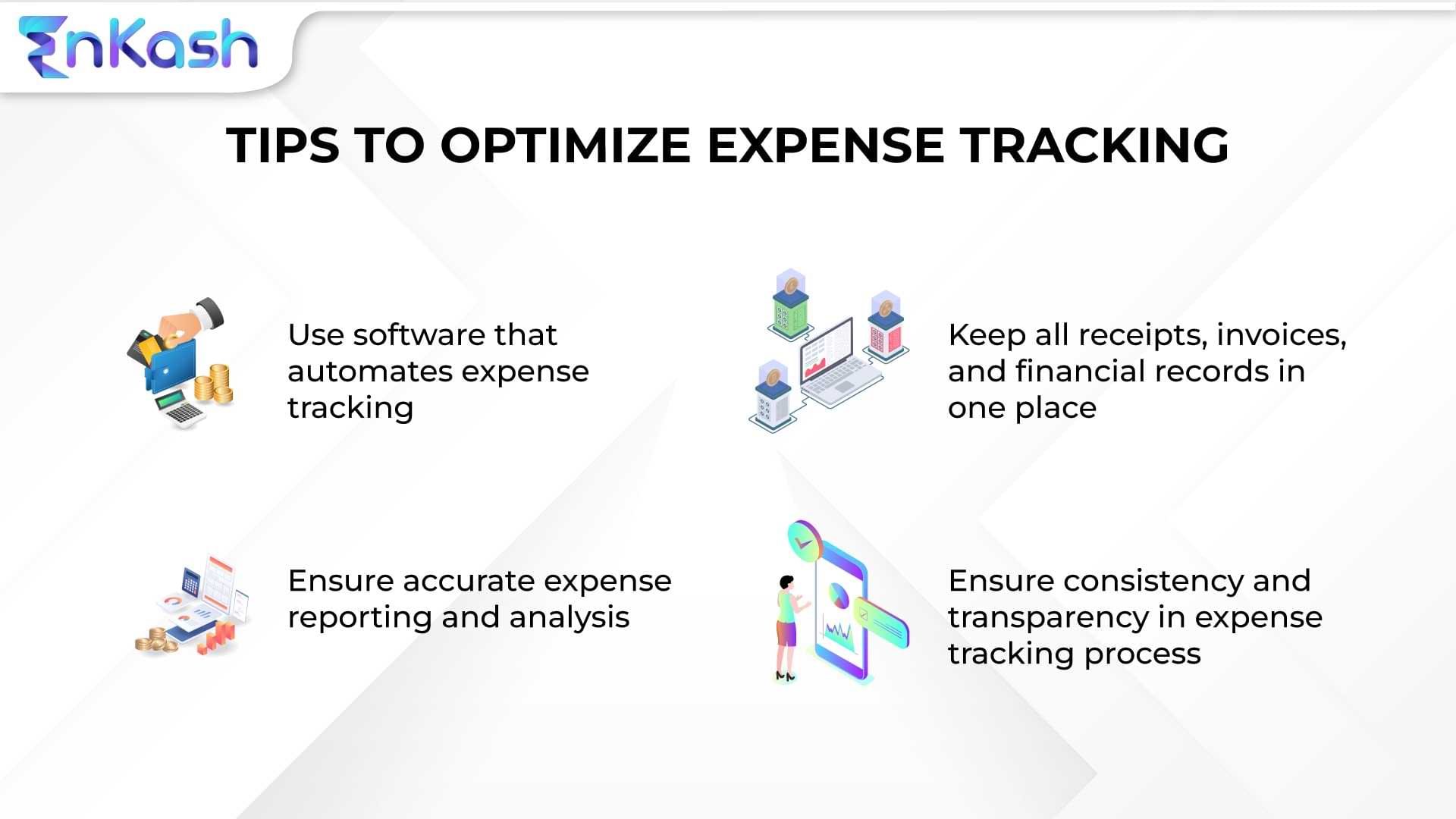 Tips for expense tracking
The key to successfully managing a business is keeping accurate records of all business spending. Along with assisting you with tax time, it enables you to manage your business's important cash flow. You may record and keep track of your business expenses by following the tips below.
Keep personal and business expenditures separate: One of the best things you can do to monitor your business expenses properly is to keep your personal and business costs separate from the beginning. In this approach, the price for either company or personal use will be clear.
Ensure you know what constitutes as a business expense: Learning what qualifies as a business expense and what does not is essential. Keeping track of all costs that fall under business expenses is crucial. Taxes, employee reimbursements, vendor payments, and other charges are referred to as business expenditures.
Record every transaction and keep receipts: An online purchase, a cheque payment for the bill, a purchase at an office supply store with a credit card, or a bill payment at a restaurant for a business lunch. Whenever you make business transactions, you should keep track of them. Prevent getting lost or forgotten, record the transaction as soon as possible.
Employ the best accounting software: To ensure your finances are in order and are not left to guesswork, it is a good idea to use accounting software like EnKash. A straightforward spreadsheet might be sufficient for you when your organization is just starting but planning for business growth necessitates purchasing the best expense management software.
Keep regular check on your business expenses: Review billing and expense processes frequently to ensure they comply with corporate regulations. To make sure no illegal payments are made, evaluate the appropriateness of your travel expenses, and ensure your paid advertising and paperwork expenses are up to date.
Your company's growth depends on your ability to make wise decisions, and to do so, you must have accurate information, especially on your financial situation. With the support of the best expense management software, cash flow can be streamlined guiding your business through the many alternatives you will encounter. You can increase your cash flow, create budgets, and reduce overspending with the help of the spend management platform like EnKash. Explore numerous fintech solutions offered by EnKash today!