In today's fast-paced digital age, businesses are continuously adopting new technologies to streamline their operations and improve customer experience. One such technology is online billing, which allows businesses to generate online bills and invoices for their customers electronically. Use platforms like EnKash to generate online bills to save time and effort while helping your business reduce errors, improve cash flow, and enhance customer satisfaction.
However, generating online bills that are tailored to the specific needs of each customer requires a strategic approach. In this blog, we will discuss the importance of customized online bills and provide tips and strategies for generating them effectively.
The importance of customized online bills
While traditional paper bills serve the purpose of informing customers about their outstanding balance, customized online bills take it a step further. They provide customers with detailed information about their purchases, payment history, and outstanding balance in a way that is clear and easy to understand.
There are various platforms that generate online bills which are customized and can also help businesses build stronger relationships with their customers. By tailoring the billing experience to the customer's preferences and needs, businesses can improve customer satisfaction and loyalty. Customers appreciate businesses that take the time to understand their needs and provide them with a personalized experience.
Tips and strategies for generating customized online bills
There are various tips and strategies that one can follow while choosing the right online platform for generating online bills. EnKash, one such expert, make sure that you get the best online services. With its hassle-free procedure- businesses make sure to provide a well-customized format to generate online bills. Keep reading for such tips and strategies:
Use a professional billing software
The first step in generating customized online bills is to use professional billing software. There are many billing software options available in the market, each with its own set of features and capabilities. However, not all billing software is created equal. It is important to choose billing software that is user-friendly, reliable, and customizable
Personalize the billing experience
Once you have selected the billing software, the next step is to personalize the billing experience for each customer. This can be achieved by including the customer's name, address, and contact information on the bill. You can also include a personalized message or note to thank the customer for their business or provide information about upcoming promotions or events
Provide detailed information
Providing detailed information on the bill is crucial to help customers understand their outstanding balance and payment history. This includes the date and description of each purchase, the payment amount, and the payment due date. You can also provide a breakdown of the taxes and fees charged to the customer
Make it user-friendly
A user-friendly bill is easy to understand and navigate. It should be well-organized, with a clear layout and font size that is easy to read. You can also include hyperlinks to additional information, such as FAQs or customer support, to help customers find the information they need quickly
Offer multiple payment options
Offering multiple payment options is an important strategy to improve customer satisfaction and reduce payment delays. Customers should be able to pay their bills online using a credit card, debit card, or bank transfer. You can also offer recurring payment options or payment plans to help customers manage their payments more effectively
Automate invoice the billing process
Automating the billing process can save time and effort for businesses while improving accuracy and reducing errors. Billing software can automate the billing process by generating bills automatically, sending reminders to customers about their payments, and tracking payments and outstanding balances
Future of online billing
The future of online billing looks bright, with more businesses adopting this technology to improve their operations and customer experience. The use of mobile billing apps is also on the rise, allowing customers to view and pay their bills on their mobile devices. In addition, the use of artificial intelligence and machine learning in billing software is expected to revolutionize the billing process, providing businesses with valuable insights and analytics to improve their operations.
With the onset of AI and ML, the platform that EnKash offers easily analyzes customer data and generates online bills with special customization. Such software also ensures valuable insights and analytics to improve operations. They also ensure data on payment trends, customer behaviour, and potential payment delays. This allows the business owners to make a well-informed decision to improve the cash flow and reduce delays in payments.
So, it is always a good idea to generate online bills and make your billing finance organized and hassle-free. Businesses can also use EnKash as a GST invoice generator; making the process easy.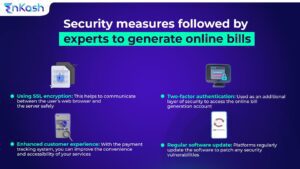 Conclusion
Generating customized online bills is an important strategy for businesses to improve customer satisfaction, reduce errors, and streamline their operations. By using professional billing software, personalizing the billing experience, providing detailed information, making the bill user-friendly, offering multiple payment options, and automating the billing process, businesses can generate online bills that are tailored to the specific needs of each customer.
In the future, we can expect to see even more advancements in online billing technology, such as the integration of artificial intelligence and machine learning. This will allow businesses to analyze customer data and generate customized bills that are even more tailored to each customer's preferences and needs. One can also use professional platforms like EnKash to automate invoices and GST invoice generators.
Also Read: What Businesses Should Know About GST Invoicing Rules
So, while the concept of online billing is very much clear, let the experts do the work for you. With EnKash, the spend management platform, you can generate online bills with utmost ease. They provide your customers with a personalized billing experience. Businesses can improve customer satisfaction and loyalty while streamlining their operations and improving cash flow. With the right strategies and tools at EnKash, businesses can take advantage of this technology and stay ahead of the curve in the competitive digital landscape.