It's no secret that we're living in a digital age, and for businesses of all sizes, accepting payments online has become an absolute must. Whether running an online store or offering services, receiving payments has always been a task!
With EnKash by your side, let your business seek success while accepting payments online.
So, reading further, we'll dive into the world of online payment processing and give you the rundown on the basics you need to know to get started.
Online payment processing and its benefits
Online payment processing allows businesses to accept payments from customers over the internet. This provides a convenient and secure way for customers to make purchases and for companies to receive payments online. The benefits of accepting payments online include the following:
Convenience– Customers can make purchases from anywhere, anytime, without having to visit a physical store or location
Increased Sales– By accepting payments online, businesses can expand their customer base and reach customers who may not have access to their physical location
Cost Savings– Accepting payments online can help reduce the cost of processing payments, as there is no need for manual processing of payments at the time of receiving payments online
Faster Payments– Online payments are processed faster than traditional payment methods, allowing businesses to receive payments online and more quickly
Types of online payment processing methods
There are several types of online payment processing methods available. These include:
Credit and debit card payments – The most common online payment method, allowing customers to pay using their credit or debit card
E-Wallet payments– Payments made using an online wallet, such as PayPal, Apple Pay, or Google Wallet
Bank transfers– Direct transfer of funds from the customer's bank account to the merchant's account
Security considerations for online payment processing
Online payment processing requires high security to protect sensitive customer data and prevent fraud. To ensure a secure online payment processing experience, businesses should:
Use SSL certificates– SSL certificates encrypt customer data, ensuring that it is protected during transmission
Implement PCI compliance– Businesses that accept credit card payments must comply with Payment Card Industry Data Security Standards (PCI DSS)
Use fraud detection and prevention tools– Businesses should use tools like 3D Secure and AVS (Address Verification System) to detect and prevent fraud
Keep software up-to-date– Businesses should keep their payment processing software up-to-date with the latest security patches to prevent vulnerabilities
Issues faced with online payment processing
While online payment processing offers many benefits, it also comes with its own set of challenges. Some of the common issues faced by businesses include:
Chargebacks– Chargebacks occur when a customer disputes a payment made online, resulting in the business losing the funds
Fraud– Online payments are vulnerable to fraud, which can result in significant losses for businesses
Technical Issues– Technical issues with payment processing software or payment gateway can result in delays or failed transactions
Improving the online payment processing experience is crucial for any business that wants to provide customers with a convenient and efficient way to make payments and for businesses accepting payments online.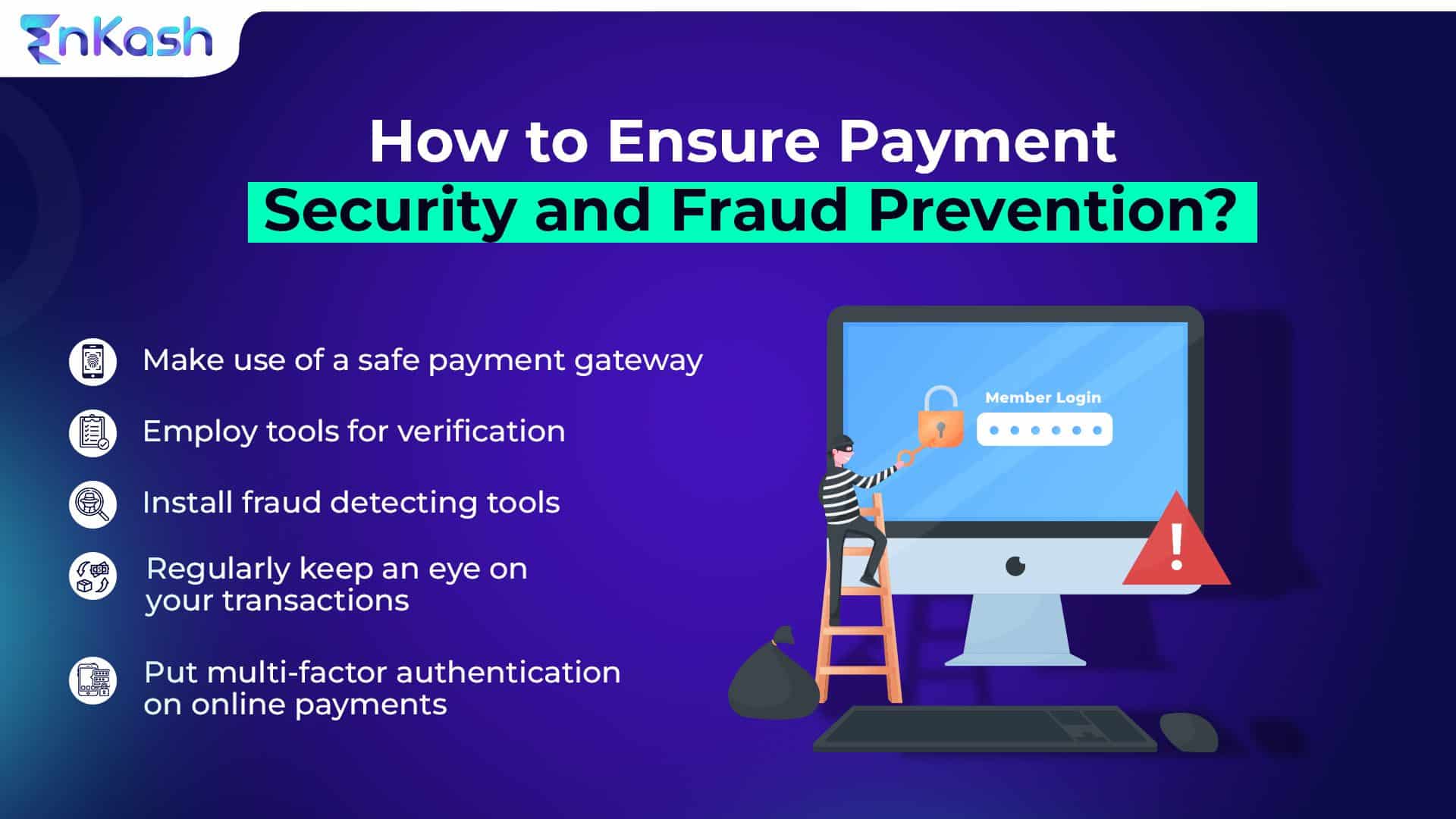 Here are some tips that can help improve the online payment processing experience for customers:
Offer multiple payment options – Customers have different preferences regarding payment methods, so it's essential to provide them with multiple options. Accepting various payment methods like credit cards, debit cards, and mobile payments can increase the chances of successful transactions
Streamline the checkout process – A long and complicated process can lead to cart abandonment, harming your business. Ensure the checkout process is simple, easy to follow, and doesn't require customers to provide unnecessary information. You can also offer features like saved payment information to speed up the process for returning customers
Optimize for mobile – More customers are using their mobile devices to make purchases, so it's essential to ensure that your payment processing system is optimized for mobile users. A mobile-friendly checkout process that's easy to navigate on a smaller screen can make a big difference in the customer experience
Use reliable payment processing providers – Choose a reputable payment processing provider with a good reputation for reliability and security. A trustworthy provider can offer fraud protection, encryption, and other security measures to protect your customer's sensitive information. A reliable provider can also help minimize the risk of downtime, which can impact your business negatively
By implementing these tips, businesses can create a positive online payment processing experience encouraging customers to complete transactions quickly and easily.
Conclusion
Online payment processing is an essential part of modern-day business operations. By accepting payments online, businesses can increase sales, reduce costs, and improve the customer experience.
While security and technical issues are associated with accepting payments online, businesses can overcome these challenges by following best practices and choosing reliable payment processing providers.
With EnKash, you can get yourself world-class fintech management services for your business. Get in touch with us using our website today!