Our world is changing at a much faster rate than anticipated. With rapidly evolving technology and transformations, our ways of functioning are also changing. As payment systems have evolved, we have progressed from the barter system to various types of payment modes through digital. We could not picture our lives without cash a few years ago, but now we rarely carry cash, especially in metro cities.
Since newer modes of payment are coming up and more businesses are opting for types of payment modes, let's understand which modes of payment are best for your business.
Introduction to the digital payment mode
Digital payment is one of the many modes of payment made through an electronic medium, such as a credit card, debit card, or mobile device. Digital payments are becoming a more popular means to make payments as they become more generally recognized. Digital payments are getting more popular because they are more convenient and secure than traditional payment methods. Digital payments also give customers more financial control because they can track their spending and manage their budgets more effectively. In addition, digital payments can be utilized for various transactions, including online shopping, bill payments, and money transfers.
Online payment services
Online modes of payment services are electronic payment systems that allow users to make payments and transfer money over the internet. These services typically involve using a website or mobile app to initiate and complete financial transactions.
Online payment services can be used to pay for goods and services online and transfer money between individuals or businesses. They can be convenient and secure alternatives compared to cash, checks, credit cards, and other payment systems. Following are some of the online payment services that you must know:
PayPal
PayPal is a widely used online payment service that allows individuals and businesses to send or receive payments around the globe.
Google Pay
Google Pay is an online payment system and digital wallet developed by Google, which allows users to make payments using their GPay account.
Apple Pay
Apple Pay is a digital wallet and online payment system developed by Apple which allows users to make payments and transfer funds using their Apple device.
Venmo
Venmo is a popular online payment service that allows users to send and receive payments as well as transfer money between accounts.
Square
Square is a payment processing company that provides a range of online payment services, including a digital wallet and an online payment platform.
Stripe
Stripe is an online payment processing platform that allows businesses to accept payments and manage their finances online.
Amazon Pay
Amazon Pay is an online payment service by Amazon that allows users to make payments and transfer money using their Amazon account.
Different digital modes of payment 
Digital payment modes are becoming increasingly popular in the modern world. There are many different digital payment methods, each with unique advantages and features.
Some of the most common or digital payment modes include the following:
Credit and debit cards
One of the many modes of payment is credit and debit cards. They are accepted everywhere and provide a safe method of payment. Credit cards allow users to borrow money from the issuer and repay it over time. Debit cards are linked to a user's bank account, enabling them to purchase and make payments directly from the bank account. Both sorts of cards are widely accepted and provide a safe payment method. They also make budgeting easier by providing a convenient way to track spending.
E–wallets
E-wallets are digital payment services that allow users to store and manage their finances online. They are becoming increasingly popular due to their convenience and security. E-wallets enable users to store their credit cards, debit cards, bank accounts, loyalty cards, and other forms of payment in one secure location, making it easier to pay online or in-store without carrying physical cards or cash. Additionally, many e-wallets offer features such as budgeting tools, rewards programs, and other financial services. E-wallets are a great way to manage finances, make payments, and stay secure.
Mobile payments
Mobile payments refer to mobile devices, such as smartphones and tablets, to make financial transactions. This payment type has become increasingly popular due to its convenience, speed, and security. Mobile modes of payment can be used for various purposes, including making purchases in stores, paying bills, and transferring money to other people. Additionally, many mobile payment services offer rewards and discounts for customers who use their services. Mobile payments are quickly becoming the preferred payment method for many people, as they provide a safe and easy way to manage finances.
Cryptocurrency
Cryptocurrency uses cryptography for security. This mode of payment is a decentralized form of currency, meaning any central authority, such as a government or bank, does not issue it. Cryptocurrency is often used as a medium of exchange and is typically stored in digital wallets. Transactions are recorded in a blockchain public ledger, which verifies and secures transactions. Cryptocurrency is becoming increasingly popular as it offers a secure and anonymous way to send and receive payments. It is also becoming more widely accepted in various industries, such as online retail, gaming, and banking.
Online banking
Online banking is one of the convenient modes of payment to manage your finances from the comfort of your home. It allows you to access your bank account information, transfer funds, pay bills, and more. With online banking, you can easily keep track of your spending and deposits and set up automatic payments to ensure bills are paid on time. You can also use online banking to apply for loans, open new accounts, and monitor your credit score. Online banking is a secure and efficient way to manage your finances and stay on top of your financial goals.
Each of these digital payment modes has unique benefits, so it is essential to consider which one best suits your 'business's requirements.
Which is the best mode of payment?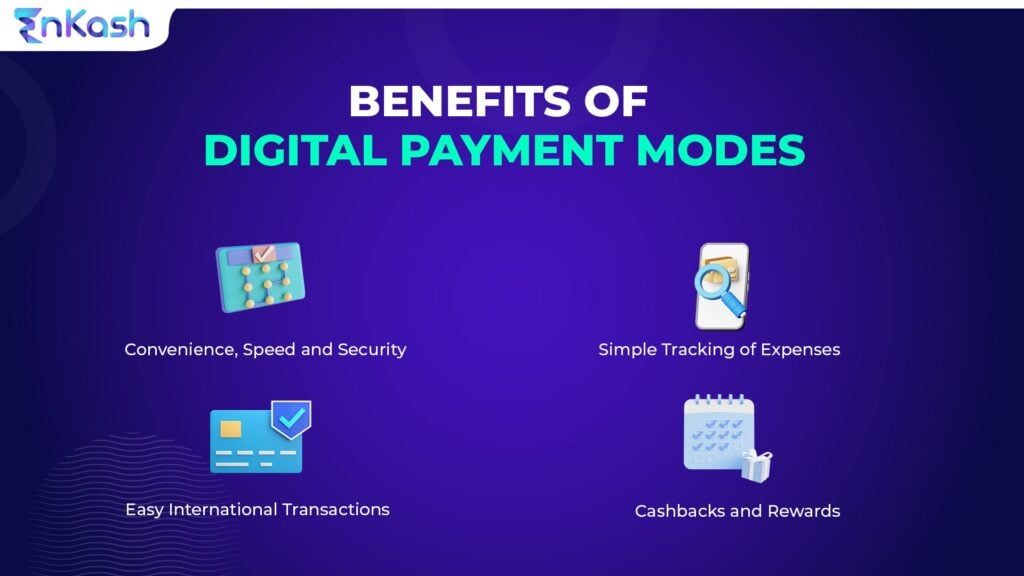 When deciding which digital payment mode is best for your business, there are various factors to consider. What type of business do you have? Do you have customers who prefer to pay with a credit card? What kind of fees are associated with each payment mode? Are there any security concerns you need to consider? Finally, what type of customer service does each payment mode offer? Considering all these factors, you can determine which mode of payment is best for your business. You can rely on EnKash, which is at the forefront of innovation in the modes of payment, by offering easy and technologically advanced solutions. EnKash is dedicated to assisting businesses with their cash flow management difficulties by utilizing cutting-edge technologies.
Conclusion
Start your digital payment journey today with EnKash, to experience optimization, customization, powerful tools, and the convenience of new-age digital cards for smart controls and a seamless payment experience. So, go digital, go smart today with EnKash's modes of payment.