While the world is busy transforming everything online, it is better that you choose the solution for payments which is absolutely trustworthy. Now, you must be wondering how one can do that- with EnKash.
So, you must be wondering what a free virtual card is. Read further with EnKash to gain an understanding on free virtual cards!
What is a free virtual card?
Free virtual cards are digital versions of physical credit or debit cards that can be used for online transactions. Virtual cards in India are gaining popularity among small businesses in India thanks to their numerous benefits. One of the key advantages of virtual cards is that they offer increased security compared to physical credit or debit cards.
Virtual cards are not linked to your bank account or physical card, which means that even if your virtual card details are compromised, your bank account and physical card remain safe. When you create a virtual card, you are assigned a unique card number, expiration date, and security code.
This article will explore the benefits of free virtual cards for your business, how they work, and best practices to maximize their security.
How to get started with a virtual card in India for your business?
Many banks and financial institutions offer free virtual cards to their customers. EnKash in collaboration with a few banks is one such free virtual card provider. To get started, log in to your bank account or mobile wallet app and look for the option to create a virtual card.
When selecting a business credit card in India, it's essential to research and compare different providers' features and benefits. It's also necessary to ensure that your virtual card provider is reputable and has a track record of providing secure and reliable services. Some providers of providers of business credit cards in India, offer additional features, such as cashback rewards or discounts on select merchants, which can help you save money on your online transactions.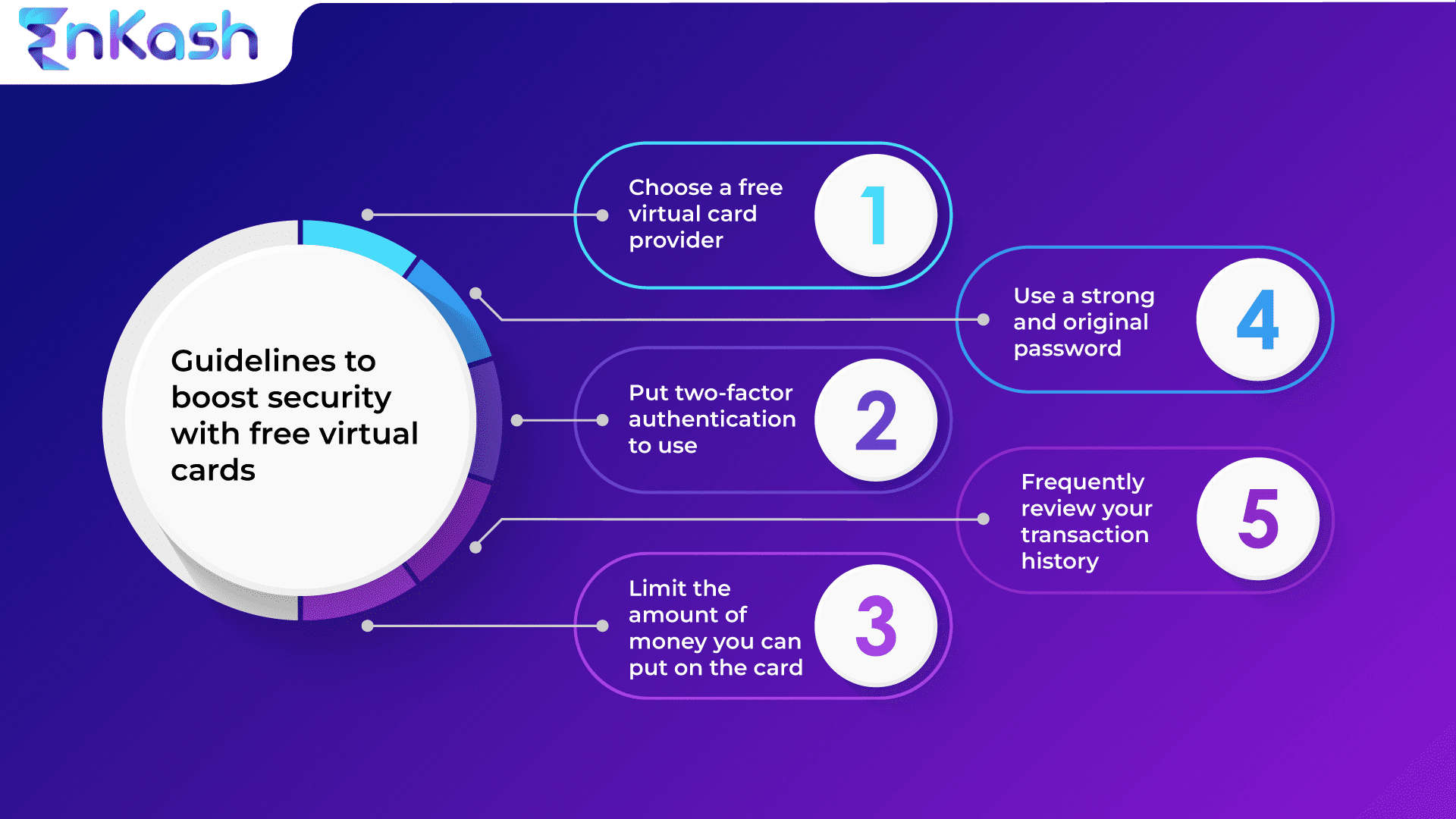 Creating a free virtual card with EnKash
Once you have chosen a virtual card provider, creating a virtual card becomes straightforward. Log in to your bank account or mobile wallet app, select the option to create a virtual card, and follow the instructions. You will be prompted to enter the details, such as the card number, expiration date, and security code. Once coated, you can use it for online transactions.
One of the main advantages of using virtual cards for your business is that you can create multiple virtual cards with specific limits and expiration dates for each transaction or vendor. This can help you keep track of your expenses and prevent unauthorized transactions. It also lets you control your spending by limiting the amount charged to each virtual card.
Best practices to maximize security with free virtual cards
While virtual cards offer increased protection for online transactions, taking precautions to protect your financial information is still essential. Read below some of the best practices to keep in mind:
Use a strong password and enable two-factor authentication for your bank account or mobile wallet app
Only use virtual cards for reputable and trusted websites and merchants
Regularly monitor your virtual card transactions for any suspicious activity
Always use a secure internet connection when making online transactions
In addition to the above-mentioned best practices, keeping your virtual card details confidential is essential; do not share them even with your family or friends. Be cautious of unsolicited emails or calls requesting your virtual card information, as they may be fraudulent attempts to steal your financial information.
Another effective way to maximize security with virtual cards is to use them for one-time transactions or with a limited spending limit. This way, even if your virtual card details are compromised, the damage is limited to the spending limit set on the card. Some virtual card providers also allow you to set spending limits or restrict usage to specific merchants, adding an extra layer of security.
When making online transactions, it's crucial always to verify the website's security features, such as SSL encryption and the padlock symbol in the browser address bar. This ensures that your financial information is transmitted securely over the internet.
By following these best practices, you can maximize the security of your virtual cards and prevent fraudulent transactions. It's essential to constantly scan your virtual card transactions to detect any suspicious activity and report it to your virtual card provider immediately.
Future of virtual cards
Virtual cards are becoming more popular in India as they are a safe and convenient payment option. As more people shift towards online payments, the demand for virtual cards will increase. With technological advancements, we can expect virtual cards to become even more secure and user-friendly soon.
Conclusion
Virtual cards will likely become essential to our financial transactions as the world becomes increasingly digital. Free virtual cards from banks collaborating with EnKash offer a secure and convenient way to make online payments without needing a physical credit or debit card. They are especially beneficial for small businesses that may need more money for a business credit card in India. Following best practices to maximize security, virtual cards can provide peace of mind when making online transactions. Get high-end free virtual cards with us and enjoy a safe and secure transaction in this digital age!