Every organization needs a systematic process for invoicing. If the payment to the vendor is made on time, it can positively impact your organization's relationship with the vendor or the supplier. On the other hand, a few missed payments can be forgiven, but the continuous and frequent inability to pay can hurt your business. This is where processing invoices in SAP comes to play.
Invoice processing is the complete cycle that involves receiving an invoice from the supplier, approving it, establishing the remittance data, paying the bills, and recording the successful payment in the ledger. Therefore, invoice processing involves all those tasks that help the business's smooth operation. If you are wondering what processing invoices in SAP is or how it can be done for the smooth functioning of an organization, here is a detailed guide for a better understanding. Keep scrolling through to know the details.
What is invoice processing?
Invoice processing refers to the process of tracking and maintaining payment of suppliers' invoices. It involves a series of steps ranging from when the organization receives the supplier invoice to when the bill is paid and recorded successfully in the ledger.
The vendor invoice tracking detail must be manually or automatically scanned into the accounting system as soon as you receive the invoice. It is a routine task that perfectly suits standardization and optimization. Invoices are shared in paper form, digital PDFs, or electronic invoices. But, in this digitally advanced era, all these invoices must find their way into the SAP system so that you can easily and effectively enter, check, and approve them. Manual invoice tracking is an old-age practice poised with numerous challenges. Therefore, there is a shift in preference to the SAP-based invoice.
Benefits of automated invoice processing
The accounts payable department extensively uses software that helps automate invoice processing to expedite the processing of vendor invoices, optimize invoicing procedures, and add more control over internal processing operations with tracking functionality. Invoice processing in SAP is comparable to AP Automation.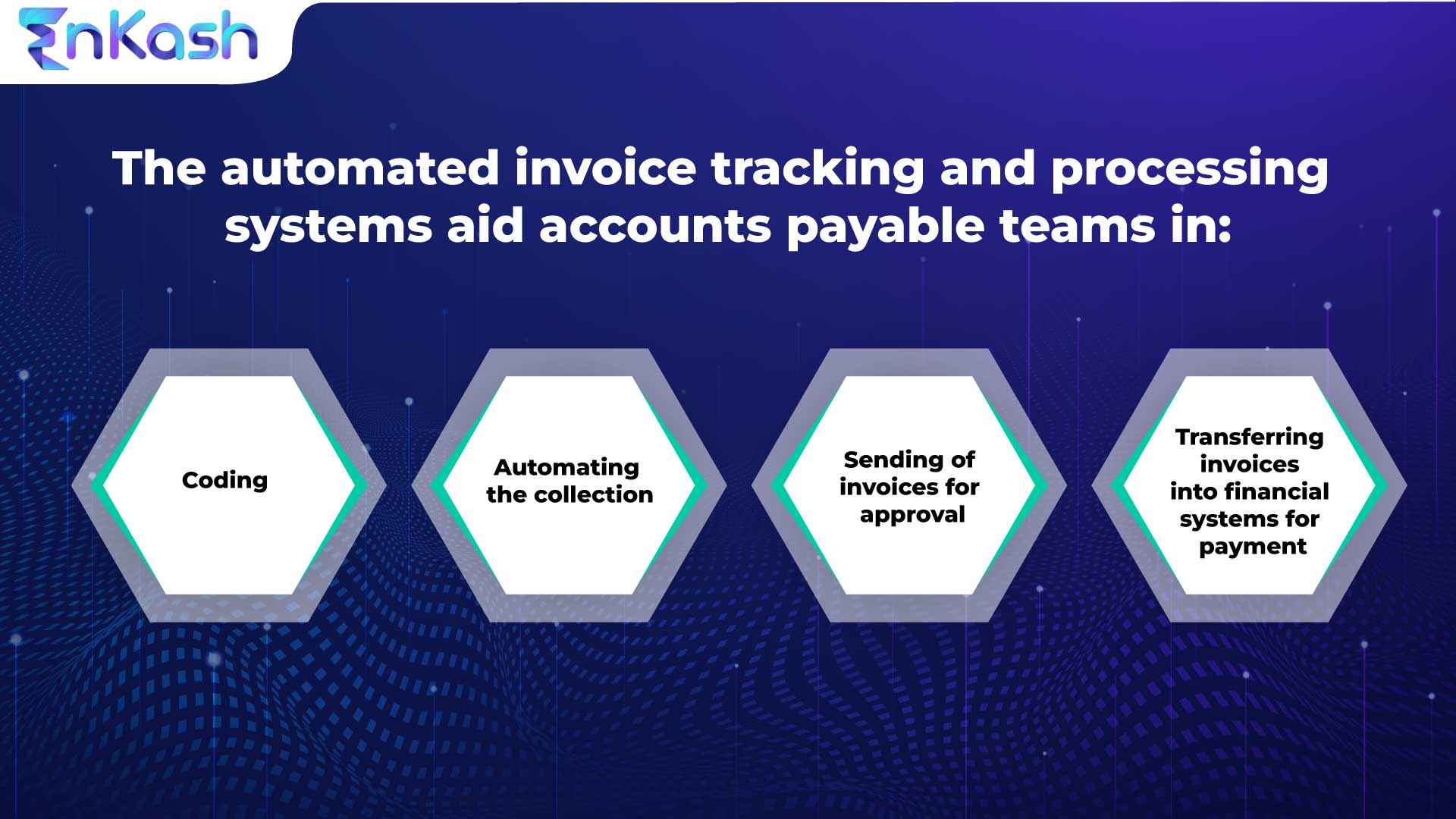 Now you know how processing invoices in SAP is extremely beneficial.
Step-by-step guide to processing invoices in SAP
If you are willing to get started with payment processing invoices in SAP, here is the list of steps to explore. Keep scrolling through to understand how it can be done.
Enter the incoming invoices in SAP
The invoices are either in paper, PDF attachments or electronic file formats. While the other form of an invoice can be handled directly, paper invoices must be scanned first to be processed. Processing invoices in SAP will help you to manage invoices effectively.
Extract and validate invoice content
The invoice contains numerous information, including the vendor, total amount, invoice date, and specific invoice items. After receiving the invoices, you need to verify and validate the invoice data. By processing invoices in SAP, you can validate the information automatically before making the transaction.
Archive the original documents
You must keep and maintain the original invoice in a digital repository so it can be used for references in the future. It is secured as audit-proof. Paper invoices can be destroyed, so it is important to maintain them digitally. Thus, this way, the procedure becomes verifiable and audit-ready whenever required.
Pre-post the invoice
After archiving the original invoice documents, the invoice is then automatically available in the electronic invoice receipt book of SAP. Doing this helps to ensure a transparent overview of an individual's invoice.
Verify and approve SAP incoming invoices
In the SAP, each invoice will run an approval cycle. Under this, the automatic check of the invoice is performed with the relevant Value Added Tax Act. Different departments can modify this verification and approval process according to their needs.
For invoices including an order reference, background processing invoices in SAP is possible as a three-way match may trigger it, for instance. This implies that the system automatically reviews and approves requests without human intervention. Again, the time and effort reduction are extremely advantageous to both employees and approvers.
Post or reject incoming invoices in SAP
The system automatically suggests account assignment and cost centre allocation to streamline the publishing of invoices. Furthermore, document generators stocked with templates and text modules can create a proper rejection letter if you need to reject an incoming invoice in SAP. As a result, you may get quicker processing and consistently excellent results while processing bills in SAP.
EnKash: One-stop solution for your invoice processing needs
In this digitally advanced era, it has become crucial for every business to adapt new technologies to survive in the competitive market. If you are planning to digitize your business processes and are an SAP user, then vendor invoice tracking can help you map the invoices digitally with little effort and high ROI.
EnKash is the best spend management platform that helps you to manage the cash flows better. We can automate invoices that offer numerous advantages, like saving our customers money, time, and effort so that they can focus on more complex tasks. We understand that recurring transactions can be frustrating. Therefore, we offer invoice-automating solutions. Explore our website, and experience the advantage of reduced manual efforts, increased efficiency, and improved productivity. Connect with EnKash today!