Credit cards are a commonly used payment method in businesses for making purchases and accepting payments from customers. They offer a convenient and efficient way for business owners to manage their finances and provide benefits to customers, such as reward programs and protection against fraud. Credit card bill payment in a business allows the company to separate personal and business expenses, making it easier to track and manage finances. It also offers rewards on business purchases, such as cashback or points.
Accepting credit card payments from customers also has benefits for the business. It allows for a broader range of payment options, increasing customer satisfaction and potentially leading to more sales. Credit card transactions also have fraud protection measures in place, which can help reduce the risk of monetary loss for the business. Overall, using credit cards in a business can be a useful tool for managing finances, increasing customer satisfaction, and reducing financial risk.
Now, there are so many platforms that provide you with easy credit card bill payment. Loaded with various credit card bill payment offers, customers experience convenience and gratification.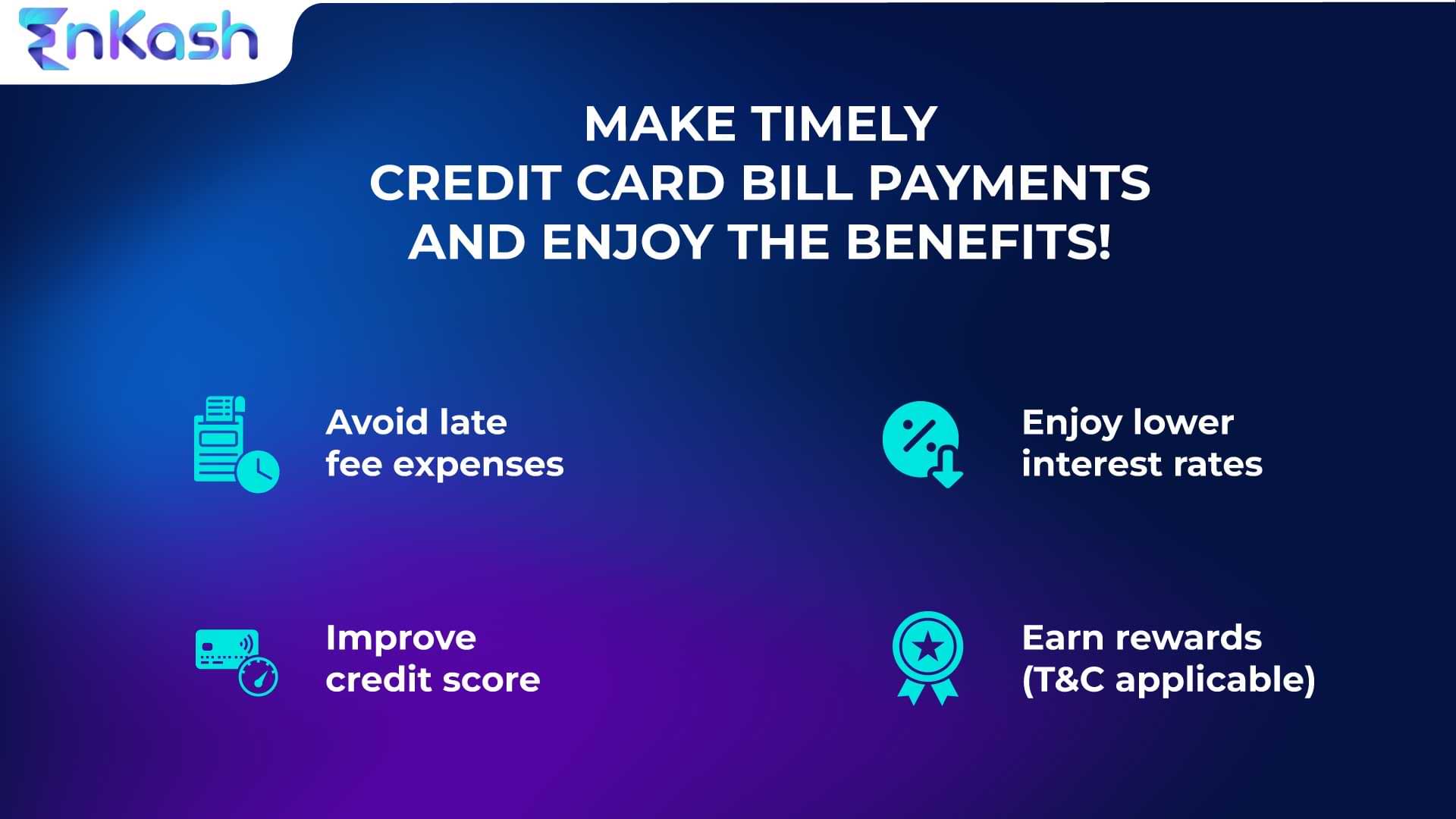 Ways businesses can use credit cards
Businesses can use credit card bill payment to make purchases, pay bills, and manage cash flow. Credit cards are a convenient and secure way for businesses to make transactions and manage expenses. They can also offer benefits such as purchase protection, credit card bill payment offers, and extended warranties. However, it is important for businesses to use credit cards responsibly and carefully manage their credit card debt to avoid financial difficulties. There are several ways businesses use credit card bill payment:
Accepting credit cards as a form of payment
Many businesses accept credit cards as a convenient and secure way for customers to pay for goods and services. This can be done through a physical card reader, online payment gateway, or mobile app.
Using a business credit card for business expenses
Many businesses use a credit card specifically for business expenses such as purchasing supplies, paying for advertising, or covering travel costs. This is an efficient way to track business expenses and offer additional benefits such as rewards points or cash back.
Getting a credit card for employee expenses
Some businesses issue credit cards to employees to make business-related purchases. This can be helpful for expenses that are not easily reimbursable with a traditional check or bank transfer, such as purchasing supplies or paying for travel expenses.
Using a credit card for financing
In some cases, businesses may use credit cards to finance large purchases or investments. This can be a quick and convenient way to access funds, but it is essential to carefully consider the terms and interest rates of the credit card before using it for financing.
How can you streamline credit card bill payments for business?
Set up automatic payments
Set up automatic payments through your credit card provider or bank to automatically pay the minimum payment or the entire balance each month. This ensures that you never miss any utility bill payments and reduces the need for manual payment processing.
Use online payment portals
Many credit card bill payment companies offer online portals that allow you to view and make utility bill payments easily. This can save time and reduce the need for paper billing statements.
Use a payment processing service
Consider using a payment processing service to manage all your credit card payments. This service allows you to process payments online, in person, or over the phone, making it easier to manage and track your credit card payments.
Set up alerts
Set up alerts with your credit card bill payment provider or bank to notify you when your bill is due or when your balance is getting low. It can help you stay on top of your payments and avoid late fees.
Streamline your billing process
If you have multiple credit card accounts for your business, consider consolidating them into one account to streamline your billing process. This can make tracking and paying your bills easier and save you money on fees and interest.
The best platform to pay business credit card bills
There are many payment platforms that allow businesses to pay their credit card bills quickly and easily. EnKash offers one of the best spend management platforms, with which businesses can set up automatic payments, view payment history, and track expenses all in one place. Additionally, EnKash offers integrations with popular accounting software that makes it even easier for businesses to manage their finances. Furthermore, with the ability to make payments from anywhere, businesses can take care of their credit card bills on the go. Overall, this smart platform is a convenient and efficient solution for paying business credit card bills, planning cash flow and getting insights to prepare better for the future.
Conclusion
Start your journey of timely payments and save yourself a lot of money in the long run by taking advantage of credit card bill payment offers and programs. Now is the time to streamline your business with safe and secure payments and manage finances like never before. Browse through our website for further assistance and give wings to your business!