Managing finances and invoicing can become even more time-consuming and complex with the growth and expansion of small businesses. To alleviate this problem, many small business owners are turning to automated billing software to help them manage their finances more efficiently. It provides many features, such as automatic invoicing, payment reminders, and financial reporting, that can help small businesses streamline their billing process. However, with the advancement of technology, automated billing software has become a game-changer for small business owners who want to streamline their billing processes, reduce errors, and save time.
Automated billing software is designed to be user-friendly, making it easy for everyone to use. It can be customized to fit in with the specific needs of each business and can be easily integrated with other software solutions, such as accounting and payment systems. Additionally, automated billing software can help small businesses stay on top of their finances by providing real-time updates on payments, outstanding invoices, and financial reports. This information allows small business owners to make better financial decisions and plans.
Continue reading and learn more about automated billing software, invoice tracking software, how it helps track invoices, what billing automation is, and reasons to use it for small businesses.
What do you mean by automated billing software?
Automated billing software is a type of software that helps businesses automate their billing processes. It is done by generating and sending invoices, tracking payments, and managing accounts receivable. This software allows companies to streamline their billing and payment procedures, reducing the time and resources spent on manual processes.
This software can perform various tasks, including generating invoices from pre-existing templates or custom designs, sending invoices to customers via digital means. It also helps in setting up automatic payment reminders for past-due invoices and integrating with other financial management software tools.
Automated billing software can save businesses significant amounts of time and effort that would otherwise be spent on manual billing and payment processing tasks. This lets business owners focus on other business aspects, such as product development, customer service, and marketing.
How automated billing software helps in tracking invoices?
This can be a valuable invoice tracking software, as it can help streamline the invoicing process and ensure that all invoices are accounted for carefully. Here are a few ways in which it can help with tracking invoices: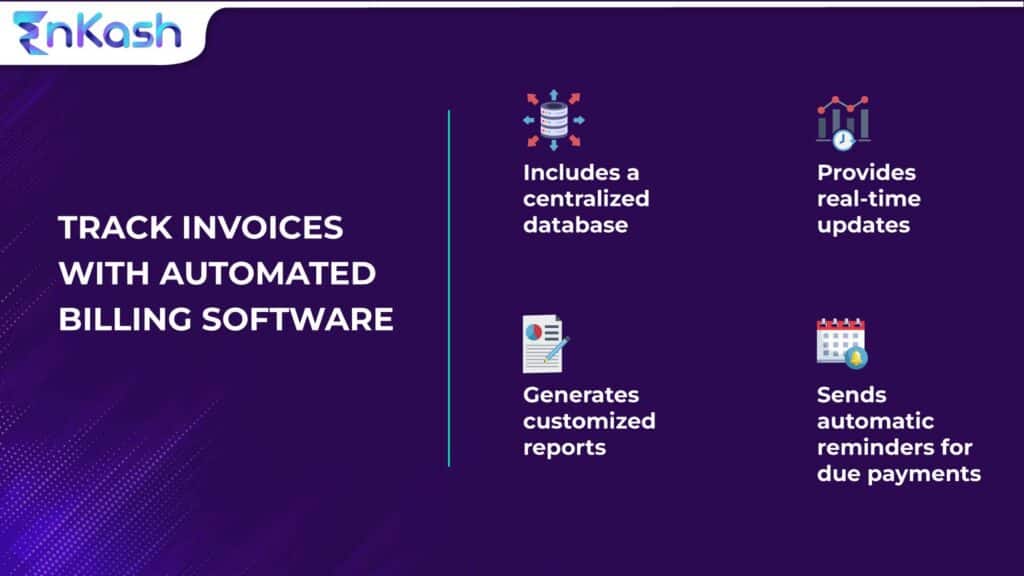 Centralized database: Automated billing software often includes a centralized database that can store all your invoices in one place. This makes it easy to search, sort, and filter invoices based on criteria such as invoice number, date, customer, or amount
Real-time updates: It provides real-time updates on the status of invoices. This means that you can see when invoices are created, sent, and paid. Moreover, you can also track the progress of invoices throughout the entire billing process
Customized reports: Automated billing software can generate customized reports that provide a detailed view of your invoicing history. This can help you identify patterns in your billing, such as which customers are consistently late paying their invoices
Automated reminders: Many automated billing systems can send automatic reminders to customers who have not paid their invoices on time. This can reduce your time chasing down overdue payments and ensure you promptly pay all your invoices
What is billing automation?
Billing automation refers to using software and technology to automate the billing and invoicing process. With billing automation, businesses can streamline their invoicing process, reduce errors, and save time.
Billing automation typically involves using specialized software that can automatically generate invoices. For sending them to customers via email or other electronic means and tracking the status of each invoice as it moves through the payment process.
Read More: Top 10 Indian Accounting Software
Reasons to use automated billing software for small businesses
This software is beneficial for small businesses with different resources than large scale businesses. So, if you are in a growing phase then you must know how billing software can help you nurture the business. Here are some of the key reasons why small businesses should consider using automated billing software:
Time saving: It can help businesses save time and improve efficiency by automating invoicing. This can save time for business owners and employees and let them focus on other essential tasks, such as sales, customer service, or product development
Improved accuracy: Billing automation can help reduce errors in manual invoicing processes, such as data entry mistakes or incorrect calculations. This can help small businesses ensure accurate invoicing and avoid customer disputes over false invoices
Faster payments: Automated invoicing can help small businesses get paid quickly by reducing the time it takes to generate and send invoices. This can improve cash flow and reduce the need for small businesses to rely on expensive short-term financing options.
Customization: Many automated billing software solutions offer customization options allowing small businesses to create invoices that match their brand and include the information they need to communicate. This can help small businesses create a more professional and personalized invoicing experience
Cost savings: By automating the invoicing process, small businesses can reduce the cost of manual billing processes, such as paper invoices, postage, and administrative expenses. This can help small companies save money and reinvest those savings in other business areas
With customization options and the ability to integrate with other financial systems, small businesses can benefit a lot from the invoicing automation. Connect with EnKash, one of the best spend management platforms, for sending automated invoices and faster money collections. Connecting to our platform reduces follow-up time, creates omnibus invoices with all the details, and lets you focus on your growth. Explore EnKash to know more!