Credit card processing services are vital to online and offline business transactions. The ability to accept credit card payments could make or break your company. If you are running a small start-up or looking to start one, you must decide which system you should choose.
Accepting payments online is simple, with the best credit card processing for small businesses. This can be done directly through a website or by sending payment requests via email. There are two primary options for credit card processing services:
A straightforward best credit card processing for small businesses with all fees paid per transaction
A merchant-account solution with a monthly subscription but much cheaper best credit card processing for small businesses per time
A point of sale (POS) system's ability for best credit card processing for small businesses process is just one of its many functions. Continue reading to learn more about start-up credit cards, best credit card processing for small businesses, the benefits of business credit cards, and how to apply for a business credit card.
What is a start-up credit card?
Start-up credit cards are best credit card for small businesses designed for new businesses. This card operates similarly to other corporate credit cards. They are linked to credit lines, so any transactions made using the cards and repaid on time can increase the credit line with consistent, timely repayments.
Having a start-up credit card can assist in resolving several problems that are exclusive to fledgling enterprises. Using start-up credit cards can assist budding business owners in maintaining a gap between their personal and corporate expenses. Credit cards may help a new firm experiencing a temporary financial shortage because they give access to money when needed. For this reason, a new business must obtain a start-up credit card.
Best business card for small businesses and its benefits
There are several differences between a business credit card and a personal credit card. But the major difference is their intended purpose. A personal credit card is meant for personal expenses. It is tied to an individual's personal credit history, while a business credit card is designed for business expenses and is linked to the business's credit history.
Apart from that, the other differences cover the spend limit, credit history and liability, and rewards and benefits, to name a few. Moreover, tools for managing a company's expenditures are included with business credit cards, including expense tracking. EnKash is a spend management platform that assists all businesses with virtual credit cards through their trusted banking partners. We offer fintech solutions that are simple to use and can be adapted to your business.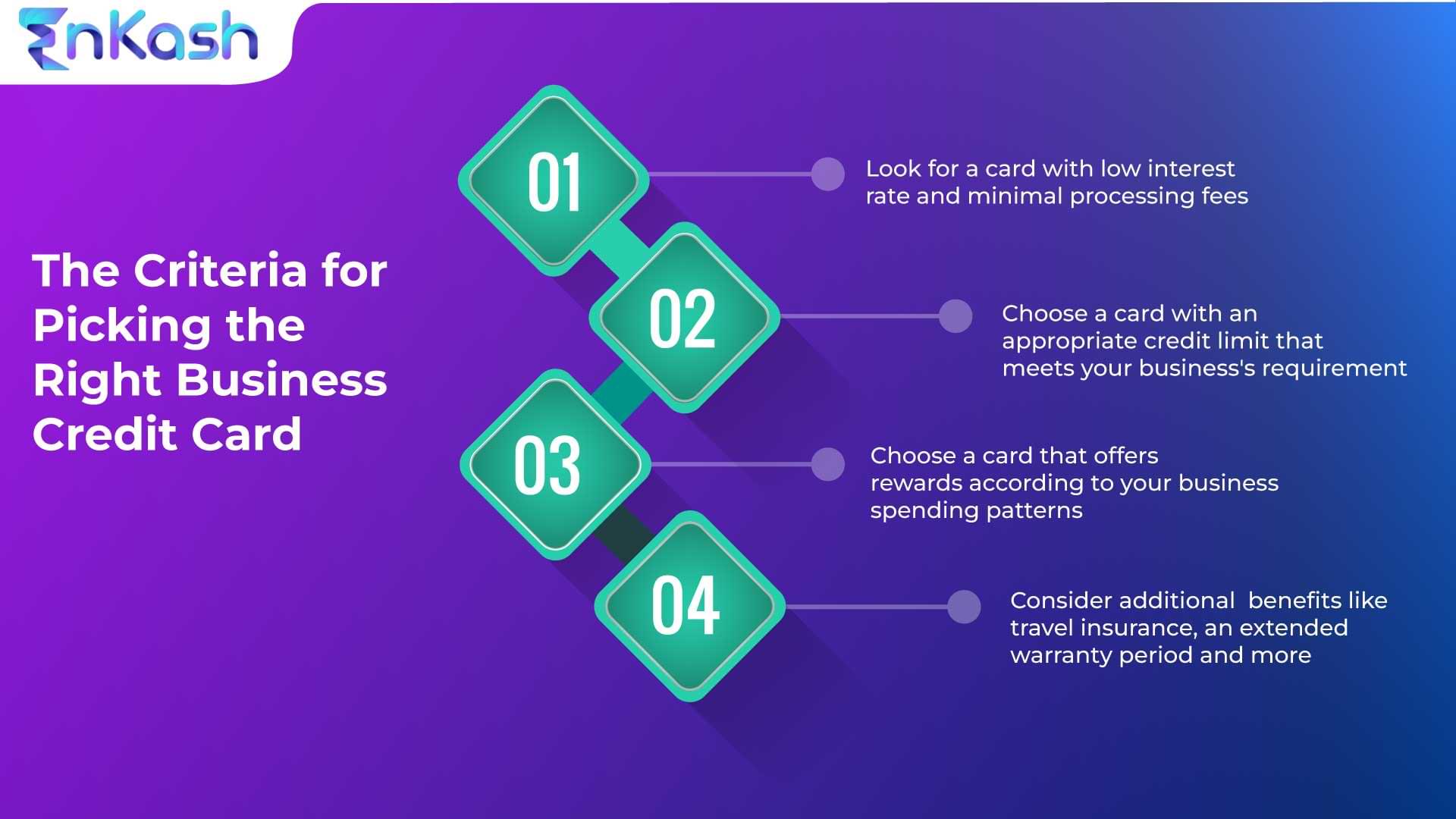 Here are a few benefits of using a business credit card:
Minimize cash-flow issues: A business credit card for small businesses enables you to make necessary purchases even when you are suddenly short on cash. Your cash flow may become more balanced, making your company less susceptible to fluctuations over the short term.
Expense categorization: Many credit cards offer a breakdown of costs by category, such as lodging, meals, office supplies, and more, which can facilitate streamlined accounting and tax reports.
Building credit score: Establishing and enhancing your company's credit score can be accomplished by accumulating a robust payment history. The same is true for your business credit card like it is for personal credit card: you can borrow more money and pay less interest, and it may even cut your insurance rates and make it easier for you to rent a property.
Additional benefits: A corporate credit card may come with extra perks than your card, like more cash-back points or frequent flyer miles, waived airline baggage fees, access to airline lounges, and other savings.
Separation from personal spending: Keep your personal and business expenses separate to maintain accurate reporting. By not mixing your assets with the company's, using a different credit card specifically for business helps keep accounting organized.
Things to remember while choosing a business credit card
Business requirement: Business owners or those searching for a business credit card should be fully aware of their requirements for a credit card. These cards will also make it easier for businesses to create reports and conduct in-depth analyses of every spending. A company may decide to issue corporate credit cards to its employees, each with a predetermined spending limit.
Card offers: Business credit cards come with offers or discounts that entice consumers to use them frequently. Some cards grant access to airport lounges, while others give points on fuel purchases. Some corporate credit cards provide air miles that can be exchanged for each flight booked.
Fees and interest rates: The interest rates on many online credit cards are hefty. Therefore, it is crucial to consider interest rates before choosing a business credit card. Credit card issuers sometimes list monthly interest rates, provide an interest-free credit period of up to 48 days, or charge an annual subscription fee.
Credit limit: The credit limit is based on the applicant's credit risk profile, credit history, and other variables. Before finalizing the company credit card application, the applicant should always confirm the credit limit. By doing this, it will be possible to prevent a firm from receiving a card with an extremely low or high credit limit.
Convenience: Business owners typically do not have much free time. As a result, they would want to save time working out the application and paperwork procedure. A business should always choose an online credit card that guarantees a simple overall application process and has low documentation requirements.
Steps to get a business credit card for small businesses
Visit EnKash's Website and click on the signup tab
Enter your phone number and official email id to create an account
Enter the OTP and log in to access the platform
Click on the credit card option
Enter your GSTIN number and the password
After saving the details, connect your bank account with EnKash
Upload bank account statement and initiate verification
After that, select the company type and sub-category
Upload the director's PAN, email address, and mobile number
Submit the application
A business credit card gives businesses a readily available credit limit and a slightly delayed repayment period to pay for significant business needs. A company can take advantage of an interest-free approach to acquire the things that help their firm grow, whether buying new machinery, minor equipment, or investing in new software. EnKash enables businesses to get the best credit card processing for small businesses with all the advantages for a start-up company.
These cards also offer a flexible billing cycle to help manage cash shortages, a straightforward KYC procedure, complete control over transactions, and the ability to attach several cards for various uses. Visit the official website immediately and apply for one of the best business cards for your new company to enjoy its benefits.