The key to any successful business is to keep track of expenses, ensuring cash inflow is higher than cash outflow. Therefore, every business must create a solid plan for expenses at the beginning of every fiscal year. The amount a business plans to spend is called a budget, and the plan helps in understanding whether the business can meet all the demands in the set budget or whether a new measure is required.
Whether a small-scale or large-scale business, having a budget management system is essential to prioritize spending and focus the money on the right resources to generate more profit. Here is everything you should know about budget management and managing money to avoid going into loss or bankruptcy.
Importance of Budget Management
Budget management includes setting financial goals, forecasting or analyzing expenses, and deciding how to allocate resources to meet those goals. The process also includes comparing actual results to the allocated budget and adjusting as needed. With the help of budget management and a budget control system, you can avoid debt or find your way out of debt, if any. Here are the key principles to make a budget plan-
Making policies and procedures to coordinate and control the entire budget process
Analyzing the current financial performance to prepare the budget for the fiscal year or the particular event
Comparing the previous budget and considering the outcomes, and then setting a budget
Why Should a Business Have an Effective Budget Management System?
When it comes to successful businesses, invest a lot of time and resources in making a realistic budget. With the right business budget management platform, you can identify the revenue sources and available capital and estimate expenses along with the profit and loss ratio. With an active budget control system, you can easily tackle short and long-term obstacles.
Here are the key reasons why a business must have effective budget management for managing money: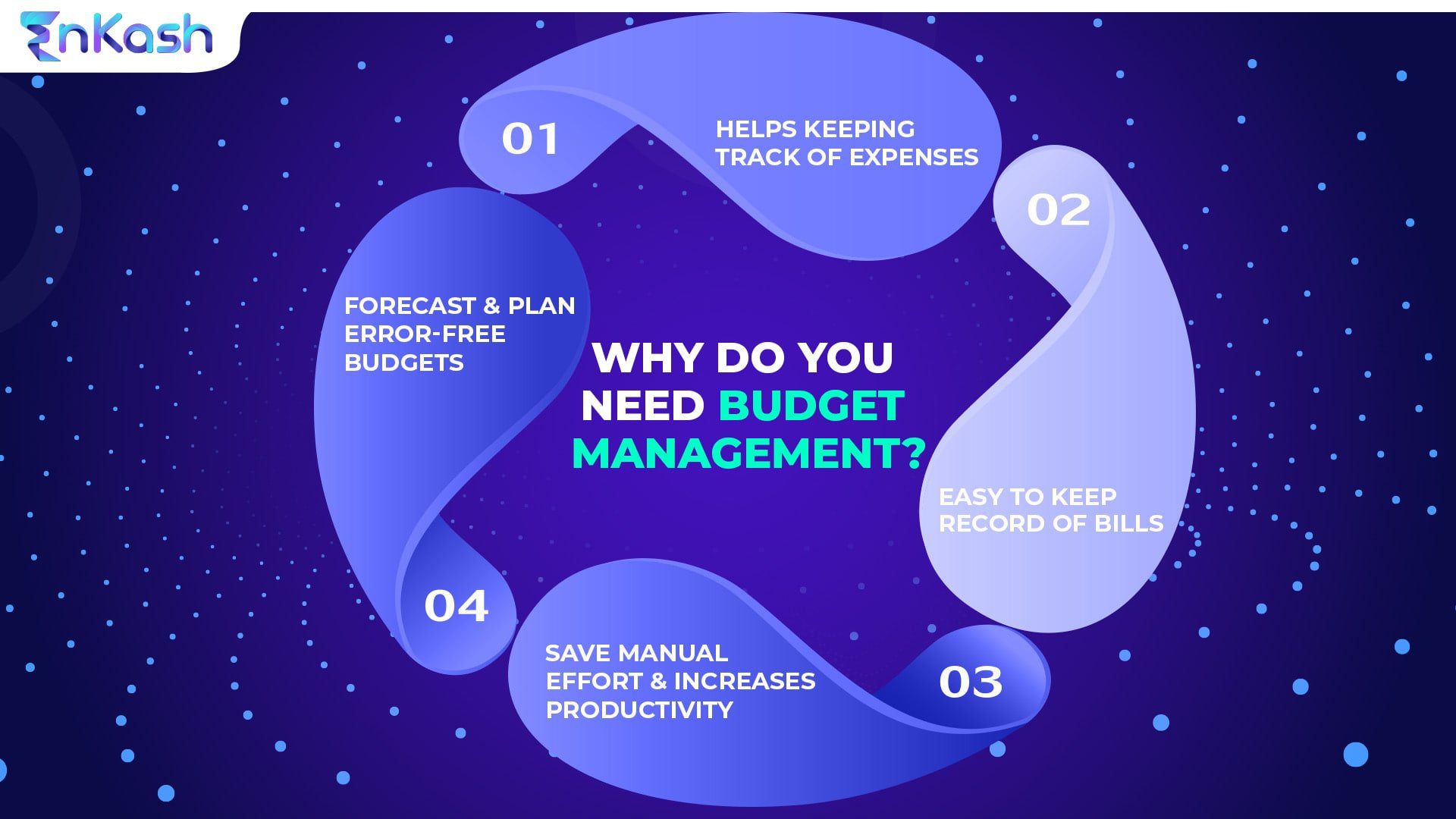 Improved financial planning: An effective system allows a business to forecast revenues and expenses and make informed decisions about allocating resources. This helps the business plan and achieve its financial goals.
Increased efficiency: It helps businesses identify areas where costs can be reduced or eliminated, leading to increased efficiency and improved profitability. Also, the employees won't have to indulge in the entire process and this will increase productivity.
Better decision-making: A budget control system helps businesses make informed decisions about allocating resources and setting financial goals. This can improve the overall decision-making process and lead to better outcomes.
Improved financial performance: Having a strong budget management allows businesses to monitor their financial performance by comparing actual results to the budget. This allows them to identify areas where they are outperforming or underperforming and make adjustments to improve financial performance.
Increased accountability: An effective management system increases accountability within the business by providing a clear plan for using financial resources. This can help ensure that resources are being used effectively and efficiently.
How EnKash can Help Your Business with Budget Management?
EnKash budget management service helps businesses set budgets, optimize all expenses, track expenditures, and increase savings. With the help of this budget management, your business can effectively streamline budgeting by controlling the entire expenditure and improving the cash inflow and outflow. Other benefits include the following-
You will get a complete overview of the revenue to understand and manage money better without spending extra
Once you have the budget management system in place, you can forecast and plan better for the future, which you will not do while planning manually
While making certain transactions, you will get rewards on the EnKash portal which you can redeem later
There will be zero unplanned spending, less penalties, and less cash crunch, as all the blindsides will be covered throughout this platform. With the record-keeping feature, you can include all the bills in the monthly or annual audit without worrying about every piece of paper.
Not only this, but you will also get to set a limit on the budget management platform to keep track that there is no expenditure, match the revenue and payout cycle, keep track of every approval, limit and expenditure and the ability to make plans for future expenses in advance and making funds available. Check out the budget management feature at EnKash today and enable your business to take control of all the transactions. Connect and explore our features today!