Virtual banking has penetrated the large-scale sector, and every small-scale and medium-scale business is also moving towards virtual banking. Virtual bank accounts are trending because of features such as an extra layer of security, real-time transaction monitoring and virtual cards to streamline transactions. For the B2B sector, virtual bank accounts are a boon. But many businesses are still apprehensive about using these services, and we are here to help them realize the benefits of doing so.
So, if you are also wondering what is a virtual account number or what is a virtual bank account, how it is different from a traditional account, its benefits, and how you can open one, keep on reading!
Understanding the intricacies of what is a virtual accounts
As the name suggests, virtual bank accounts operate entirely online and can be accessed through mobile or desktop. The virtual account is linked to a primary bank account, and a system-generated account number is provided, masking the key account number. These virtual accounts cannot be traced to the primary bank account by people other than the account holders, which offers the company an extra security layer from online fraud or theft.
Meaning of what is a virtual account is really easy. Virtual bank accounts are easy to set up and can be used for various purposes, such as paying vendors, receiving funds, making online purchases, and paying bills. Some virtual bank accounts may also offer features such as virtual debit cards, which can be used to make purchases at merchants that accept card payments, pay employees and more.
Now that you know what a virtual account is, learn how they differ from traditional bank accounts. One of the key reasons businesses use virtual accounts is that they charge zero processing fees, helping companies save costs on bulk financial transactions. In case your business is also looking forward to expanding and exploring overseas markets, virtual accounts can be beneficial as they can be used as an alternative payment method.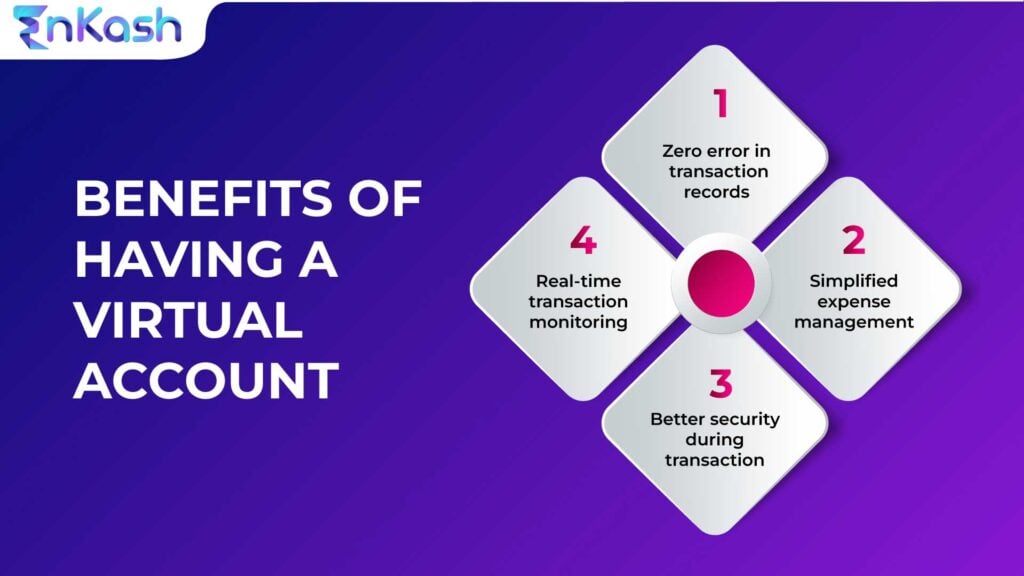 Difference between what is a virtual account and traditional bank account?
Listed below are the key differences between virtual and traditional bank accounts:
No physical branches
Unlike traditional bank accounts, virtual accounts exist only online and do not have any physical branches to carry out operations.
Easy account setup
While setting up a traditional bank account, you may have to visit a bank branch, fill out a form and submit it to the bank official, whereas when we think of what is a virtual account can be created online with paperless KYC.
Accessibility
Traditional bank accounts can be accessed through multiple channels, such as bank branches, ATMs, bank applications, and net banking, whereas virtual accounts can be accessed through mobile or desktop.
Transaction fees
Traditional bank accounts charge transaction fees for making payments through UPI or NEFT, whereas virtual bank accounts do not charge fees.
Security
Both traditional and virtual bank accounts are subject to federal regulations and are required to have specific security measures in place to protect customer information and funds. Whereas, virtual bank accounts may have additional security measures, such as two-factor authentication, to protect against online threats.
Advantages of virtual bank accounts for businesses
Moreover, to help you understand what is a virtual account number in detail, let's learn about its advantages. A virtual bank account helps businesses simplify their cash management and offers several other benefits, as mentioned below:
Businesses can allot different virtual accounts for vendors, freelancers, utility bills and subscriptions to streamline transactions
Facility to accept payment via various modes such as UPI, NEFT, RTGS, IMPS, and QR
With the proper documentation of each transaction, there are zero chances of manual error
Ability to build a separate wallet for consumers to receive, send or even request funds
Can use the virtual account as an escrow account to protect the business from online fraud
Significant savings on maintenance charges, transaction fees and minimum balance fees
Quick transactions and confirmation to ensure timely payments to service providers to maintain healthy business relations
How can you open a virtual bank account?
Knowing what a virtual account is is not enough. You should also know how to open a virtual bank account and enjoy its benefits thereafter. Below are six easy steps to open a virtual account:
Open the website and log in with all your information
Fill in the personal information and submit the identity proof, including PAN card, voter ID, Aadhaar card and other details
Sign the disclosure agreement after reading the terms and conditions
Upon completing the procedure, you will get a virtual account number
Transfer the amount to the account from your existing account and link the cards
Now start the transaction as required
Here, you can monitor all the data from the dashboard from their online platform. You can limit and monitor transactions, get certain rewards, and even block the account as per your will. Furthermore, you can also access archived data at any time and anywhere.
In case your company is planning to launch any credit card or prepaid card programs and needs a virtual account to transfer funds to other accounts, let EnKash assist you. We offer virtual bank accounts powered by reputed banks. Having a virtual bank account will take away most of your worries related to bills and invoices, and every payment will be automated.
Now you know what is a virtual account and opening a virtual bank account is easy and hassle-free as the entire process is paperless. Once you log in to your account and complete all the procedures, including verification, you will instantly get your virtual account number and access. With EnKash, all your data is protected and secured. So, what are you waiting for?