A partnership between the retailers, card networks, and issuers create co-branded credit cards to help you earn extra reward points on purchases made on Amazon and similar platforms. Co-branded credit cards extend exclusive perks and benefits as well.
A mutual partnership producing a credit card carrying the merchant's logo along with merchant-specific benefits to loyal consumers. Simply put, co-branded cards are an amalgamation of loyalty and credit cards.
Let us take a detailed look at co-branded credit card.
What Is a Co-branded Credit Card?
Co-branded credit cards are forged through a balanced partnership between a card network (i.e., EnKash) and a card issuer/bank lined with any brand or retailer. They function like loyalty cards for the audience who often shop at specific stores or travel with specific airlines. Regardless, co-branded cards can also be integrated with other organizations and charities.
Co-branded credit cards offer brand-incorporated exclusive advances to cardholders, with the brand's name and logo imprinted on them. EnKash issues co-branded credit cards with numerous rewards and cashback opportunities. Co-branded cards are accepted by brands incorporating this service and with any vendor who accepts cards on the network. In addition, major airlines also offer co-branded credit cards in partnership with banks and card networks like EnKash.
Basics of a Co-branded Credit Card
Co-branded credit cards can be used anywhere the card's network is welcomed. Unlike store cards, these cards work just like any other credit card. Store cards limit purchases to brand stores and their partners only, whereas co-branded cards are accepted widely. For example, purchasing a membership card seems right when you are going to Starbucks for the first time. But that card will only get you coffee-related rewards; with co-branded credit cards, that is not the case.
While being accepted widely, the benefits are tailored according to the customer's brand loyalty. The offers and rewards received by the cardholder are limited to the respective retailer, brand, or airline. Maintaining a good credit score lets you take advantage of discounted rates and perks. Upgraded membership status, discounts and cashback are some examples of what we mean by rewards here.
Co-branded credit cards are managed by their respective banks or directly by the issuer to record and report your activity to a trusted credit bureau. Having a virtual bank account is an essential component here, so you can access your purchase history and manage other aspects of your account smoothly. Now, log in with EnKash, create a virtual bank account and begin your journey.
The retailers and the bank or issuer connect to approve new cardholders to create exclusive offerings further. Co-branded cards can be applied at a store or the service location itself. But, considering your busy schedule, getting the best co-branded credit card online with EnKash is the best option.
Things to Keep In Mind
Understanding pre-approval tools on EnKash's website is essential, they do not affect your credit score. The pre-approval applications convey the probability of qualifying for a credit card. Moreover, you need to check if the joining and renewal fees outweigh the financial equivalents of rewards (cash backs, discounts, vouchers and so on) that you will receive further.
The most forgotten factor of these rewards is the expiration date. Make sure you redeem the accumulated reward points and vouchers before expiring.
The Growing Trend of Co-branded Cards
The generation today has gravitated towards digital payments. Co-branded credit cards have thus experienced a remarkable rise. Co-branded cards incorporate logos of the two partnering companies to offer benefits. Additionally, non-profit organizations have also started to join forces with card issuers other than banks and retailers.
Co-branded credit cards offer not one but the dual advantage of a rewards card and a store one. The working of a credit card is much similar to these hybrid co-branded credit cards. Backed by major networks like EnKash, these hybrid cards offer discounts and other rewards like points that can be used in your next purchase by the retailer or service.
Benefits and Features of Co-branded Credit Cards
If you often go back to a specific retailer for travel or shopping, a co-branded credit card has numerous benefits in store for you. First, limit the number of cards you carry in your wallet and manage your spending better with a clear purpose.
The best co-branded credit cards, like EnKash, provide useful perks to cardholders that they otherwise would not receive. In addition, they are very cost-effective and useful once you gain an understanding of how they function.
For example, cards affiliated with airlines might offer priority boarding, hotel cards offer room upgradation at times, late checkout and so on. As a result, these cards have more potential for significant discounts than getting cash back.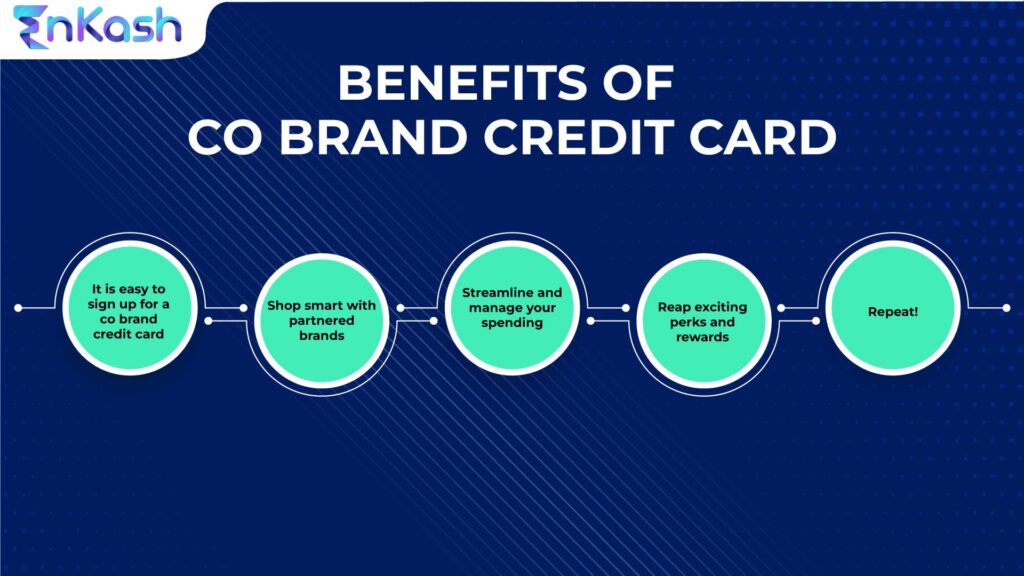 Co-branded credit cards are international cards accepted worldwide. They can be used at any merchant outlet globally, while the bill is generated in Indian Rupee (INR). Their wide acceptance is due to their link up with EnKash.
Rewards based on customer loyalty
It is a unique way of rewarding the customer for their loyalty. This factor deeply influences the engagement rate for both parties, making it a win for all. Opt for a card from a brand with which you will be making regular transactions. This will help you reap all the rewards to their fullest extent without worry.
Personalized according to lifestyle requirements
Co-brand credit cards are flexibly customized to suit your spending patterns and lifestyle requirements. This is because they come attached to a specific brand. When you use co-branded cards on a scattered basis, you can stockpile the reward points earned for future advances. But this will only benefit you in the short run. However, getting two co-branded cards will eliminate overburdening and result in maximized benefits.
CardX by EnKash: Issue and Scale the Best Co-branded Credit Cards
Applying for a co-branded credit card is just like applying for a traditional one. Getting a co-branded credit card requires little effort and time. You can apply and fill out the application form online or in-store. So, even if you are on a plane, you can access and secure one of the best co-branded credit cards in the game.
Make sure you maintain a healthy credit score and check how much is recommended as per the card you choose to go for. The reason is simple—card issuers handle and oversee co-branded credit cards and perform a deep check on credit reports to ensure a smooth relationship.
EnKash Co-Branded Credit Card for All Your Need
If you spend considerable money on co-partnered brands, opting for a co-branded credit card is the best option. Picked wisely and used effectively, co-branded cards can benefit you in many ways like bringing down purchase costs significantly through their reward system, streamlining and managing your spending and more. If you are looking for state-of-art spend management platform, then connect with EnKash and explore your options today!