In the fast-paced, ever-changing work dynamics, keeping a close watch on the company's overall functioning is crucial. Irrespective of the size of the company, there is an enormous cost involved in running a company, from establishing the company to the final product. To ensure the maximum value of every penny spent, keeping a close watch on the overall expenditure is imperative to success.
This detailed task is effectively taken care of by using a spend management solution.
What Is Spend Management Control?
Spend management control is a comprehensive practice that encompasses managing the purchase and supplier relationship, regularizing cash flow, and minimizing financial risk. In addition, spend management systems ensure optimum utilization of the company funds.
Spend Management Process
Spend management solution or system is the summation of several processes that involve the classification, assessment, documentation, and scrutinizing the data in the organization. This, in turn, helps the procurement team to examine the spending data in the company, lessen wasteful expenditure, and improve efficiency by proper allocation of funds.
Importance of Spend Control and Budgeting
Spend Management solutions track, facilitate, and improve how a company spends and distributes its funds and resources towards various activities. It includes detailed spend analysis and stratification of procurement activities, including product development, efficient supplies, and inventory management.
It also helps the company properly budget by planning its purchases per actual needs. It not only boosts the relationships with the suppliers but also maximizes the ROI of the huge amount the company spends.
Spend management solution helps the company to gain greater visibility in the overall operational spending activities. In addition, it allows working on inefficiencies, computation, and reduction of financial risks.
Spend Management Best Practices
Spend management strategy includes integrating and automating the entire set of spend-related activities from source to put together a hassle-free buying process. Payment to the suppliers is made in line with the compliance policies. Spend Management Solutions connect and bring the data scattered under various heads on a single platform resulting in a seamless P2P (Procure-to-pay) process. It enables more transparency and enhances the ease of functioning on all levels.
Key Focus Areas of Spend Management
Spend Management solution or systems digitalizes the entire P2P procedure, from contracting, sourcing, and purchasing to managing suppliers and their payments. All these functions are consolidated and carried out by a single smart and effective cloud based spend management system. In addition, this system helps gather and conduct an in-depth analysis of the spending data, giving a detailed insight into the company expenditure across various departments.
The key areas covered by spend management solutions are:
Identification of various sources of spending– Source of spending in a business depends upon the type and size of the business. It includes utilities, marketing, licenses, advertising, insurance, the salary of the employees, etc. Keeping track of the unending list of expenditure sources is a tedious task. Automating the procedure through Spend Management systems helps simplify this same task.

Centralization of the spend data– the accounts department in a company is responsible for centralizing the data. Digitalization helps speedy categorization and processing of this sensitive data in no time.

Verification and cleansing of the data– in-depth analysis and interpretation of the spend data are imperative to the success of an organization. Therefore, the data must be error-free and accurate. Spend management solutions is a seamless way that serves the very purpose.

Analysis of the collected data– The detailed analysis of the segregated and verified data makes it easier to make effective business strategies.

Ability to forecast and foresee– The detailed procedure followed by the spend management system facilitates the identification of trends in the company. Therefore, it makes it enhances operational ease.
Benefits of Spend Management
Spend management provides the company with a comprehensive and centralized hub for extracting maximum value from the overall functional process.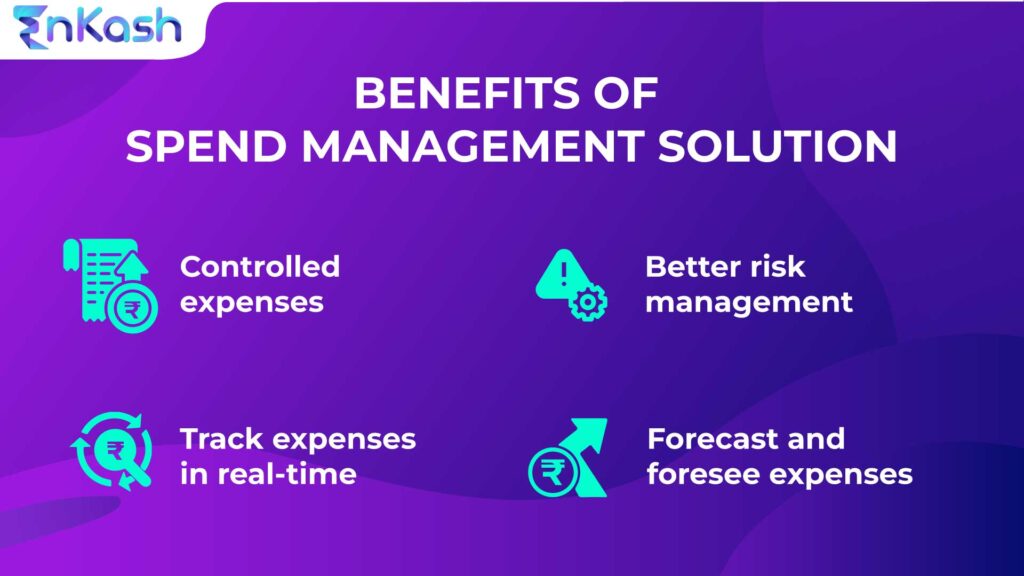 Increased efficiency: In-depth data analysis helps in identifying opportunities for strategic sourcing.
It automates arduous and tedious tasks
Fraud related to invoices and superfluous purchases can easily be eradicated
It helps in divulging prospects for additional cost-cutting and savings
Deep analysis of the vendor performance data gives the company an upper hand while negotiating with the vendor
It enables swift communication, and so expedites the contract procedure
Reduction in mammoth paperwork and allowing ease of operation
Risk management
Internal and external company risks are calculated well in advance through a detailed study of supplier performance reports, spending data, and compliance policies
It facilitates financial forecasting
It boosts meaningful collaborations and partnerships and so helps in reputation building
Reduction in overall costs for services and goods: Everything in a single window, like spend visibility, compliance, and vendor performance report, enables the company to negotiate for reduced prices and grab opportunities for additional discounts against early payments.
Provision of the integrated work environment: The Spend Management provide an integrated work environment where the software works together with the ongoing system, giving employees easy and quick access to any required information.
Enhancement of business intelligence: The insights provided by spend management solutions result in increased business intelligence. It helps streamline continuity and cash flow, thereby increasing company profits.
Despite the benefits of Spend Management Solutions, let us quickly look at the challenges of Spend Management:
Working with old data: It is the most common problem faced in Spend Management. Real-time data is needed to identify reasonable expenses but unable to find with old and redundant data.

Failure to link expenses to budget: Sometimes, indirect expenditure has no category mentioned. In other words, such expenses are not recorded under a particular head, which leads to a lot of tailoring and mending in terms of matching the spending to the budget.

Different data structures: From different departments or countries sometimes make it extensively time-consuming and difficult to consolidate the entire data into giving a big-picture viewpoint.

Unclear and complicated purchase policies: As some policies are complicated, unclear to process and understand, this makes it very difficult for a spend management platform to provide the solutions.
Going Digital with EnKash
Irrespective of the size and nature of the business, putting together every single bit of data of the P2P process is a prerequisite to effective functional planning leading to success. The EnKash Spend Management Solution is a comprehensive tool that enables automation, simplifies operational complexities, and ensures seamless visibility, control, and savings, resulting in enhanced business productivity.
The risks and challenges mentioned above can be resolved in a fraction of a second with the help of Spend Management Platform by EnKash. It powers your business by saving a lot of time and effort spent in accounting, collection, auditing, payments, and other operational activities in a company. Spend Management Solutions, provided by EnKash, gives a single consolidated view of the overall spend activities in an organization, ensuring better strategic planning for the company's overall growth. Connect with EnKash and optimize your entire spend management!