As the name suggests, a bulk payment refers to a payment method that lets the payer make multiple debit payments to a bulk list. A bulk list is a list of beneficiaries or accounts you intend to pay from a single debit account. For instance, in India, you can make bulk transfers directly through a corporate bank account. 
It is a fact that bulk payments help ensure faster payments and, therefore, happier merchants. The most common and easier way to make a bulk payment is via bank wire transfer. However, all businesses need to make bulk payments daily, weekly, and monthly, which can be payouts, dividends, refunds, contractors, and freelancers. Therefore, exploring a wide range of possibilities with bulk payments is necessary.
There are different kinds of bulk payments that you can go for. So, let's dig deeper to know the available options.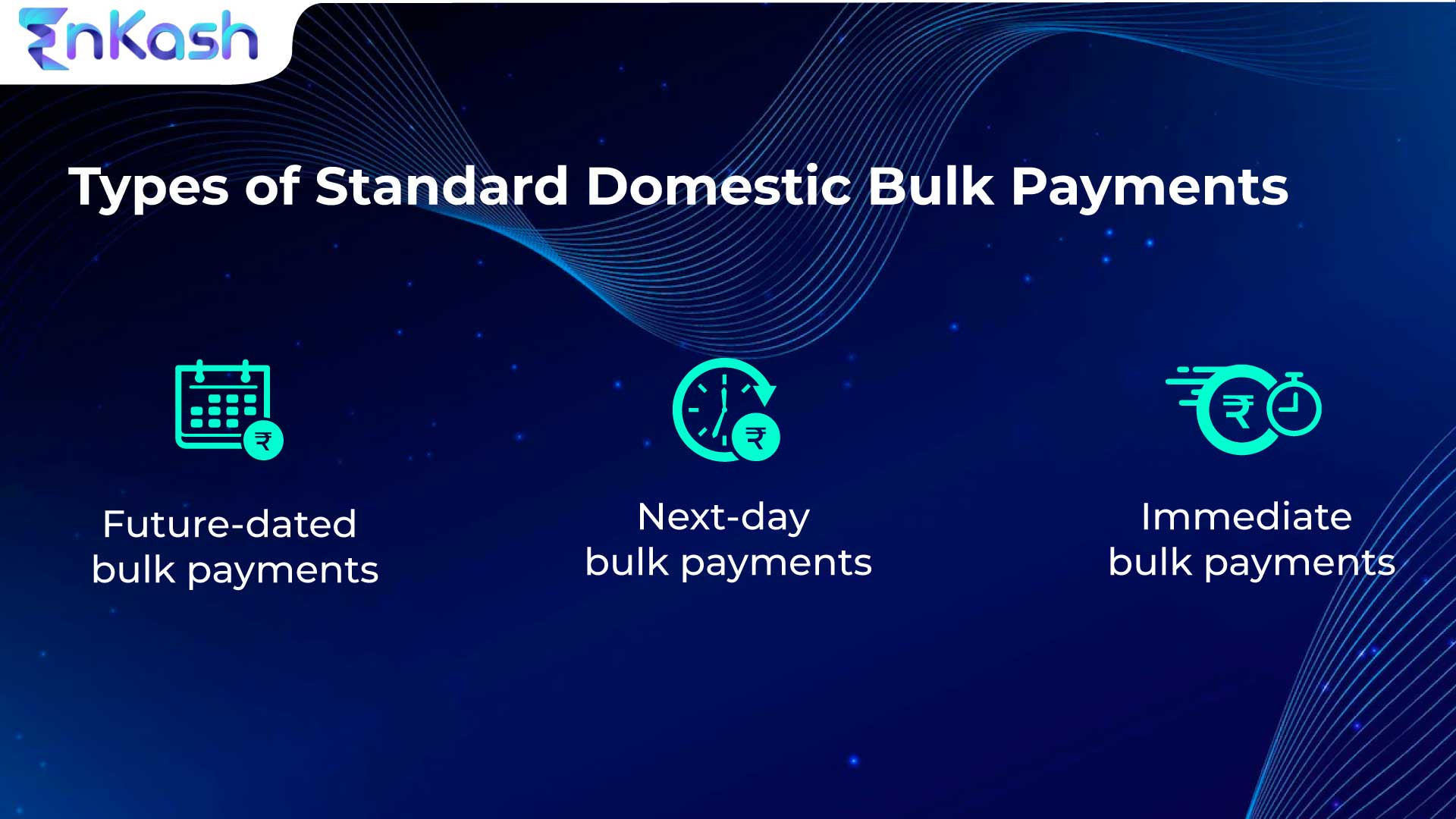 Bulk inter-account transfer
The bulk tax payment method allows organizations to credit funds from a single debit account to different accounts. It is, however, used to make international payment transfers. The bulk inter-account transfer is a more reliable and secure process. It is, however, a complicated process that is done through different technologies depending on the business's location and target demographics. 
An organization can pay in bulk in numerous ways. Here is the checklist:
Different ways to make bulk payments
Bank transfers
To make bank transfers, you need a platform that can handle various transactions simultaneously. API is the most efficient technology for this task. Most banks offer corporate bulk transfer options. You can easily make the bulk tax payment via your company's registered bank account.
Pay-outs
Pay-outs are a top alternative to corporate banking solutions, especially regarding bulk transfers. Cash-free pay-outs offer many payment options like RTGS, NEFT, bank fund transfer, UPI, wallet etc. Also, this bulk payment option allows you to transfer money 24*7 without being restricted to bank working hours. In addition, pay-outs allow you a clean workflow with a dashboard, bank account verification, seamless system configuration, etc.
Bulk UPI payment
Today most businesses have adopted bulk bank transfer systems with the help of bulk UPI payment options. UPI, or Unified Payment Interface, is the online payment option that allows users to make a payment with a few clicks on their smart devices. In addition, you can send payments to different individuals with a virtual bulk UPI payment in real-time in just a few minutes.
Benefits of bulk payments
Multiple advantages come along with making bulk payments to your vendor or merchant. Some of them are listed below:
Faster speed
It is a faster payment system and a more efficient way of sending money to various recipients. In addition, they are timely automated, and fuss-free options.
Increased security 
Payments are extremely regulated. Bank and payment gateways comply with high security and trusted policies to ensure the safety and security of the organization's data.
High scalability 
The larger the business, the more it needs to process larger transactions. Therefore, the manual bulk transfer file uploading option cannot sustain in the long run. Thus, automatic reconciliation becomes necessary.
Cost-effective
The finance team solely cannot calculate individual employee wages or vendor commissions. Thus, payments using the bulk method can help you save time and resources for an organization by automating these tasks.
International transfer 
Advanced bulk payment systems, for example, pay-outs, support mass transfer from India to other nations. But the purpose of transfer should be pre-defined. So, now with the bulk payment option, you can easily transfer money to international accounts without chaos.
Now that you know what bulk payment is or how it benefits the growth and ease of payment for the business, here is a detailed guide to exploring its need.
Need for bulk payment
In business, there are continuous incoming and outgoing payments involved.
Pay-outs
Companies should pay their vendors, employees, or merchants on time. Therefore, you need to ensure they are paid immediately and timely in their bank accounts.
Refunds
Refunds frequently appear in the system of eCommerce businesses. You must rapidly process payments if you want to keep your clients happy. If there are any delays, consider refund orders through pay-out connections.
Contest
When running a contest, large companies and retailers require a mechanism to distribute the prizes in large quantities. So, they require speedy and large payments to earn their customers' trust.
Salaries and reimbursements
Processing payroll or employee reimbursements are another example of bulk payments that businesses need to work on.
Therefore, bulk payments offer vast possibilities with its set of advantages. Additionally, if you make multiple payments to a list of beneficiaries, you can run your business smoothly and fuss-free, which is why you must get in touch with EnKash.
EnKash is the fastest-growing spend management platform in the B2B space that helps businesses to digitize and simplify their commercial transactions. We offer a digital platform for all business authorities and organizations working on a large scale. In addition, our bulk payment solutions ensure that your business can easily and efficiently optimize its spending and save more. Check out our services and avail the best one for your business's growth.