Spend analysis is extremely important for new and growing companies. Businesses need to monitor every penny they spend very closely. If you are losing money due to inefficient or irregular spending, it may be difficult for you to meet your quarterly goals. The spend analysis comes into play here. You can spot trends and patterns in your expenses that you might not otherwise be able to observe if you take a close, in-depth look at them.
Spend analysis is a crucial aspect of business that assists organizations in developing strategies to cut expenses and improve the value of their supplier relationships. It gives organizations a magnifying glass to closely scrutinize and track expenses at every level. It also provides trends and insights that help businesses cut waste and increase their purchasing power.
Once you know these tendencies, it will be much easier to control your expenditure and save more money for your company. Read on to learn more about spend analysis, spend analysis dashboard, business spend management, and how it benefits businesses.
Spend analysis and its benefits
Spend analysis is just one step of the spend management process. It helps you make better supplier and sourcing decisions, shortens cycle times and improves contract compliance by clearly displaying your data.
Spend analysis can be defined as identifying, gathering, purifying, categorizing, and analyzing the spending data of your company. Spend analysis dashboards aim to lower procurement costs while improving visibility and efficiency. Real-time data and data analytics simplify the process of reducing costs and boosting production.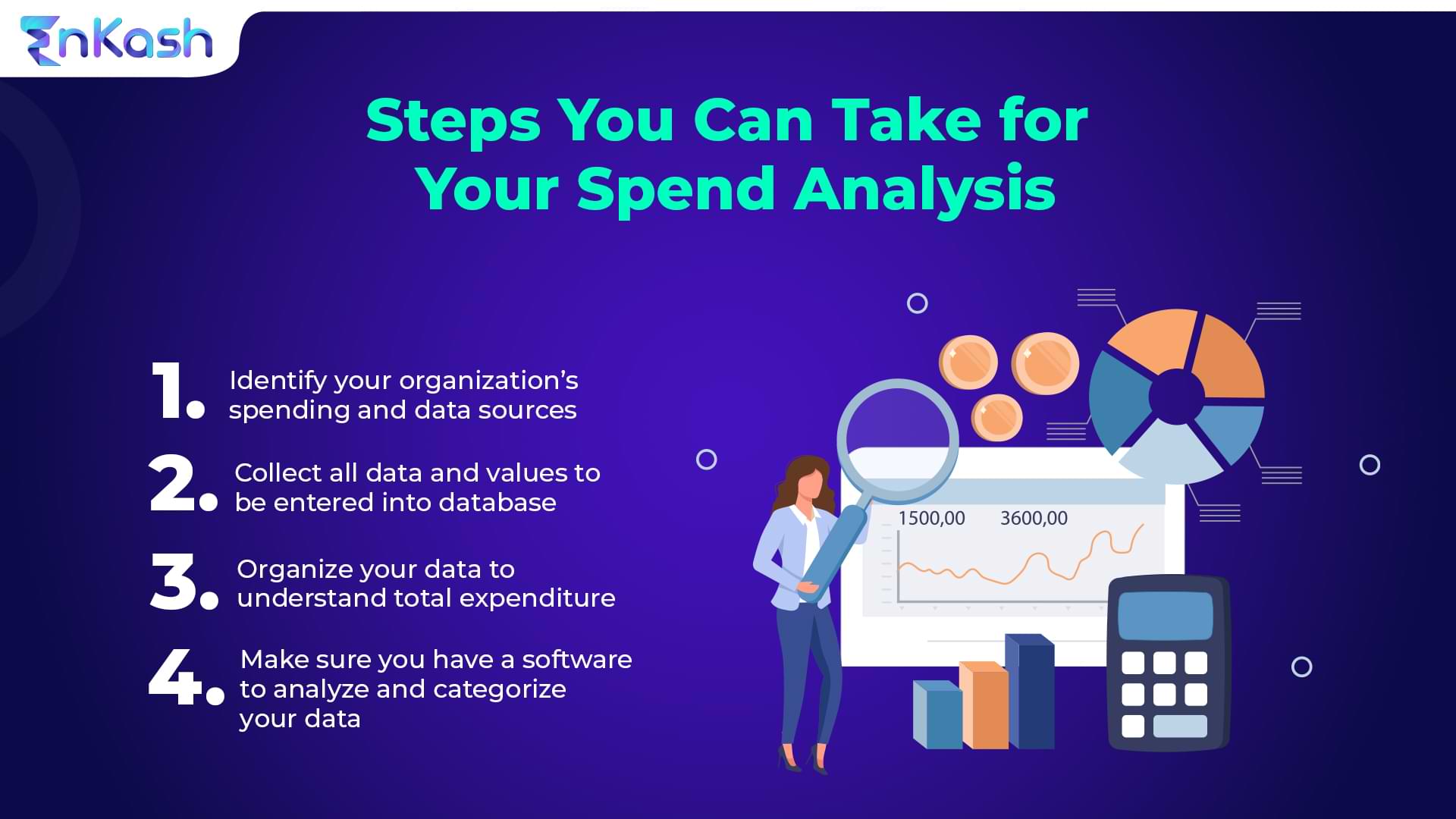 Advantages of Spend Analysis 
Expense transparency: The increased understanding of expenses is the most apparent advantage of spend analysis software. Businesses can analyze their procurement spending trends (such as where too much money is being spent) and change their sourcing practices to be more strategic.
Better revenue control: Having correct revenue data for your company, which shows a clear perspective of where your capital is flowing, is one of the advantages of spend analysis. Additionally, you have a lot of control over your money.
Strategic business opinions: Using data to make informed decisions can help you run your company more effectively. It uses facts and figures for decision-making rather than irrational predictions and gut feelings.
Addresses supplier and purchase risks: Businesses usually have to deal with various threats during procurement and leverage. Spend analysis is a tool that helps businesses identify potential threats during procurement and leverage. Companies can determine the impact these threats may have on their development by conducting a spending analysis and taking action before it's too late.
Raising working capital: Spend analysis can gradually alter the company's working capital by experimenting with different payment arrangements. It's crucial to make sure you always have enough money on hand.
What is spend analysis dashboard and how to do spend analysis?
Spend analysis dashboard is an interactive dashboard that gives information about a company's procurement activity and expenditures. It helps the business to pinpoint opportunities for process and cost improvement. Additionally, the spend analysis dashboard aids in the study of spending data to lower expenses, boost efficiency, and keep track of compliance and controls.
Listed below are a few measures you can take for spend analysis:
Identify your spendings and data sources from which expenses occur within your organization. Both direct and indirect costs will be included in this.
All the data must be collected, and the values must be entered into a database using a particular taxonomy. Beyond the standard spreadsheet, there are various software programs you can use.
Make sure you thoroughly understand the total expenditures in your organization by organizing your data.
Make sure you have a program that compiles your expenses into one place for quick access. This aids you in other aspects of procurement management and is an essential step in spend analysis.
Organizing your spending into categories will help refer to direct or indirect costs more efficiently.
Use an online software that analyses data for you so that you can check compliance, validate that your organization is purchasing from the proper suppliers, and ensure that monthly expenses are updated regularly or at least quarterly.
Business spend management vs. expense management
Spend management is a contemporary method of handling business expenses. It combines the four primary activities of bill payment, employee expenditure reimbursement, corporate cards, and non-payroll spending. Spend management is not merely cost management but develops expense management into a more innovative, all-encompassing strategy.
A corporation can more effectively allocate money into different categories with an efficient and comprehensive spend management approach. Spend management outperforms cost management every time, thanks to better resource allocation, increased visibility, enhanced employee accountability, and greater control.
Run extensive spend analyses regularly to monitor where your money is going and identify areas for improvement. One such spend management platform is EnKash, which supports more efficient spend analysis. It enables you to monitor spending in real-time to guarantee prompt payments and improved cash flow management. A thorough spend analysis allows your team to decide on necessary purchases and request for payment authorization.