It is imperative for businesses to keep track of expenses, increase cash flow, pay vendors on time, and maintain records for hassle-free auditing. While you may depend on the good old National Electronic Fund Transfer or NEFT to process payments, you may sometimes not have money in your account and face a cash crunch. Waiting a month for the funds to arrive might affect your relationship with merchants, vendors, and even your employees. And so you might use your personal credit card, which might create problems for your company's finance department. Hence, businesses must have a corporate credit card to ensure timely payments and to avail themselves of many benefits that come along.
This is where virtual credit card India can help you and your business stay on track with all the financial requirements. Want to know more? Read ahead to find out what a virtual credit card India is, its advantages, and how you can get an instant virtual credit card India.
Unravelling the mystery of virtual credit card India
While businesses are aware of corporate credit cards, virtual card in India is still a mystery for many. Functioning similarly to regular credit cards, they offer additional security and can be used for different purposes.
The virtual credit card India includes a temporary 16-digit card number, validity date and the CVV. Linked to the primary credit card, these cards do not disclose users' information and are safe to use. Businesses can set a spending limit for the virtual credit card to reduce expenses to keep expenditures under the budget. Additionally, as a business, you can limit its use and where it can be used to make payments.
Advantages of virtual credit card for businesses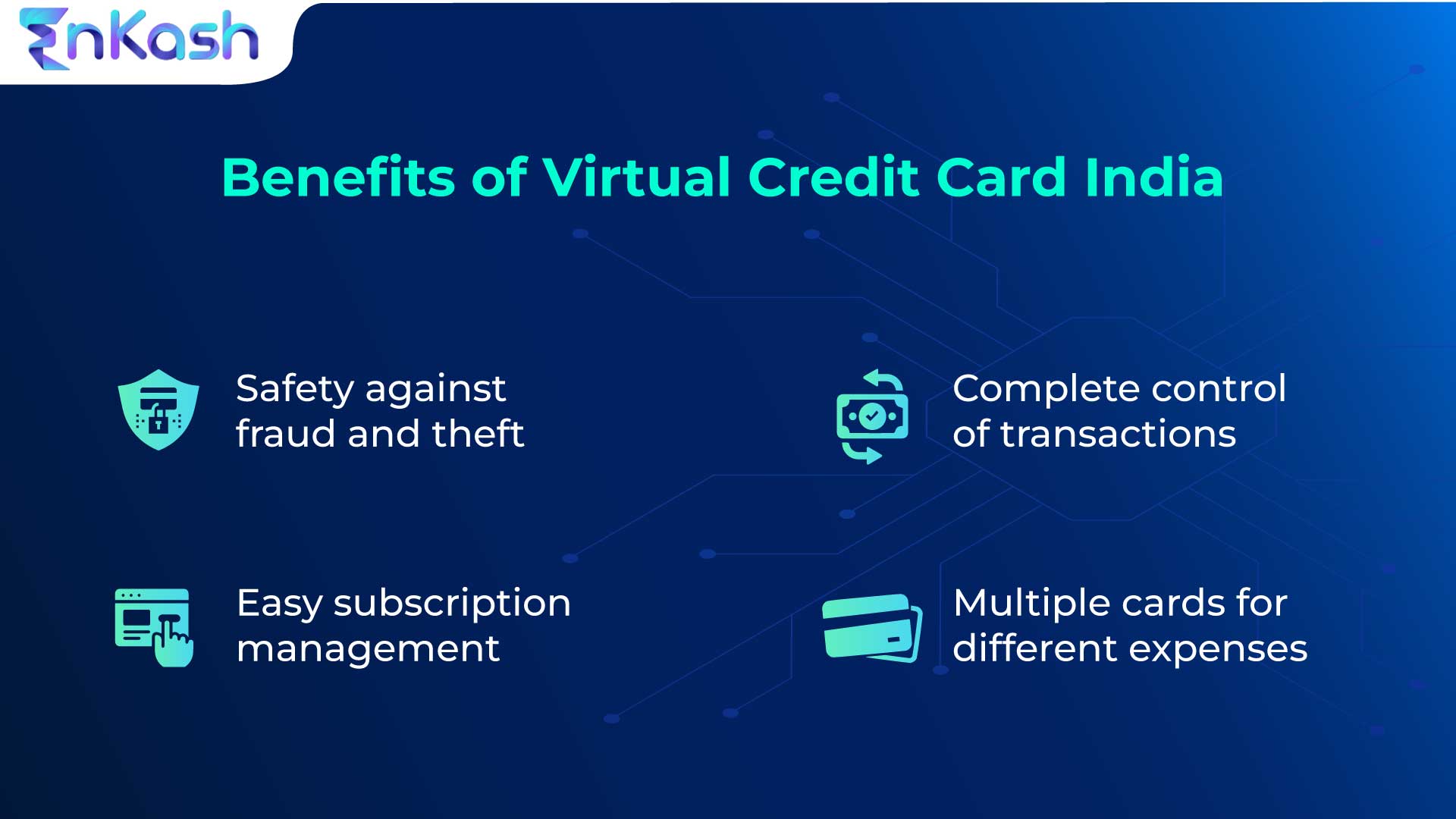 Virtual card in India are one of the most convenient, reliable, and credible payment solutions, especially for small and medium-scale businesses. Due to the security it offers and complete control over transactions, the virtual credit card is becoming the preferred mode of payment for the B2B sector. Here are a few advantages for businesses when they opt for a virtual credit card:
Create virtual cards for different purposes
Unlike the plastic credit card, you do not have to use one virtual card for different payments. You can create multiple virtual credit cards for each department, set a payment limit, and monitor their expenditure. Extremely convenient, right?
Helps streamline transaction records
It becomes tedious for the finance department to maintain records by keeping a collection of receipts and bills. It is often challenging to explain why a particular team made a payment or whether the invoice is right or wrong. With the help of a virtual credit card, there's no such hassle of maintaining the records. Additionally, with a virtual credit card used on the EnKash platform, all your payment records will be archived on one platform, and you can easily access the data online.
Complete control of cards
Suppose you have monitored some unusual activity or lost the card, blocking the physical card might take several days. But when you opt for an instant virtual credit card from EnKash, you get the DIY features to instantly block, unblock, set limits, monitor transactions and such. All you have to do is log in to your account, access the dashboard, and check data without additional support.
Paying your vendors on time
Virtual credit card is instrumental when it comes to paying vendors. You can create individual virtual cards for vendors associated with different departments of your company. Once you pay them with a credit card, you will have an entire month to pay the card bill. During this duration, you can increase the cash flow, and by paying on time, you can also increase your credit score.
Increasing credit score
It is imperative for any company to have a good credit score. With the help of virtual credit cards, your score will increase by paying bills on time. This will help you in getting instant approval on loans with low-interest rates.
Furthermore, you can set monthly budgets for your employees, conduct a budget analysis with the consolidated report, and get better security and safety from online fraud or theft.
How to get an instant virtual credit card?
Getting an instant virtual credit card is now easy with EnKash. Follow these simple steps to get your virtual credit card:
Visit the official EnKash website
Sign up or log in with your official details
Once the login procedure is completed, you will have access to the EnKash platform
Click on the setting icon on the top right of the screen and fill in your details
Upon saving details, go back to the home page
Scroll down and click on the credit card option in the freedom section
Enter your GSTIN info
Upload your company's documents
Enter the director's PAN card, email, and mobile number for the bureau check
Submit your application successfully
Get a virtual credit card with EnKash today
EnKash is one of the best digital spend management platforms that allows businesses of all scales to streamline their payments and enjoy paperless transactions. With the help of EnKash, you can control your financial transactions across different branches of your company from a single platform. Easily manage vendor payments, pay recurring bills without a miss, and let your finance department run a hassle-free audit. Sounds exciting? Connect with EnKash and get your virtual credit card India today!