Businesses indulge in bulk payments and must submit the invoices for the record to ensure a smooth auditing process. However, maintaining such payment records can be challenging for the finance department as they need to keep track of approval to clear the invoices. This might be a challenge, especially for small or medium-sized businesses.
UPI payment tracking is crucial to maintain the records of the revenue stream and predict the cash flow and status of UPI payments to avoid any errors. And so, having a robust plan to track where the money is going is essential. Various platforms and software are available to help you keep records of all the data without extra manual effort. Learn how to conduct a UPI transaction status check and maintain a clear record here.
What is UPI?
Unified Payment Interface, also known as UPI, is a popular payment method that allows you to transfer money through bank accounts. It has been a game changer for bank account holders as sending money is free of charge. Each account holder gets an ID, such as abcdxyz@bankname, which is a unique identification of the account you use to send or receive payments. Payments can be made via third-party applications after linking them directly with a primary bank account or via a bank app. All this can be done simply by using your smartphone or laptop.
What is a UPI transaction status check?
UPI transaction status check showcases the status of the UPI payment. It shows whether the payment is successful, failed, or still in process. Once the payment is completed, it will show the account holder's number, name, and UPI ID with payment status. You can use the reference number for UPI payment tracking.
Steps for UPI transaction status check
In case you want to conduct a UPI transaction status check, here are the steps to follow:
Open your bank's mobile app or log in to your online banking account to initiate a UPI transaction check
Look for a section or tab related to UPI transactions, which may be labelled' UPI, 'Payments,' or similar to conduct a UPI payment status check
Select the UPI transaction for which you want to conduct a UPI payment status check. For this, you may need to provide the UPI transaction ID or reference number
Look for the status of the transaction. It should be displayed on the screen. This is the final step of a UPI transaction status check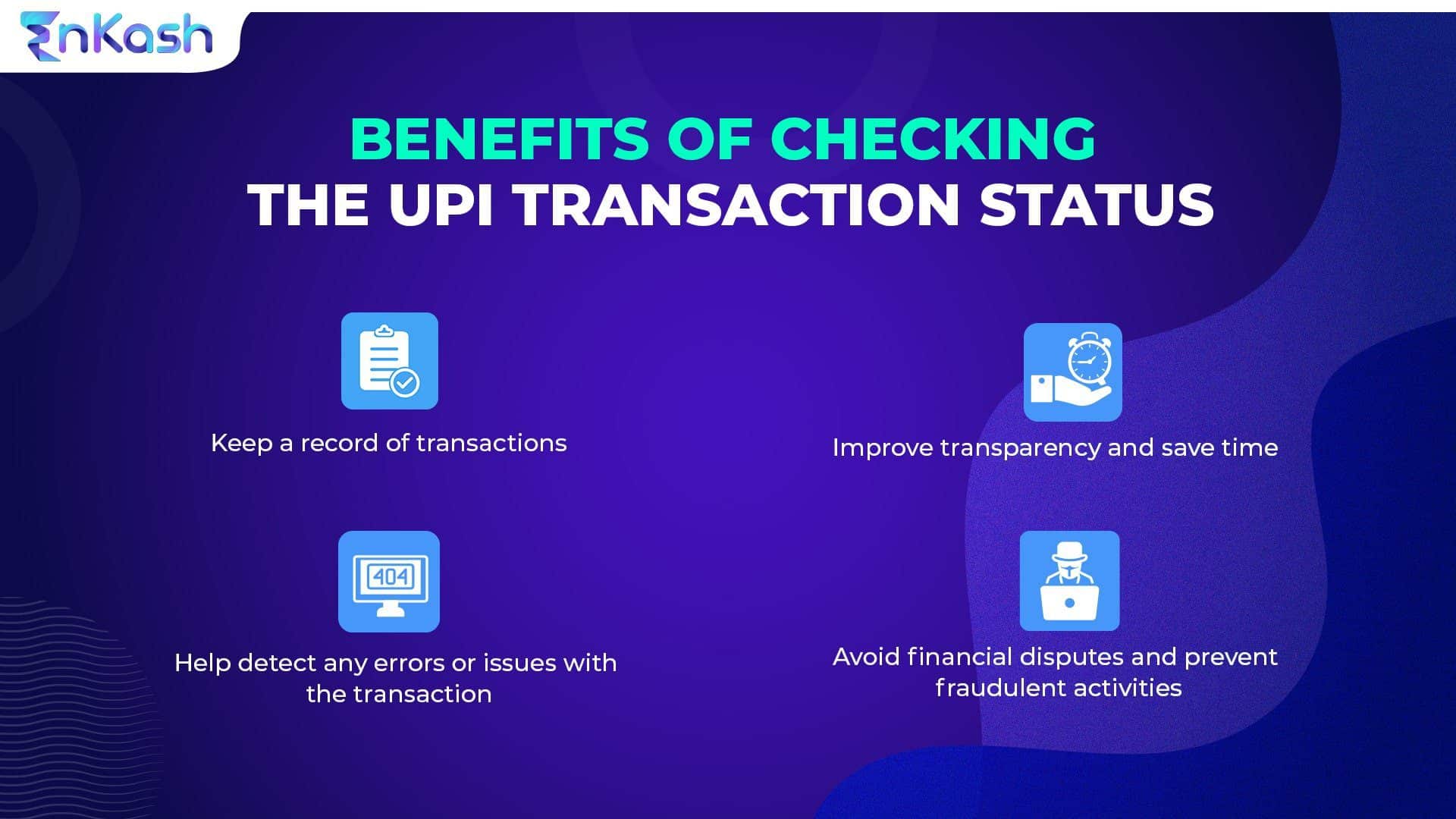 If you need help finding the status of your UPI transaction or have any difficulty doing UPI transaction status check, you can contact your bank for assistance. They will help you with UPI payment tracking.
Why do businesses need to maintain the UPI transaction status?
As mentioned earlier, conducting a UPI transaction status check for businesses is mandatory to avoid auditing errors. Here are several reasons why companies should do UPI payment tracking.
Avoid legal troubles
A transaction proof serves as legal proof of the purchase or the payment. It also helps track the payment date, the supplier, and the item. For every company's bookkeeping, the record of transactions is the foundation for proper accounting. Accounts can be prepared only with the help of invoices and payment proof.
Helps in tracking expenses through UPI payment tracking
If your profit is zero, having a payment record after conducting a UPI transaction status check will help track down the expenses. The company can create a budget management solution to avoid spending extra money and increase profit.
Helps in filing taxes
A company can pay the right amount of tax and file tax returns only if they have accurate records. If the tax authorities ask for the records to check whether the company has evaded tax or filled in the wrong information, showing the records will help. You can access the records after conducting a UPI transaction status check.
Helps fight missed payments accusations
Businesses often face accusations of not making payments to the merchants. Suppose you made the payment through UPI as maximum small businesses do; having the checked record will serve as proof of the transaction and help the company avoid any dispute.
How does EnKash help?
EnKash is a spend management platform that provides numerous features to businesses to streamline their finances. One such solution includes creating and maintaining a clear approval workflow.
With EnKash's fintech solutions, you can make timely payments, meet audit compliance, and control expenses while having a complete record of transactions from the beginning with its unique features, such as the UPI payment status check. In addition, with the help of EnKash, you can set spending limits by opening a virtual account or providing a virtual credit card to different departments to make payments, check all the records, and avoid under or overpaying while archiving the records of payments. Stop waiting and connect with EnKash today to create a more robust and precise workflow for your organization!