The world is going digital, and the latest development in the financial sector is the unceasing rise of online payments. Pertaining to the aftereffects of COVID-19 and ease of payment, making any transaction online has become the new norm. The reason for this massive change is the speedier and simpler mode of transaction. Additionally, paying digitally allows you to do it whenever and from wherever you want. This further saves time and ensures quick transactions.
For a new business owner, the size and complexity of accepting payments online may be bewildering. However, you will come across several names you are familiar with or must have seen their advertisements while looking for the finest portal to receive or make payments online.
Continue reading and learn more about the best way to accept payments online, why businesses must streamline their payment process, what embedded payment links are, and how accepting payments online is beneficial.
Why businesses must streamline their payment process?
By streamlining the payment process, you can avoid loss of time that could be used for other purposes
Customer trust is enhanced when they can complete a transaction and merchants receive payment online effectively
Automating the payment process greatly reduces the likelihood of human error in manual processes. Due to automation's ability to recognize errors in real-time, automated accounting systems significantly reduce or eliminate delays
More clients will pay on time when accepting payments online options are clear and simple. Too many late or missing payments from clients are among the factors that prevent small businesses from failing
Being able to track accounts receivable is another benefit. With a streamlined process, you can swiftly receive payments online, determine how much is still due, identify which clients are at chance of being late with their payments, and identify areas that require follow-ups
Maintaining proper accounts and records is the final reason to streamline the payment process. It can ensure that all invoices for a single business or from a single period are stored in the same location, precisely recorded, and stored
What are Embedded Payment Links?
A payment link is a clickable or scannable code that enables a customer to finish a transaction. Payment links can be used on websites, social media platforms, applications, text messaging, and in person for accepting payments online. They can also be offered as digital links, buy buttons, or QR codes.
Embedded payments describe payment processing features built into the software. For instance, businesses could use software for internal operations or dealing with customers. With this software, the embedded capability helps companies or merchants accept payments online and reconcile transactions immediately instead of entering a third-party website or physical terminal.
The ability to complete transactions is a significant benefit of integrating embedded payments into your system. To finish an order, customers only need to click a button. They do not have to wait while entering their payment information, which may give them time to reconsider and change their mind.
How can EnKash help streamline the payment process?
Managing operations is the key to enhancing development and revenues in your company. It further helps manage your business expenses, enhances transparency, and optimizes expenditure. Hence, it is imperative for a company accepting payments online every month to have an efficient spend management platform in place.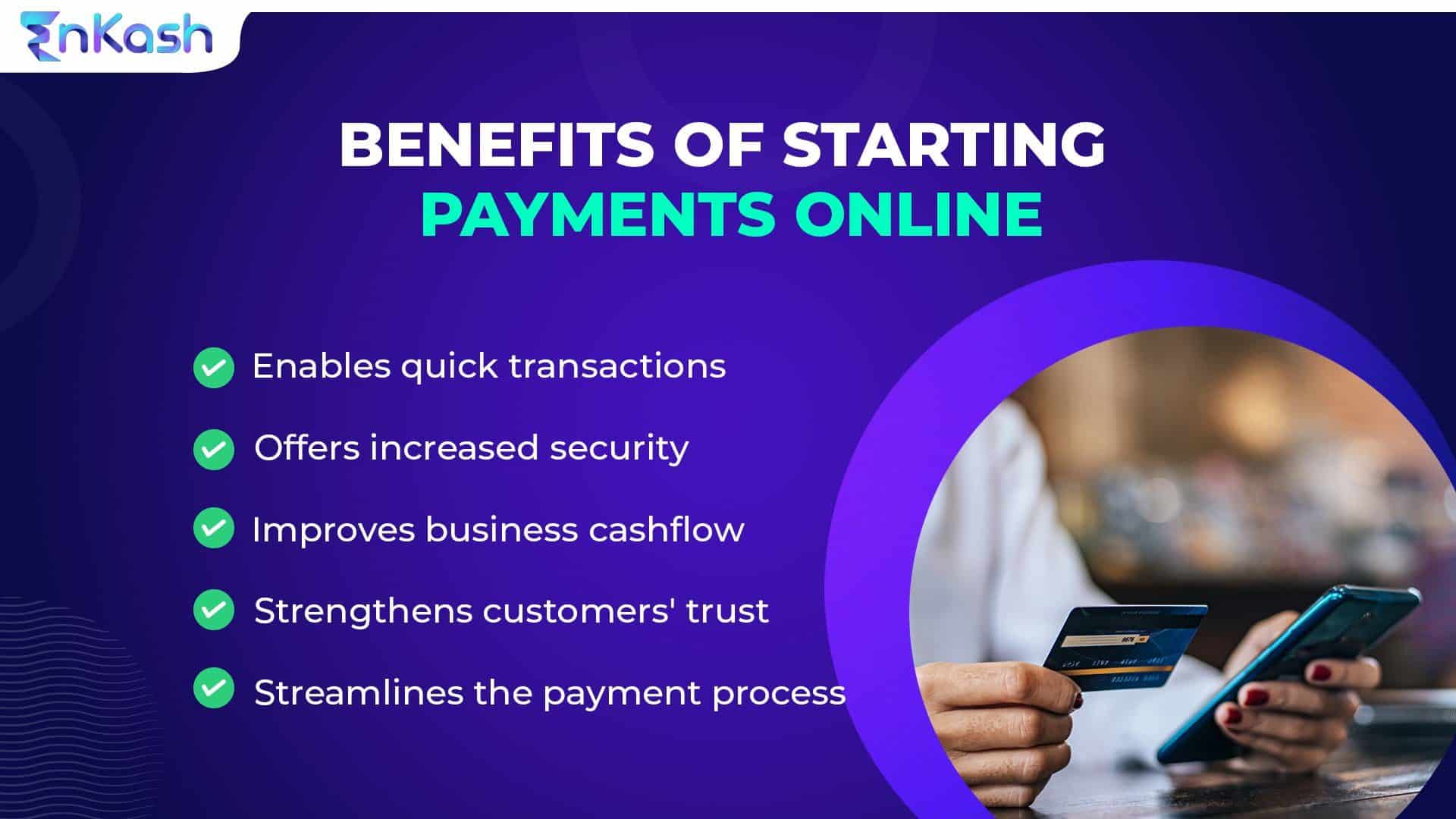 EnKash offers umpteen benefits to help streamline your payment process. Some of them are listed below:
Payment links included in invoices or other communications help in accepting the payment online effortlessly and fasten the collection process
Various payment choices may be available when customers click on an embedded payment link
Since the invoices are received by email, they may be accessed anywhere
You receive real-time, detailed information for every payment made by any department in your business
Enhances operational effectiveness to stop financial loss and automates all payment and tracking operations to be more efficient
Assists you in eliminating unnecessary expenditure, make the most use of your resources, and quickly update a list of your recurrent expenses
Utilizing analytics, you may dive deep into your spending patterns and routines to uncover critical insights
Assists you in saving time, money, and effort, much like operational efficiency
Streamline your online payments with EnKash
Before diving into the specifics of payments for various business models, it is beneficial to understand how payments operate. This includes how money goes from a client to your company, how banks enable these payments, and the system costs.
Offering various solutions for accepting payments online, EnKash also helps you manage payables and receivables and improve cash flow. So, connect with us now and instantly start accepting payments online by setting up your digital transaction account.