Virtual bank accounts have been in high demand for the past couple of decades, offering unique advantages to users compared to traditional bank accounts. Open a virtual bank account if you do not have one already and witness the positive change in many aspects of the way you manage finances.
What is a virtual bank account?
Virtual bank accounts are unique account numbers assigned to traditional bank accounts, also known as settlement accounts. Virtual bank accounts are like traditional bank accounts, but they offer users some additional benefits, such as speed, security, etc. 
A virtual business bank account offers online banking services and has no or fewer physical branches. A virtual bank is different from a traditional bank as it requires a physical place to run its operations, while virtual banks work exclusively online. In addition, virtual banks need no minimum balance and do not charge any service fees.
Virtual accounting management gives customers an online solution to access and send money, handle their debts, and make money transfers easier. Since virtual accounts are unique, receiving funds into a specific virtual account makes it easier and faster for businesses to identify who made the transaction. E-commerce merchants can use these as an alternative payment method.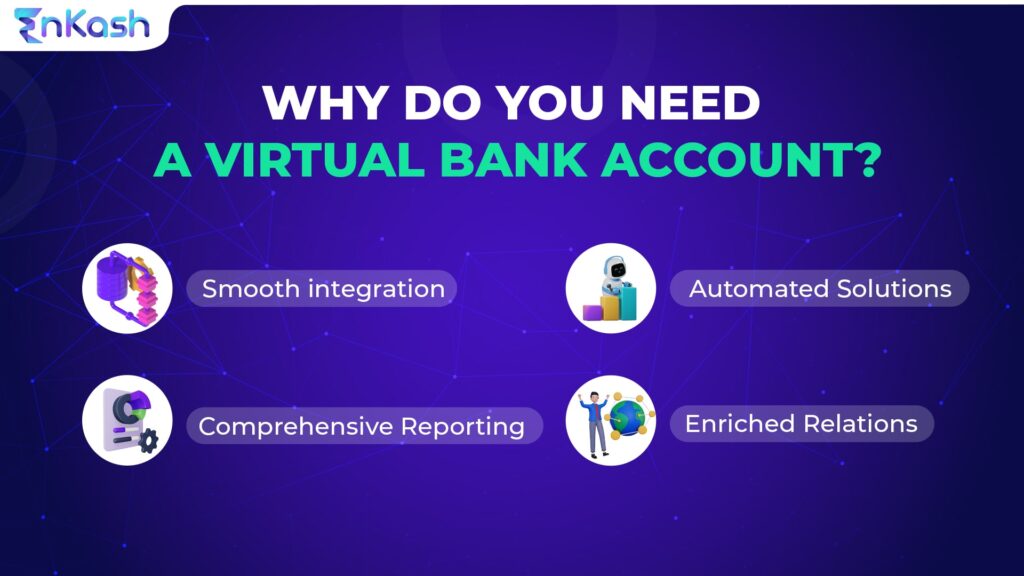 How does a virtual bank account work?
Working with a virtual business bank account is simple and easy. A virtual bank operates by allowing its customers to do business activities online.
Virtual bank accounts are operated in 3 following ways –
Creating an account
First, a customer must activate a virtual account within his or her existing account. You can also open a new account can be opened by filling out an online application and making a deposit in it. The customer can either submit the form online or can print it. Then, the customer must transfer the amount electronically or pay via cheque to make a deposit.
Paying funds in one way
Virtual banks allow users to deposit money into virtual accounts by having the employer deposit their paycheck directly into their account. It is also possible for the user of a virtual account to transfer funds from another account into your virtual bank account.
Paying funds out
Like traditional banks, virtual banks also issue debit cards, and thus, a customer can order cheques. In addition, virtual banks offer users the option of paying their bills online. However, the virtual business bank account does not have ATMs.
How to open a virtual bank account?
By following these steps, you can easily open a virtual bank account:
Provide account owner information
The application will ask for the personal contact information of the applicant, which contains identity proof (Aadhar card, voter ID, PAN card, etc), address proof, and more information that the bank can use to identify you.
Read and sign disclosure documents
In this step, you will be asked to read and agree to the terms and conditions of the account. These documents are stored and easily accessible from your online account.
Fund the account
Once you get a bank account number, you must fund your account. You can fund your account by transferring the money from an existing account at the same bank, from your debit card or a credit card if the bank allows these transfers or wire transfers from another financial institution.
Advantages of having a virtual bank account
Having a virtual bank account can benefit you in many ways. Some of them are listed below:
• Guaranteed security
Virtual accounts are operated online and utilize a secure platform that guarantees customers' data is secured. In addition, virtual business bank accounts have multi-factor authentication features, which result in added security.
• Convenience
Virtual bank accounts allow you to access banking services wherever and whenever you want. Whether at home or travelling in any corner of the world, you can easily manage your account and access your banking services. It also saves time that is usually wasted on transactions when done physically.
• Better spending insights
Virtual bank accounts offer numerous customizable benefits. For example, as virtual banks work with artificial intelligence and machine learning, it becomes easier to get insights into your spending that help you build your budget and set financial goals.
• Online customer support
As there are no physical branches, most virtual banks offer 24/7 hours customer service, which saves you time and effort compared to the traditional bank, where you must wait for your transactions. Virtual banks also employ better technology which simplifies many banking operations.
• Higher interest savings
A virtual bank has many advantages and is much cheaper than traditional ones. Therefore, the savings received come as interest on your savings.
• Environment-friendly
No paper is used for making statements, no need to go to the bank using cars emitting pollution, and no additional space is needed for staffing or housing. Virtual banks allow you to become genuinely cashless.
With the benefits mentioned above to look forward to, EnKash is the best spend management platform that offers efficient financial management services to users. We offer virtual accounting management solutions for more accessible collection and reconciliation of our users. So, you can enable a strong self-service orientation and get flexibility with our services. With the virtual bank accounts we offer, we ensure the bank reconciliation process becomes quick and more accessible.
Start exploring the solutions that EnKash offers and streamline collection efforts. So, do not wait; connect with us today to enjoy the benefits of virtual accounts.