Business credit cards are similar to regular credit cards but are designed specifically for business owners. These business credit cards help build an organization's credit profile which is crucial for future loan applications. The business credit card is used specifically for the business-related expenses such as bank fees, company car, software, utilities, payroll, rent and more.
Small or large scale, a business credit card is essential for all businesses. However, the business cards benefit companies, especially start-ups. Here is everything to learn about the best business credit cards, their features and how they can benefit your start-up.
Understanding Business Credit Cards
Business cards offer higher spending limits and different rewards depending on the card lender. Some of the business credit are enabled to track the expenditure category wise making it easier for the companies to download the invoice and keep a tab on the expenses to pay back before the due time, maintaining the credit report. Here are the businesses that qualify for best business credit cards-
Freelancers
Sole proprietors
Large business owners
Start-ups
Corporations, and
Limited liability companies
Business credit cards allow you to make purchases on credit and pay for them later. The business cards come with a credit limit, the maximum amount you can charge to the card. You can use a business credit card to make purchases online, over the phone or in person.
Using best business credit cards can also help you establish a good credit history for your business, which can be useful when you need to borrow money or apply for a business loan. Many business credit cards also offer rewards programs that allow you to earn points or cash back on your business purchases. These rewards can offset business expenses or provide other benefits to your business.
Importance of Best Business Credit Cards for Startups or Small Business
Small businesses or start-ups are burdened with many responsibilities to be profitable. There are sometimes zero profits as the maximum cut goes into the payroll. A business credit card can be a boon for these organizations if used smartly.
Small businesses and start-ups often receive emails to apply for the best small business credit card with added benefits. With the help of this card, they can manage various daily expenses and still enjoy the added rewards. Here are the key benefits of having the best small business credit card-
Managing employee expenses with ease
Often employees pay from their personal cards and apply for reimbursement by submitting the original bill. In case the bill is missing, justifying the reimbursement during the audits can create trouble for the company. However, with the help of the best small business credit cards, the employees can easily pay for expenses with the card, and the finance department will then have to generate bills from one source each month.
Having the best business credit cards will help business owners track how much their employees spend or whether any unusual transactions need special attention.
Simplifying and streamlining the cash flow
You can purchase anything from equipment to office supplies with the best business credit card. However, multiple paying sources are difficult to track. Come tax season, the finance team will need help to transfer multiple data to QuickBooks or excel.
With the help of the best business credit cards, you can access all the info at one source, link it with your software, and transfer all the information automatically. This will help in saving time and maintaining records concisely.
Separating business and personal expenditure
Using a business credit card allows you to separate your personal and business expenses, making it easier to track and manage your business finances. It also helps to protect your credit score if your business runs into financial difficulties.
Key Features to Check While Picking a Best Business Credit Card
Picking the right business credit card is essential to avail of the benefits. Like individual credit cards, interest rates, spending limits, spending tracking features, and more should be checked. Key features that you should check while picking the best business credit card: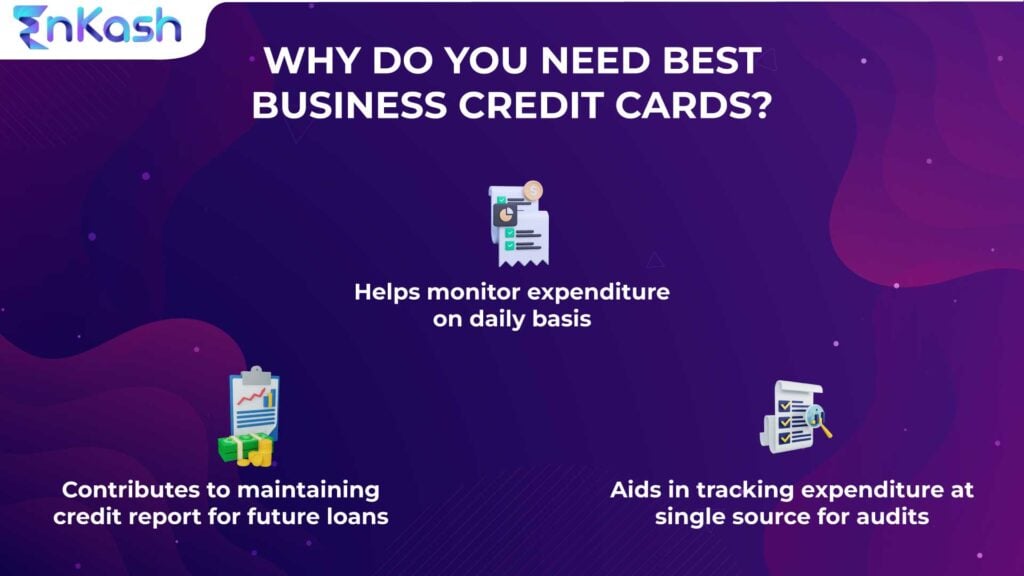 1. Rewards and perks
Many business credit cards offer rewards and perks such as cashback, points, and discounts on business-related expenses like travel and office supplies. Look for a card that offers rewards that align with your business needs and spending habits.
2. Interest rate
If you plan to carry a balance on your business credit card, it is important to consider the interest rate. Look for a card with a competitive interest rate or lower interest rate.
3. Credit limit
Business credit cards often have higher credit limits than the personal credit cards, which can help make larger purchases or manage cash flow during slow periods. Consider your business's needs when choosing a credit limit.
4. Annual fee
Some business credit cards charge an annual fee, which can vary widely depending on the card and its features. Consider whether the card's benefits outweigh the annual fee and whether you will be able to offset the cost through rewards and perks.
5. Ease of use and expense tracking
Look for a business credit card that offers online tools and resources for tracking and organizing business expenses, making it easier to manage your finances and prepare for tax time.
6. Fraud protection
It is important to choose a business credit card that offers strong fraud protection to help protect your business from unauthorized charges.
7. Customer service
Look for a business credit card with good customer service in case you have any questions or issues with your card.
Apply for a Best Business Credit Card with EnKash
The spend management platform EnKash provides transaction and expenditure solutions to companies of different scales. The purpose-based cards from EnKash cover various business expenses such as travel, procurement, subscriptions and more. You can also apply for a virtual business credit card for ease of payment. Explore our platform today and apply for the best business credit card for your start-up.