Data management is one of the primary responsibilities of a business. Certain data or information about the operations of a firm is integral in assessing the trajectory of growth and corporate behavior of the firm. This information is majorly financial transactions, trade secrets, and other sensitive functions of the organization. Even when accreditation and certification of an agency takes place, this data is proof of the company's work ethic, profitability, and quality of offerings. Therefore, it is mandatory and essential for businesses to track and record all modifications and changes in their data to uphold transparency and reliability to all their stakeholders.
Therefore, to ensure regular and efficient maintenance of data, firms utilize the audit trail in Tally. Businesses use audit trails to consistently keep track of the company's functions such as finances, operations, and quality checks. Audit trail in Tally allows the user to track and keep a chronological record of any changes made to transactions, ledgers, and other financial data. This includes the date and time of each change, who did it, and why the change was done. The audit trail in Tally contributes to the integrity and correctness of financial records and can be valuable for auditing and reconciliation.
Whether it is alteration or deletion of data, the audit trail in Tally keeps check of every modification and delivers accurate, reliable reports. These audit trails in Tally reports reflect the systemic operation of a firm and assist auditors to evaluate the work and value of the firm. Now let us understand how the audit trail in Tally functions and handles various types of audit trails.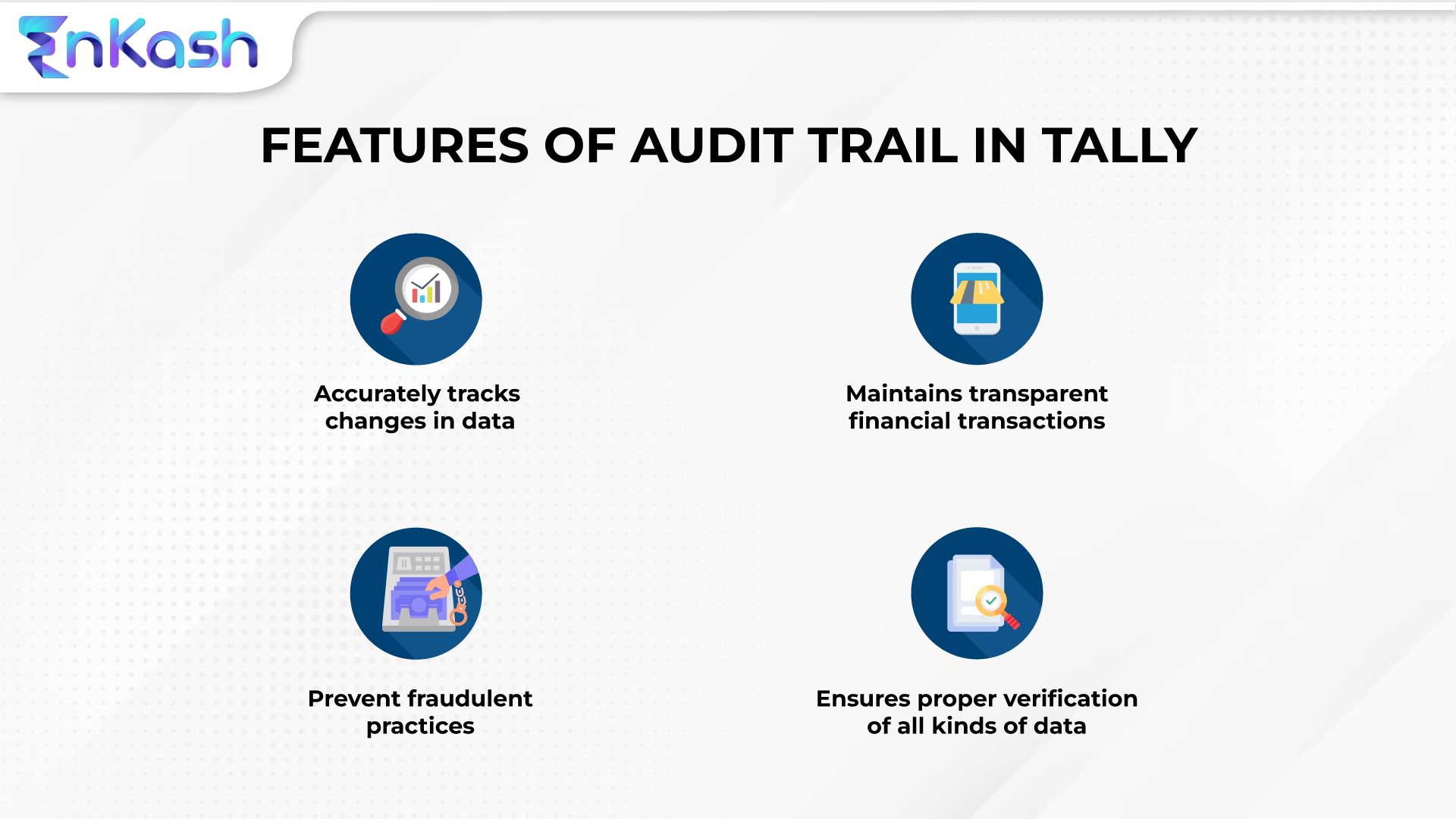 Audit trails: The report card of a business
Audit trail in Tally not only helps external agencies to examine a business' operations but also provides a business with a realistic summary of its commercial doings in various segments. By doing an audit trail in Tally, you can chalk out the necessary loopholes and bottlenecks in financial transactions and operations procedures. By accounting audit trail in Tally step by step, you can trace the source of an entry and follow through its trajectory to understand the function. There are several steps of how an audit trail in Tally is formulated specially to track financial transactions:
Identifying critical invoices
All invoices must be accounted for as they become the initial data point through which the payment process is backtracked. By recognizing and registering all invoices and matching them with the necessary stakeholders involved, the audit trail in Tally ensures transparency in business transactions.
Verifying and validating the authenticity
The audit trail in Tally verifies every invoice down to its source and maintains continuous records of financial transactions, work events, product development phases, or ledger entries' history, timestamps, and details. This extensive record not only protects customers from false reporting but also contributes to the general economic stability of a business.
Payments processes
The payments received and incurred on different expenses are also taken into account and highlights the business's net worth, profits, sale, etc. Investors often use audit trails in Tally to measure a firm's growth before investing their money. Moreover, this also upholds the integrity and accuracy of the financial operations done by a company and ensures that there are no fraudulent practices.
Various types of audit trails are performed by businesses to cover all segments of a commercial institute. These include compliance, operational, financial, and information technology audits. By practicing different types of audit trails, businesses build a robust foundation to compete fairly in the market.
If you are an emerging business, effectively accounting audit trail in your commercial habits is the best possible way to ensure a successful run in the corporate ecosystem. By accounting audit trail in Tally in the firm's regular processes, you can envision a better organized and structured system in your organization.
Thus, it becomes evident how audit trails in Tally can exponentially assist your business in maintaining transparency, analyzing operational loopholes, tracing financial transactions, and upholding commercial integrity in the ecosystem.
We, at EnKash, understand the importance of this process and therefore offer seamless and accurate audit trailing solutions through our platform. With EnKash's advanced and dynamic financial platform, you can control your audit trails, speed up payments and create hierarchical responsibilities to ensure maximum accuracy in audit trails. Sign up right away to attain commercial excellence with us.