One Person Company also called OPC is a company formed by a single person who is an Indian Citizen and a resident of India as per the Company's Act 2013. This single person can be the director and the member as well. Previously, to form a Private Company, it was required to have a minimum of 2 directors and 2 members. 
It was mandatory to have at least 3 directors and 7 members to establish a Public Company. One Person Company's meaning can also be seen as an example of a 'One Man Army,' which led to the recognition of a new way of starting businesses in India that ensures flexibility and hassle-free processes.
Now that we have discussed what a One Person Company means let's dive deeper. Further, this blog will discuss One Person Company in detail, including its features and benefits, eligibility criteria, required documents, and more.
Important Things to Know about One Person Company
One Person Company is also known as Single Person Company
An individual, once registered for One Person Company, cannot incorporate the same again
The nominee to the memorandum of OPC shall not be eligible to become the nominee for another One Person Company
The director and the shareholder can be the same person in One Person Company
One Person Company can have maximum 15 directors
A minor cannot become a member or a nominee of OPC
One Person Company Features and Benefits
Take a look at the One Person Company's features and benefits: 
One Person Company can be registered as a private limited company, only
Funds are easily accessible to OPC
Fewer compliances as compared to a private company
Incorporation of One Person Company in India is easy as it requires minimal documentation
More remuneration is taken home by the owner as compared to other companies
It is provided the same legal status as that of a private company
No annual general meetings are required
All the shares and investments of the OPC are handed down to the nominee in the event of the death of member
Foreign funding is accepted unlike in the case of sole proprietorship and partnership
Complete ownership of the company is with the single person
One Person Company Registration Process 
Follow the steps mentioned below for One Person Person Registration process:
Step 1: Apply for the Digital Signature Certificate (DSC)
Step 2: Apply for Director Identification Number (DIN)
Step 3: Now, select and file for Name Approval Application with Ministry of Corporate Affairs (MCA)
Step 4: Applicant must sign the draft of  Memorandum of Association (MOA) and Articles of Association (AOA)
Step 5: Collect and submit all the required documents along with registration fee and stamp duty
Step 6: Filing and approval of application forms with MCA
Step 7: Obtain  a Certificate of Establishment or Incorporation
One Person Company Eligibility Criteria and Documents Required
Take a look at the eligibility criteria and documents required:
To form One Person Company, an individual must be a resident, as well as a citizen of India
He/she can be the member and nominee of the company
Applicant must submit the following documents to form One Person Company in India:
Application form and owner's passport size photographs
Copy of owner's updated Aadhaar Card and Voter ID card
In case the property is rented, owner's PAN Card, Property papers, and ent agreement must be submitted
Company's utility bills, NoC from the landlord or any other document required by the Registrar of Firms
Difference Between One Person Company and Sole Proprietorship
Often there's confusion between One Person Company and Sole Proprietorship in terms of ownership, liability, and more. Below are the two key differences between the two: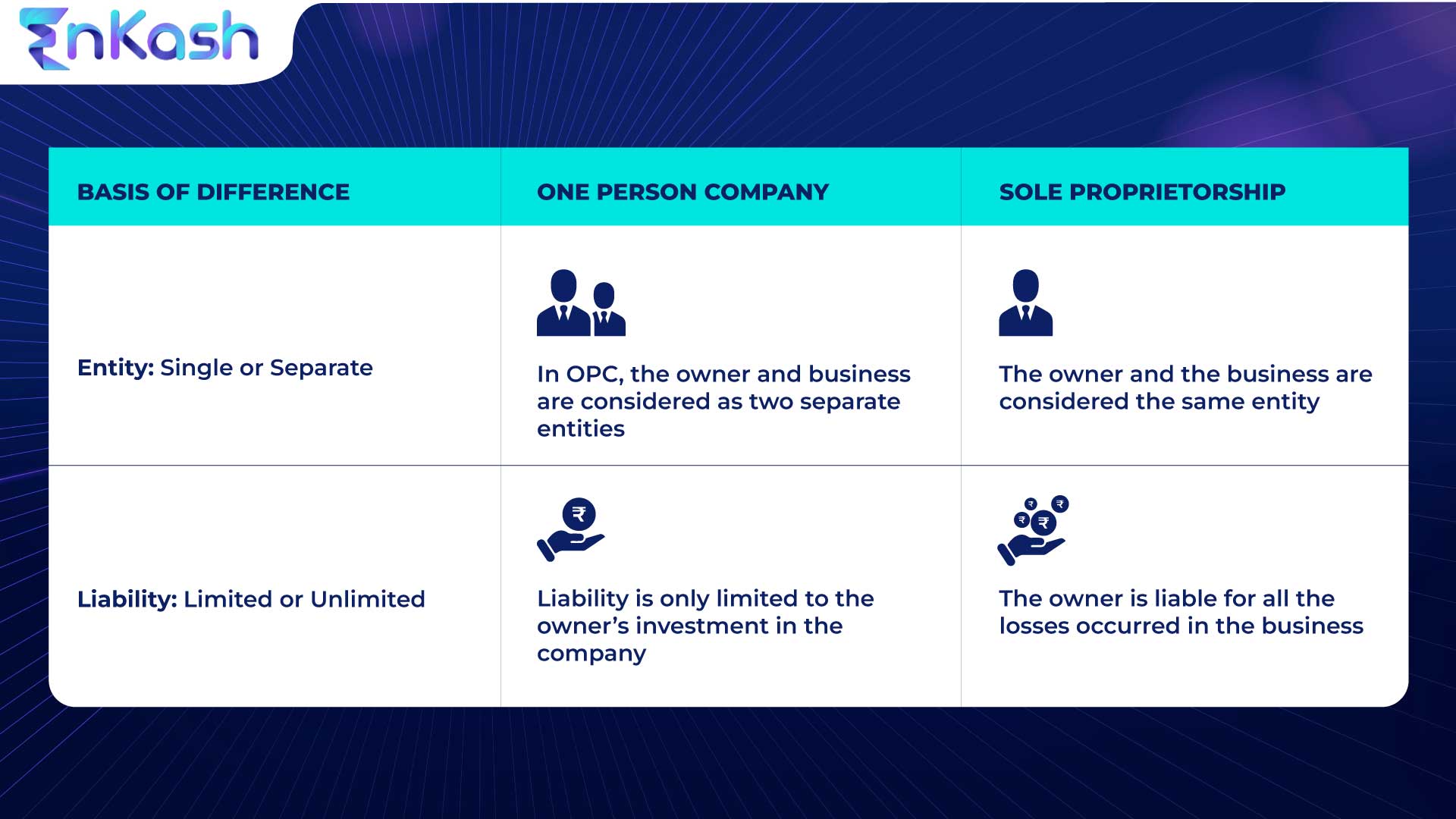 Frequently Asked Questions
Here are a few frequently asked questions relating to One Person Company:
Q. Is Goods & Services Tax  (GST) mandatory for One Person Company?
Yes. Similar to other types of companies in India, GST is also mandatory for One Person Company.
Q. What is the minimum age requirement for starting a One Person Company?
The minimum age required for starting One Person Company is 18 years, and the applicant must be an Indian citizen.
Q. How much capital is needed to start One Person Company?
The maximum capital required to start One Person Company is Rs. 1 lakh. However, the applicant does not need to invest that amount in business.
Q. Is it possible to operate more than 1 One Person Company at the same time?
An applicant cannot run more than one One Person company simultaneously.