The pandemic has pushed entrepreneurs to the edge of their seats. Many find themselves struggling with business payments due to pending invoices or the inability to finance working capital.
Credit scores and technical jargons often get in the way. But we're here to ease your worries. So, worry less and read along.
What is a Business Credit Score?
A business credit score is the ability of a business to avail loans (e.g., working capital loan) from the market (from banks or Non-Banking Financial Companies (NBFCs)). It is the "creditworthiness" of your company and foretells the financial risks for creditors who shall lend your business the needed money.
Business credit scores are also evaluated for issuing corporate facilities (such as the Corporate Credit Cards) to entrepreneurs. It is sensitive to many variables, such as payment habits, credit utilization, and consumer feedback, to name a few.
However, it is to note that it is not the same as a personal credit score. Entrepreneurs can be creditworthy even when they have a low business credit score, which can mean a risky decision for creditors to lend large sums of money.
Good vs. Bad Business Credit Score
A Credit Report helps you calculate your business credit score. If you are applying for business loans such as the working capital loan, evaluate your credit score beforehand.
Credit reports analyze variables such as credit payment history, credit utilization efficiency, credit balance, loan defaults & bounced cheques, etc.
Business credit scores are measured across various standards such as the PAYDEX Credit score, financial stress credit score, Experian Business credit score, Equifax credit score, Credit Information Bureau India Limited (CIBIL) score, etc.
Each of these standards relies on a detailed analysis of credit lending variables and data gathered from vendors, suppliers, and independent market bodies to determine the credibility of a business.
The CIBIL score is the most widely used score for Indian MSMEs and is licensed by the Reserve Bank of India (RBI)
If a business credit score lies somewhere around 700-900 (CIBIL score), it is said to be a good business credit score. Ideally, it should be 750 and above.
A score below 600 is bad for acquiring credit loans.
A good credit score instills faith and thereby increases its market value. It also helps to avail start-up loans, working capital loans, etc. Your credit application will be accepted with ease in the least amount of time, and capital will be offered at competitive interest rates.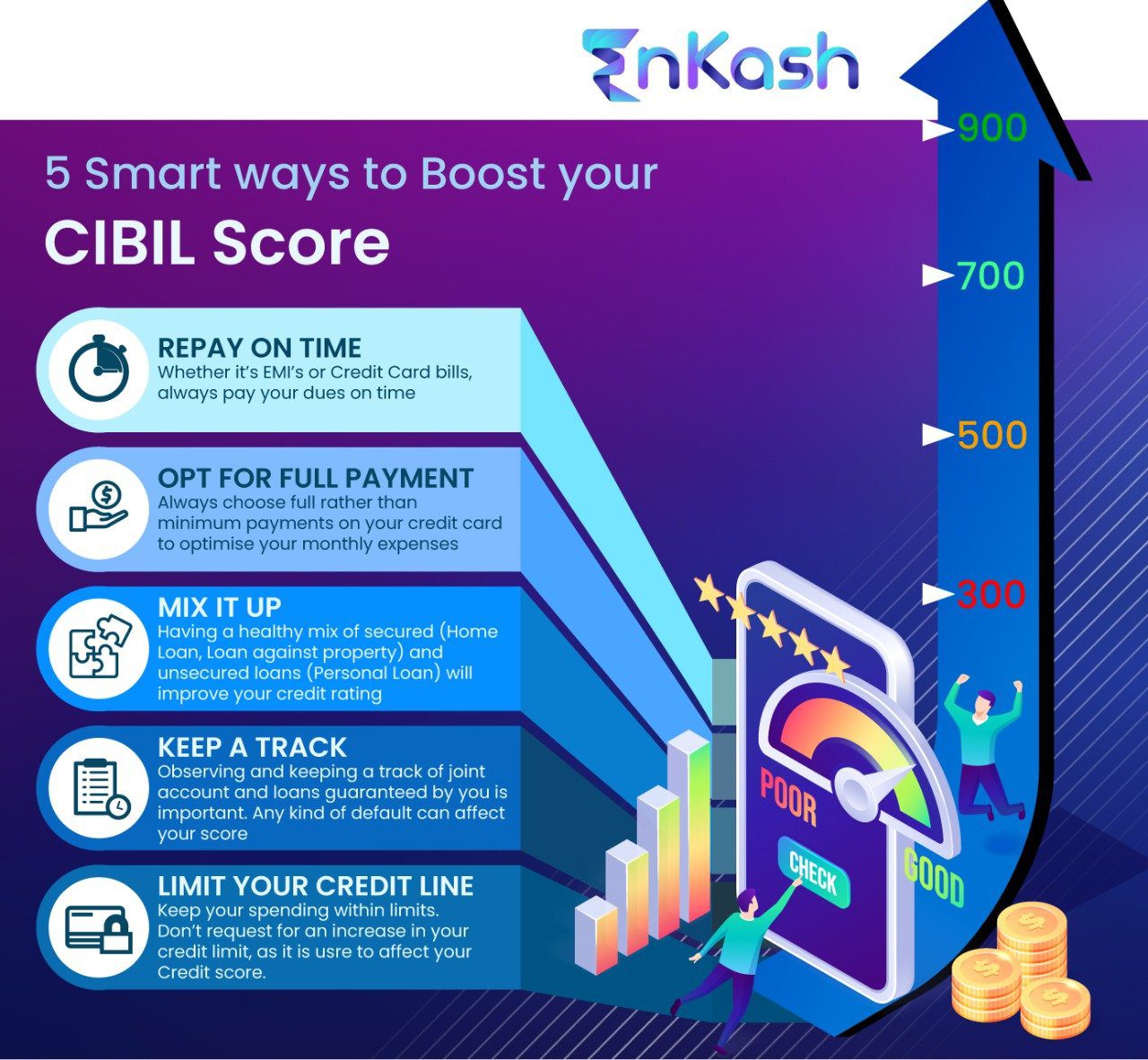 Steps to avoid/rectify low business credit score
Since we know that a business credit score is crucial to any business, there are some obvious red flags that a company must watch out for.
Usually, a business tends to have a low business credit score if:
1. The company has a history of late repayment of credit
The most important factor is the company's debt repayment history, which alone determines how risky it is to lend you money. Therefore one must avoid late business payments, pending credit, or any irregularities in this aspect.
2. There is consistent unresolved negative customer feedback.
Many entrepreneurs may not realize, but consumer feedback forms the next important pillar of your credit report. Any negative feedback negatively influences your company in the public records.
3. There is high credit utilization.
Credit utilization and balance history are other important variables. A general rule in credit finance is that the credit utilization of a company must be 30% of its credit line.
4. You tend to cancel previous credit accounts.
Make sure you do not cancel your previous corporate credit card/accounts as it wipes off your previous creditworthy history. The longer you have been in the market, the more faith lenders have in you. One must build on that established fame even if you plan for a fresh start in your entrepreneurial journey.
Solutions for Collateral-free credit
Do not worry if your company struggles with a low business credit score. At EnKash, we understand that not all businesses have the same growth curve; many face inevitable hurdles and setbacks that can affect the company's current creditworthiness.
And yet business loans such as working capital loans are essential to sail through daily expenditure, make business payments, and chart future milestones.
EnKash is India's fastest-growing fintech platform that aims to offer a one-stop solution to all your business needs with its innovative AI-driven technology and smart payment options.
One such option is the series of corporate credit cards launched for the diverse needs of small and rising Indian entrepreneurs in India.
What is a Corporate Credit Card?
A Corporate Credit Card is a multi-user credit card issued to its employees for business payments and related expenses. It has multiple uses and employer benefits.
For example, because the employer issues it, they have direct control over the expenses and can cap the spending limit as per the need. It also reduces downtime, as the user (employee) does not have to explicitly report the business payments for every transaction since the transactions are monitored in real-time by the employer.
To know more about smart payments through corporate credit cards, you can refer to the link below:
Unlike other corporate credit cards, the EnKash Credit Card is designed as an all-utility credit card that can be used by all teams & employees with no special training and covers all GST bills, supplier & vendor payments, etc., with the least risk of internal or external fraud.
With real-time spending visibility along with a unique WhatsApp tracking feature, your data is always safe, and your money is at the control of your fingertip.
How to apply for Corporate Credit Card in India?
Even with a low business credit score, it is now possible to take your venture to new heights with innovative solutions such as the EnKash Credit Card.
You can apply for a business credit card in India with these easy steps below:
With a 100% digital KYC, you can order your business credit card from your comfort place.
We do not seek credit score reports or collateral to offer you working capital finance or business loans or to issue a credit card.
With only a few documents (to be uploaded online), you can get a corporate credit card issued in a matter of minutes.
To know more, visit: EnKash. You can also click below on Signup Now and we will reach out to you soon.