Small businesses often struggle to pay bills, manage vendors, and pay salaries to employees on time. This results in bitter relationships with the vendors' workforce and disturbs the cash flow in multiple ways. However, new entrepreneurs can easily bridge this gap and control the company's finances with the help of the best business credit cards for new businesses. Like personal credit cards, this best credit card for new business offers numerous benefits.
Do you also own a business, want to explore the uses and advantages, and know how to get the best business credit cards for a new business? Read ahead to find out!
What exactly is a business credit card?
Business owners often need help to separate expenses from personal ones in a new business. Whether your business has a single proprietorship, a limited liability company (LLC), a corporation or in partnership, having a business credit card is useful when making purchases for offices and employees.
These best business credit cards for new business are akin to personal credit cards. Specifically designed for business owners, these cards have higher spending limits, and you can meet all the fixed expenses, such as paying bills, rent, and salaries on time every month. There are two types of business credit cards:
Prepaid business credit cards
Prepaid business credit cards function similarly to regular personal cards. The only difference is that you will have to deposit funds in the linked bank account to enable their use.
Business credit cards for startups
Startups can also qualify for business credit cards. They have a higher spending limit and lower interest rates. They offer numerous rewards and perks, help open a line of credit and maintain regular cash flow without putting the company in debt.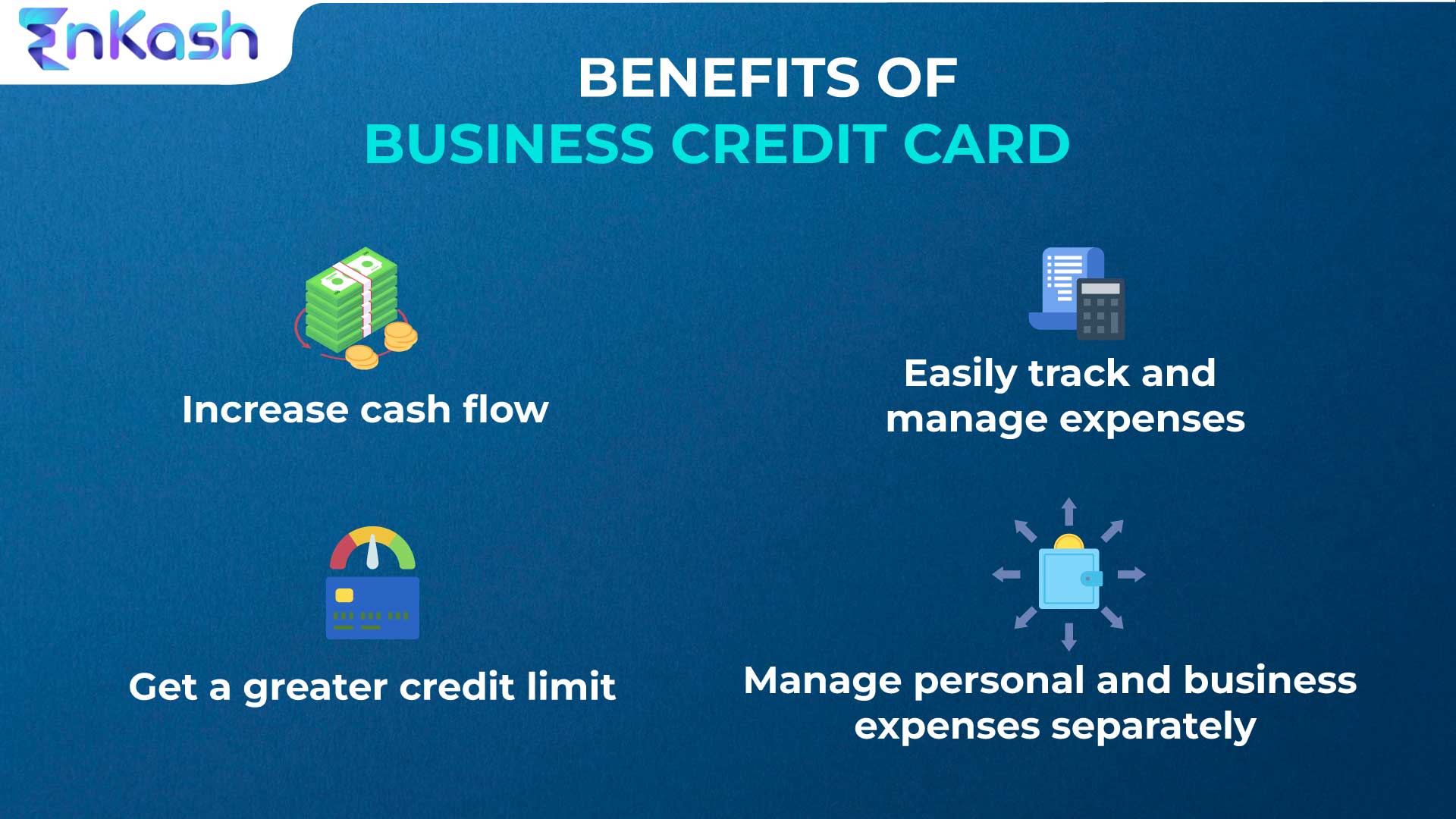 Here are multiple benefits of having the best business credit cards for new business:
Increasing cash flow
Having small business credit cards for new businesses will increase cash flow. For instance, suppose you purchase a software subscription or any other office supply at the month's start. You will get an extended payment period where you can save the money to repay the credit. You will increase the company's cash flow by opening a line of credit.
Greater credit limit
Since these best business credit cards for new business are designed to meet all office expenses, they have higher credit limits than regular credit cards. When you repay the credit bill on time, the lending company increases the credit limit, which helps for any heavy usage in the future.
Rewards
Like regular credit cards, you will also get rewards and points on business credit cards when you make big payments or pay at certain stores or products. For instance, the best business credit cards for new businesses from EnKash offer loyalty points, rewards, and even certain cashbacks on the platform.
Track expenses
For new businesses, it is essential to keep track of expenses. Often, new companies spend a lot of money on maintaining the infrastructure, retaining resources, and paying employees. This may also result in the employee or the business owner paying from their pocket. Though employees send in the bill for reimbursement, at times, it gets lost and creates problems for the finance department during the auditing season, which affects regular operations. With the help of small business credit cards for new businesses, one can easily keep a record and avoid over-the-top expenses.
Employee card
With the help of employee cards, you can even add your employee to your credit card. Your employee can leverage this feature to make purchases, and you can monitor the activity in real-time. Additionally, you can set up a limit for employee cards too.
Have complete control
The best business credit card for new business from EnKash allows you to take complete control of the card. You can set spending limits, block, track the expenditure and do much more with the EnKash spend management platform.
How to apply for the best business credit cards for new business?
EnKash provides one of the best business credit cards for new businesses. Here's how you can apply through our website:
Open the official website of EnKash at www.enkash.com
Click on the signup tab at the top right corner of the home page
Create your account by registering your phone number and official email id
Log in with your credentials to access the platform
Click on the credit card tab under the Freedom section
Enter your GSTIN number, username, and the password
Upon saving the details, connect your bank account with EnKash
Upload your bank account statement or log in to the account and initiate verification
In case you don't want to provide a bank statement, you can enter your bank details and verify the account
Once you are done, select the company type and sub-category
Upon saving, you will have to upload the director's PAN, email address, and the mobile number
Submit the application
If you need help uploading the documents or verifying your information, you can email support@enkash.com or call 8530490475 and connect with our customer support.
Conclusion
In a nutshell, business credit cards are a boon for new businesses. EnKash helps facilitate the best business credit card for a new business with all the benefits mentioned above. Additional features that EnKash provides are a flexible billing cycle to manage the cash crunch, a simple KYC process, giving your company complete control of the transactions, and the freedom to link multiple cards for different purposes. To reap the maximum benefits of the best business credit card for your new business, visit the official website today and apply for your business credit card right away!