Today, businesses need to work in a world where credit cards are no longer a luxury but a necessity. Whether it is making payments for sudden business expenses or paying a bill to entertain a customer or even enabling your employees to pay for fuel. The scenario for online payments and the use of credit cards has become so widespread that many of us do not know how many different types of credit cards are available. It has also become difficult to select the right one for your business needs.
At EnKash, where we help customers manage their finances with our spend management and cards platform, we come across this query many times. Customers often ask us what is the best credit card option for us.  This blog will address this question and tell you about the different types of credit cards and what they can be used for. With this knowledge, you will be able to make the right decision on which credit card to opt for to meet the specific needs of your organization.
What is a credit card?
A credit card is a financial instrument, usually in a plastic card form, but can also be in virtual forms. Credit cards are issued by banks or financial institutions with a limit set on them. You can use the credit card for various transactions up to the set limit. Repayment of the credit card dues depends on the billing cycle of the credit card company. With most credit cards, you will have the option to make a minimum amount due or part repayment, or complete repayment. 
In case you opt for partial or minimum amount due payment, there will be an interest charged on the remaining amount due. In instances where payment is missed, there would be a penalty for late payment as well as interest charges.
What are the different types of credit cards?
The first distinction we have to make here is between corporate credit cards and personal credit cards. Personal credit cards are issued to individuals based on their personal credit scores and credit history. Corporate credit cards are issued based on the business's financial credibility and they are further broken down for individual usage. 
In this article, we will look primarily at the different types of corporate credit cards and not personal credit cards.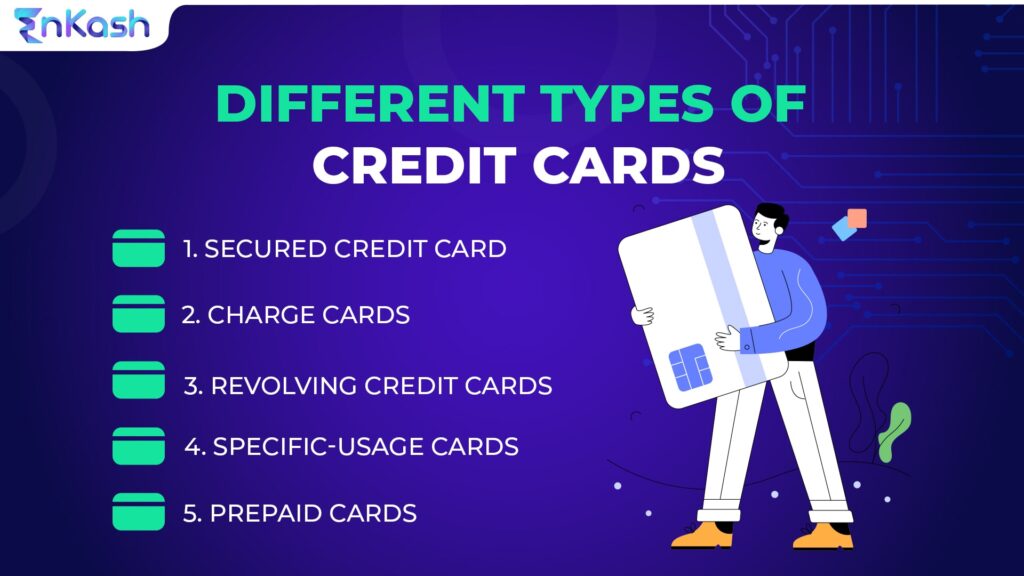 Secured credit card
In normal circumstances, credit cards are unsecured loans as they are based on your financials rather than attached to any collateral or property. But in some extreme cases, businesses without the right financial records may approach a bank or financial institution and request a credit limit on a card (for traveling or making certain payments) and offer some property as collateral. The collateral will be used to justify the credit limit and will be held against the credit limit until the arrangement is ongoing.  
Charge cards
These types of cards have one critical and fundamental difference when compared to a typical credit card. Charge cards often do not have any limit set on the amount that can be charged to the card. While this sounds like an amazing value proposition, there is one big condition to charge cards. You will be required to pay back the entire amount spent when you get billed. This means that while the charge card offers you the flexibility of a huge amount at your disposal, it also means that you need to repay at the end of the billing cycle.
Revolving Credit Cards 
This category of credit cards can be personal or corporate, based on individual finances and credit scores or that of the business. With this credit card, you get a set limit and a pre-decided credit limit, and a set cash withdrawal limit. The billing cycle for most credit cards is 4-5 weeks and is set on a particular date of the month. Under this type of card, you have the option to make part payments (minimum amount due or more) to the billed amount due and pay the rest over time. You will be charged interest on the amount due until you repay the entire amount. Cash withdrawals on such cards have a nominal fee as well as interest charges. There are many reasons that businesses opt for a corporate credit card. 
There's often a chance that the credit limit of your card will be revised upwards over time depending on your repayment history and evolving financial situation. Many financial institutions offer a corporate credit limit to businesses with the option to further allocate the funds to various teams for usage down the line. However, make sure to have a comprehensive corporate credit card policy in place before issuing cards to your extended teams. 
Specific-usage cards
This type of card is a subset of credit cards with revolving limits. Once you have a particular credit limit assigned to your business, spend management companies like EnKash offers you a free dashboard to manage the funds. For instance, you can issue fuel cards that can be used by your employees to fill fuel for their work-related vehicle usage. Or meal cards can be issued to employees as a tax-saving perk for the specific purpose of purchasing meals or food-related provisions. You also have the option to specify other expenses like rent, marketing subscriptions, travel and entertainment, utilities, GST, and other payments along with an upper spending limit.
Prepaid cards
Strictly speaking, this category of cards does not fall under credit cards as you will need to load funds onto the card before using it. And the usage will be limited to the amounts loaded on the card. However, in the universe of corporate cards, this type of card has an essential role to play as it makes the management of expenses like foreign travel, gifting for rewards & recognition, and other purposes. More often than not prepaid cards, especially gift cards cannot be used again. However, prepaid cards offer the option to transfer specific amounts with lesser risk to different business stakeholders as per the requirement.
Here's what you need to do next:
Talk to various departments and understand their struggles related to spend management
Assess the investments you have already made towards managing finances within the organization
List out the priorities when it comes to the management of expenses and payables along with the roadblocks
Seek information online and from other sources as to the kind of spend management and card platform options available to you
Schedule discussions and demos of viable options to you along with a deeper understanding of the pricing
Make a presentation to your board of directors along with spend management partner to purchase and implement the solution