The PCI DSS (Payment Card Industry Data Security Standard) was formed in the year 2004 by American Express, Discover Financial Services, MasterCard, Visa, and JCB international. The objective of these guidelines is to ensure certain compliance norms. The key is to ensure that credit and debit card transactions are secured against theft and fraud.
Even though PCI DSS does not have the legal authority to compel the compliance aspect, it has become a necessity for any business that processes card transactions. The obvious inference from the above is that fintech, which is a culmination of finance and technology, will have a lot to do with being PCI DSS compliant.
In this article, we will look at the measures required for a business to remain PCI DSS-compliant along with the relevance of PCI DSS compliance to the fintech sector.
Fintech and PCI DSS; The Connection
Today's financial services require not only numerous options, convenience, simplicity, and accessibility but also security. Fintech enables finance and finance operations to move from the physical realm to the virtual world. Here are some leading examples of where technology has transformed finance.
Payments: In today's world, fintech has met the need for immediacy when it comes to payments and businesses tend to make payments with a few clicks either on their laptops or on their phones.
Virtual accounts: Another aspect that technology has touched positively is that of bank accounts that are virtually accessible. No longer do you see the finance team making multiple visits to their bank.
Card transactions: The use of cards for personal as well as business transactions is on  the rise and this is not only because of the acceptance and convenience but also because technology offers layers of security that add to our confidence.
Collections: Fintech has a role to play in collections not only with timely reminders and invoices on the go but also with a plethora of options that make it easy to make payments.
Audits: When we talk about finance, audits cannot be far behind. Fintech has helped in this aspect as well with the creation of virtual approval flows and real-time documentation in a matter of seconds.
Reconciliation: When a business makes numerous payments and collects from many accounts, then it is likely that bank reconciliation becomes a huge task. However, technology helps in this aspect as well with automatic matching and reconciliation.
As you can see from the above instances, fintech is instrumental in easing many processes and operations in finance. And when you move finance from the physical world to the virtual world, then security is a real concern, which is where PCI DSS comes into place.
How to become PCI DSS compliant?
PCI DSS sets forth some operational and technical guidelines with a focus on ensuring that the cardholder's data is kept safe.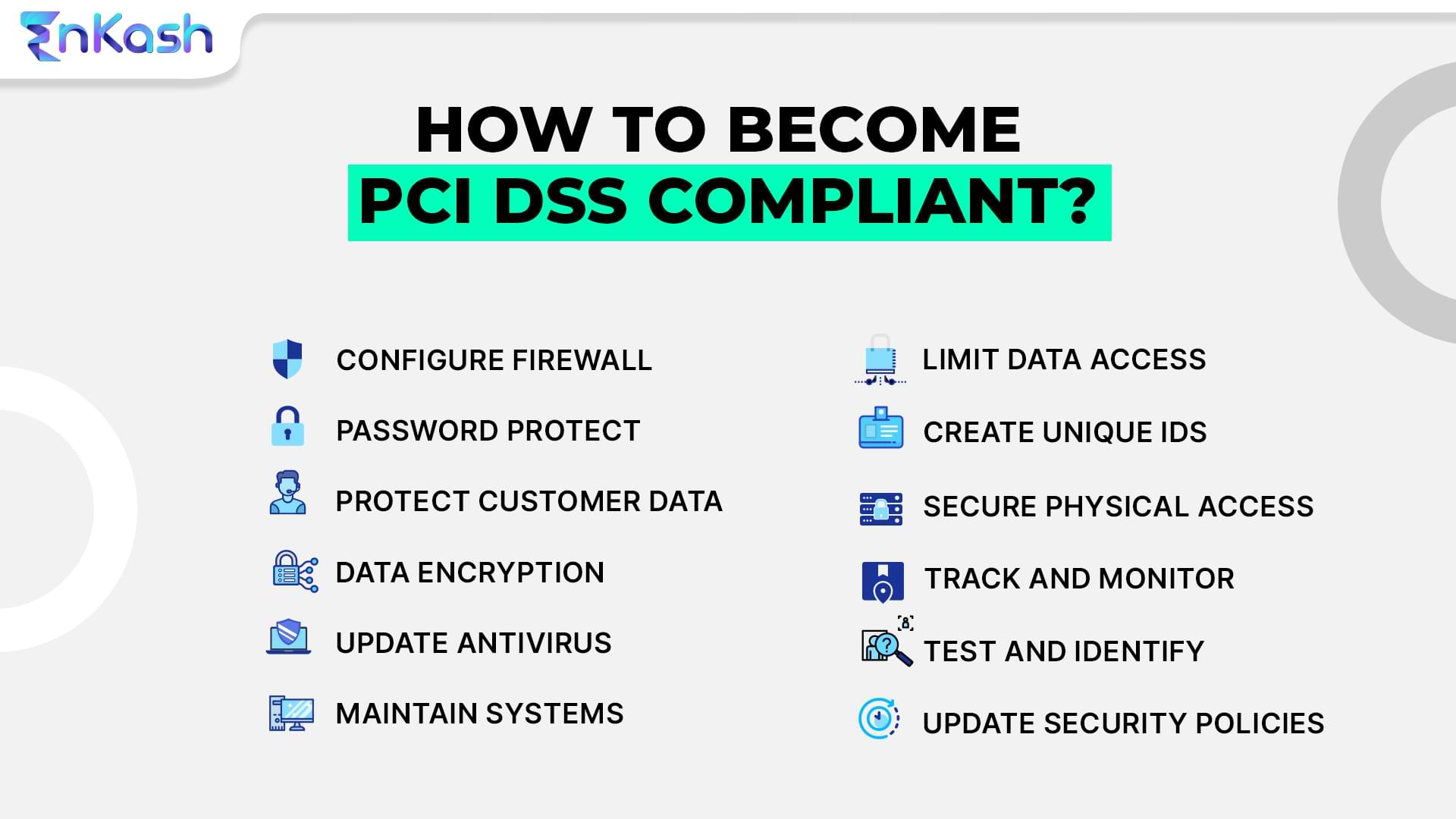 Here are the 12 steps to comply with PCI DSS:
Protect cardholder data with the installation and constant maintenance of a firewall configuration

Change the defaults supplied by vendors for the security parameters and passwords
Always ensure that cardholder data is protected
Ensure that the cardholder's data is encrypted across networks
Keep updating antivirus software and programs
Make sure that you develop and maintain secure systems and applications
Limit cardholder data access strictly on the basis of a business requirement to know
Make certain that each person with computer access has a unique ID

Ensure that cardholder data's physical access is restricted

Keep track of and monitor access to cardholder information and network resources
Constantly test your security systems and processes to identify and address any gaps Create and update a policy that will help your team to maintain information security
There can be severe consequences for not meeting PCI DSS requirements. Not only will it interrupt operations but also increase costs associated with operations, compliance, and risk management.
As an offering, a host of solutions related to spend management, EnKash is not only PCI DSS compliant but also SOC2 compliant.