EnKash, Asia's first and smartest spend management platform, has launched yet another industry-first product – Olympus to help startups and traditional businesses manage their cash flows better.
What is EnKash Olympus?
EnKash Olympus is a powerful technology stack that automates finance-related operations and accelerates growth by offering efficiency, transparency, and flexibility. The notable features of Olympus support the automation of accounts payable, accounts receivable, auditing, analytics, and reconciliation. 
This industry-first solution has been designed essentially for traditional mid-size businesses that lack experience and accessibility of digital payments. 
One of the remarkable ways that EnKash Olympus supports your business is by integrating with your existing systems and accounting software to offer a seamless experience. However, if you want EnKash Olympus to function as a standalone platform, it can also operate efficiently.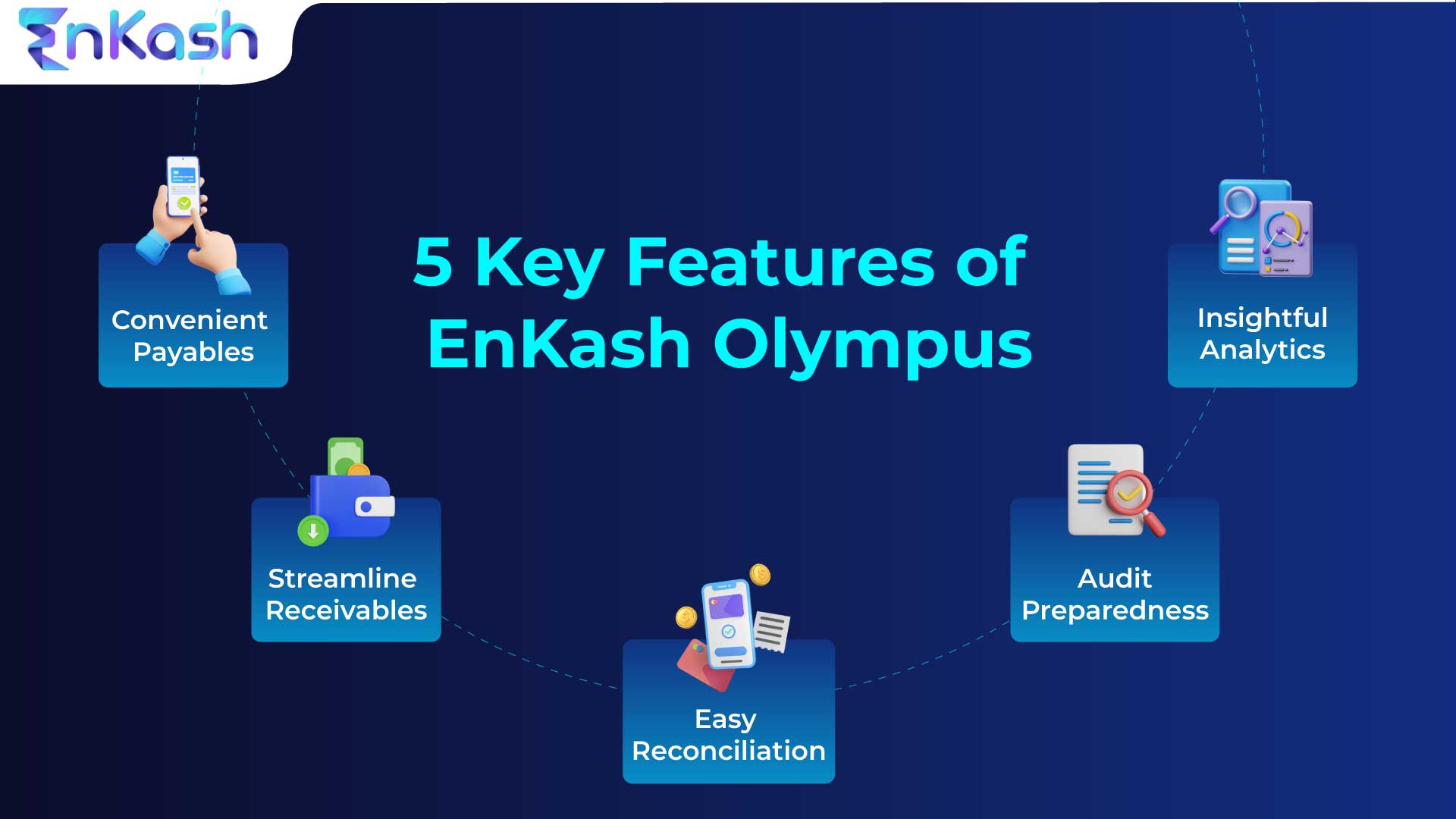 The Olympus customers have reported a 40% improvement in their processes with 50% cost savings overall. Customers have also reported mitigating risk and fraud in their business transactions as Olympus validates buyers and suppliers and raises the flag whenever there is a mismatch between the data. 
Now that we have a snapshot of how EnKash Olympus functions let's dive deeper into the different functionalities and how they will benefit your business. 
How does EnKash Olympus improve accounts payable?
A fast-growing company like yours must ensure consistency and continuity in serving customers. One of the factors that make an impact on this is your vendors and how you handle your payables. Any delays in this will cascade on all aspects of the business. 
The Accounts Payable feature in EnKash Olympus helps you:
Secure and seamless onboarding of vendors and suppliers

Integrate easily with accounting and ERP software like Tally 

Read and capture all the data in invoices accurately and quickly

Verify all the payment-related paperwork and reduce manual intervention

Get foolproof approval processes and single-click

bulk payments

with real-time updates

Use multiple modes of payment for maximum convenience
How to leverage EnKash Olympus to accelerate accounts receivable?
Efficient receivables keep your business fueled with cash and enable you to reduce worries about funding. Any delays in your receivable process would mean that your finance team's focus would move to collections instead of core finance processes, resulting in increased cost and overall slowdown. Inefficient receivables can also cause your interest costs to go up and affect the continuity of your business and ability to meet commitments. 
The Accounts Receivable module of EnKash Olympus helps you:
Monitor receivables due and track the dates that they are due on

Create automatic payment reminders to ensure customers pay on time

Enable the timely dispatch of invoices to delinquent customer accounts in bulk

Offer options like bulk collect and quick collect to accelerate collections

Ability to embed payment links in the invoices with multiple payment options
How does the audit aspect in EnKash Olympus help your business?
A business has to have robust measures in place to ensure that it can face audits, and when done manually, audits can take up resources like time and people. And any problems in the audit process incur fines, penalties, and sometimes interruptions in the business operations itself. It is essential to have all the approvals, paperwork, and other functions in order so that your audits happen seamlessly.
The Audit aspect of EnKash Olympus helps you:
Set maker, checker, and approver hierarchies in your system with a few clicks

Auto-create electronic records of all the steps in the payment process for easy retrieval

Make statutory payments on time via the portal, following all the necessary steps

Provide a clear trail of all the stages in any transaction at any time

Support customers, vendors, and other stakeholders with timely documents as required
What does the Reconciliation feature of EnKash Olympus help with?
A running business has many transactions regarding accounts receivables and payments, and the finance team is responsible for keeping track of these. Reconciliation of the payments you have received and entering them against the customer's accounts is critical to streamlining the collections process. In the same way, reconciliation is essential to settle any disputes.
Here's what the Reconciliation feature of EnKash Olympus helps your business with:
Captures and matches data from invoices and bank records to reconcile faster

Reduces hours of work for your finance team while ensuring that all records are updated

Makes sure there is complete transparency across functions with correct data

It helps pinpoint any lags or inconsistencies in the payable and receivable functions 
Why do you need the Analytics and Dashboards from EnKash Olympus?
If cash is the fuel that keeps a business running, then data is the lubricant that helps businesses today make crucial decisions. You need current data and insights to ensure you are ahead of the curve when managing your business. Whether it is an investment in a new venture, changing a vendor, or any other aspect, the relevant analytics will help you make informed decisions.
Take a peek at how Analytics from EnKash Olympus provides you with the proper support:
Empowers different teams to create bespoke dashboards with updated data

Real-time updates not only help with better funds management but also help you cut cost

Data highlights areas for improvement to help your business grow quickly

Offers the Intelligent Insights feature to accelerate your decision-making engine
How to implement EnKash Olympus within your existing financial setup?
EnKash Olympus has a plug-and-play setup that ensures you have all the features up and running with minimum disruption. Since the solution is configured for quick, easy, and comprehensive support to your financial operations, your team can hit the ground running with no delays. 
Want to learn more or simply get started? Click here.
FAQs 
Q – Why choose EnKash Olympus?
A – An industry-first solution, Olympus automates accounts, payables, and receivables for businesses. It is a cost-effective solution for businesses to streamline their financial operations and focus on other essential aspects of their business. It is an effective, transparent, time-saving, pocket-friendly, and easy-to-use software that can be integrated easily into your existing systems.
Q – How will Olympus help mid-size businesses?
A – The high costs of ERP do not allow mid-size enterprises to use their monetary funds for it. That is why Olympus has been designed especially for traditional businesses that lack experience and accessibility of digital payments. Startups and small to midsize businesses struggle to manage their financial operations.  EnKash Olympus has a plug & play integration capability in completely DIY mode.  It wraps atop any business's existing accounting and enterprise resource planning (ERP) software.