Company owners and business expense managers often get caught up in the complications of administrative tasks when it comes to tracking and managing business spends. As a result, they end up spending valuable time and resources which could otherwise be utilized to focus on future growth and business goals.
Certain operations, however, cannot be completely neglected, especially when they have a direct impact on cash flows. As we'll see, keeping a regular track of business expenses offers a slew of advantages. Having a strong grip and knowledge of where the business expenses are deployed is crucial to business success.
To keep a track of your business expenses, you'll need a strategic approach. Follow the six simple steps shown below to create a plan that will help you understand your company's finances quickly and easily.
Convert all paper-based processes to digital
There is no longer any reason for using paper. When you digitize paper processes, you can keep better track of your finances and make it easier for everyone involved to find and follow updates.
Every document, receipt, and note may be digitized using photo scanners, or scanner apps, and fed into a business accounting software that grabs photos and utilizes them as replacements for scanned papers. Receipts, invoices, and business expenses claims are some of the paper interactions you might consider digitizing.
Deploying virtual cards instead of petty cash and eliminating out-of-pocket employee business expenses can all be seamlessly digitized across your back office process.
Track business payments on the go with employee spending cards
Many companies require employees to make purchases with their own funds and then submit reimbursement applications. While this can be automated and is occasionally necessary, tracking corporate spending is significantly easier when all purchases are made with centralized, auditable cards.
Employee debit cards are a better option for organizations than typical corporate cards since they offer more independence and flexibility over spending. These cards also enable the tracking of corporate spending more precisely.
Streamline purchase expenses
To be ready for automation, each step in the purchase process must be thoroughly thought out, executed, tested, and polished.
Basic bookkeeping protocols, invoicing and accounts receivables/payables, tax reporting and compliance, Payroll, Spend management practices are some of the processes that will be beneficial to set up.
Most of these activities, when performed manually, entail several detail-oriented or even complex steps. In most cases, the employees don't know where to start. As a result, having clear spend policies and standards in place, as well as making them easy to find and utilize, is critical.
Automate the filing and processing of receipts
Receipts are the unsung heroes of expense control management in any business. Employees frequently misplace or forget them, making it difficult to track how much money was spent.
In general, the expenditure report process is the same. It is, therefore vital not to get it wrong, yet most employees do. This, at the very least, leads to a waste of time for finance teams. There are several advantages to automating corporate expenditure management: fewer errors, easier tracking, and time savings.
Alternatively, purchases made on a business expense card might be used to track spending. They then go through the same automated review procedure to guarantee that budgets are followed.
Integrate your accounting software with your spending
It's time to combine your specific internal processes and systems with that of the tracking software or tool being used in a seamless, automated fashion.
The systems that you're integrating can simplify your entire accounting process with a single click or a monthly export. In any case, you'll be able to avoid the time-consuming chores of manual data entry.
Integrate business expense tracking and spend control software
Spend software solutions aid organizations in establishing better controls over their spending. This covers a wide range of business expenses, including travel, allowances, memberships, and office supplies.
Because each firm has its own strategy to effectively manage spending, any spend management software solution must be flexible enough to adapt to each company's unique requirements.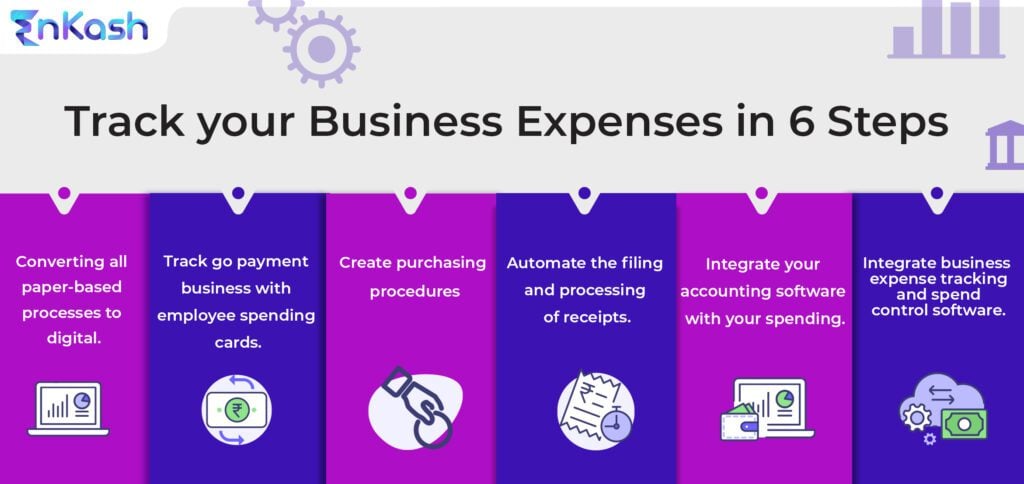 What's The Best Place To Start With Spend Management Software?
Get important finance players in your firm involved before switching to spend management software.
Develop or evaluate your spending policy as a group to establish how employees are reimbursed for corporate business expenses.
The expenditure policy's planned parameters will subsequently be used to fine-tune your spend management software.
Business expense tracking should be automated and connected with the rest of your accounting operations. As a result, your company will be able to better manage staff spending.
If you're a medium-sized business, you probably still follow old-school processes like employee expense claims. But believe us when we say that once you start utilizing a specialized expenditure management application, you'll never want to go back. It's critical for growth oriented organizations to choose a software solution that's easy to use and quick to integrate, all the while remaining economical.
Spend management software is any application designed to assist your company in swiftly and easily managing staff business expenses. This can cover the entire spectrum, from simple receipt scanning technologies to credit facilities linked to accounting software.
Despite these new expenditure management solutions, organizations continue to rely on a few traditional strategies to manage company spending.
When it comes to spending management, third-party providers and agencies also have their own set of challenges. They have distinct budgets for each customer and must keep meticulous records of time, spending, and resources for each. Many, though, just do not have such clear spend data at their disposal.
It is high time that businesses acknowledge and welcome the expense management platforms, which not only help them track their spending easily but also increase their employees' productivity, thereby allowing them to achieve business goals faster.
If you're a freelancer or a small business owner, you'll want something basic and straightforward. If you're a developing company or a huge corporation, you'll probably want something a little more complete, with enough flexibility to meet your goals. Whatever you pick, it's time to start thinking about business expenses management. Not only will you save a lot of time and work, but you'll also have a better idea of where your money is going.
To know more, visit EnKash.com. You can also click below on Signup Now and we will reach out to you soon.