One of the fastest-changing landscapes of business is that of Financial Technology, commonly known as Fintech. Most businesses are shifting towards the digital lending platform because of smooth and efficient payment. This article will describe the benefits of corporate cards for making business payments to other businesses and suppliers.
How Corporate Cards Came Into The Limelight?
With ever-upgrading rules and legislation to unpredictable laws, the money market has always been a real head-scratcher in terms of trend predictions. Fintech has been a key driver in revolutionizing financial services and business payment modules owing to dynamic consumer expectations and need of the hour solutions.
Moreover, the recent pandemic, i.e., Covid-19 is also the reason behind accelerating the corporate cards via Fintech Credit Card. With more and more offices asking their employees to work from home, non-traditional methods of payments have seen a meteoric rise.
Digital payments in India are scaled new heights over the last few years. In the year 2020, 48 billion digital transactions were recorded in India alone, and this trend is expected to grow at the same rate over the years to come.
Below is the infographic that showcases 5 key areas that will be the trend-setters of the bossiness payments space in India. Innovations in digital payments and dedicated payments systems seem to be one of the 5 leading trends of 2021.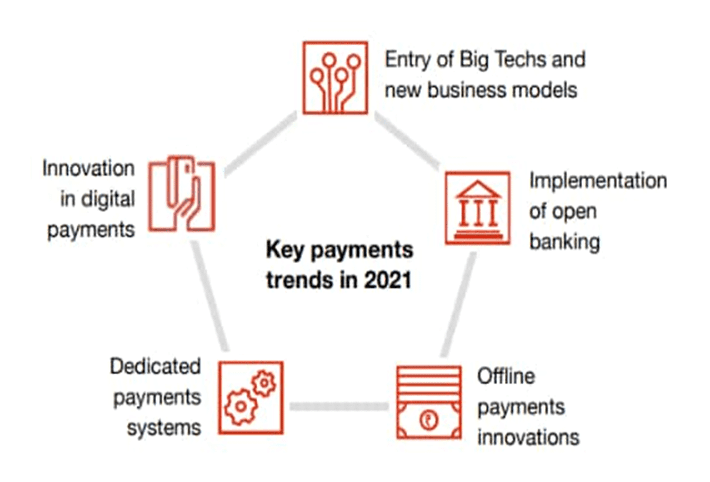 Finance teams have opted to switch to the digital lending platform for ease of the process. While bank transfers have already been accepted in the financial world now, commercial cards are relatively new kids on the block who are quickly gaining popularity worldwide.
Incumbents in this field were initially worried by fintech rapidly climbing the charts. Although this worry was soon put to rest as it was essentially found that 75% of fintech founders claimed that their goal is to partner with key players in the banking industry rather than to challenge them. Owing to this, the majority of large and mid-sized companies are already enroute the highway of change. However, it still remains a challenge to make commercial cards lucrative enough for each business.
While there could be many reasons for resistance towards adopting this technology, let's also take a look at the numerous benefits that you could enjoy while adding commercial cards in your business payments portfolio.
Made in India, the First Business Card specially designed for Entrepreneurs, SMEs, and Small & Big Brands.
Benefits For SMEs, Entrepreneurs, And Businesses
Competitive Advantage
When you offer something new to your partners, you gain an advantage over your competitors. Purchase card gives your business a massive boost as it denotes ease of business payments, increased spend limits, virtual assistance, and real-time updates in payment structure- all at the touch of a few buttons.
Enhanced Risk Management
With great power comes great responsibility! Corporate cards are primarily used to manage business accounting. Such cards come with their own set of risks which can be mitigated in an earlier stage itself so that a risk does not convert into a potential threat. The virtual credit cards in India can be customized with preset limits, can be authorized to work only at selected outlets, and be accepted only by selected vendors, as deemed fit by the company's finance team.
Decreased Operational Inefficiencies
Paper cheques and bank transfers come with their package of value-added inefficiencies. These business payment methods require manual intervention at all points and can be rejected due to errors. These operational roadblocks are conveniently eliminated by corporate cards, making them a smart choice to keep the cash flow steady.
Moreover, such cards have been termed as the best credit card for travel India. In a business, travel is mandatory because the business owner needs to expand the business and for that meeting new clients becomes essential. The travel expenses slip becomes a headache for the account manager and also for the employees as they have to wait for the reimbursement. With corporate cards, all such sorts of problems can be easily resolved.
Benefits for Suppliers
Quicker Receipt of Payments
One of the most daunting scenarios for suppliers worldwide is that of payments receipt. Bank transfer and other paper-based payments take days owing to manual processes associated, sometimes weeks, to process from the banks. This can stall the much-needed cash-flow to keep the business' engine running. Offering commercial cards as an accepted mode of payments can easily resolve this issue, all the while keeping you updated with the changing payments trends in the market.
Increase in Sales
To make your business grow, having a diverse portfolio of products and services is not all that you need. In today's economy, you also need to offer a diverse portfolio of accepted payment methods. Allowing commercial cards as a mode of payment catapults you on the top of the list of tech-savvy businesses. And you know what they say: Always in sight, always in mind!
Going off the track, corporate cards stand as the best travel credit card India that gives ample options to manage your traveling expenses in a business. With this new technology, you can easily handle your business cash flow and can focus more on the other prioritized segments.
How to Incorporate Commercial Cards in Your Accounting Infrastructure?
Educate your Consumers and Stakeholders
A change that is well explained is a change that is well received. Inform and guide your suppliers and stakeholders through this switch and educate them as to why commercial cards are all the rage right now. Keep the door open for queries and allow them to easily sink into this change rather than forcing them into it.
Additionally, instant virtual credit card in India is helpful for the suppliers in many forms. Using this card, they can also handle their business expenses smoothly.
Evaluate your Organization's AR and AP Structure
It is important to know your company's Accounts Receivable and Accounts Payable structure in-depth in order to include commercial cards in the portfolio of accepted payment methods.
Evaluate your goals and then distill down to a card program that works best for your business. Ensure that your purchase department is up-to-date with this add-on as they will be doing all the heavy lifting for your business.
Important factors like where the cards can be used, will they be used on an individual basis or on a team or department basis, the kind of expenses that can be done on it- all these questions need to be answered before they arise. The instant approval virtual credit card India can perform all these tasks smoothly and efficiently.
Ease of Acceptance
Make purchase cards simple to accept. Stick to your payment terms and pay your suppliers on time. Ensure that your vendors, suppliers, and sellers are open to accepting payments via virtual credit card India and, in the process, denote the ease of usage, quicker payments, and faster operations.
Choose the Right Provider
It all comes down to picking the one that works best for you and your business. There are multiple commercial cards providers in the market vying for your attention. Choose the one that meets all your requirements and even more. EnKash is a powerful commercial cards provider and offers a wonderful Multiple Payments, Single Platform feature that simplifies payments.
EnKash has a host of technology-driven and innovative solutions that are guaranteed to act as a catalyst for your growing business. An instant virtual credit card India initiative should simplify your APs and ARs and we, at EnKash, are always happy to help in doing just that!