As a smaller business or startup, you are often faced with situations where you have to manage many aspects of your business with limited resources. As a result, there is always the possibility that you may miss out on some vital aspects that are not directly connected to the development of your core business, like human resource management (HR management). 
For instance, there are some compliance-related tasks in HR that cannot be ignored. In case you do and this is discovered, then the result would be penalties, loss of business reputation, and other dire consequences. In fact, when you are dealing with certain entities either within India or abroad, they require the company to comply with HR compliance as per the local law before they sign a contract with you.
In this article, we will look at a HR compliance checklist that you as a startup or small business owner should follow.
What does the HR compliance checklist for startups look like?
The human resource department, while not directly connected to the business aspects of your company, plays a vital role in ensuring that your most important resources—are taken care of.
Also Read: Essential HR Policies for a Startup Company
Apart from ensuring the well-being of employees with safe premises, offering market-relevant remuneration, and having practices like POSH, Leave Policy, Maternity Leave Policy, Travel Reimbursement Policy, and other such processes, there are some compliance-related aspects that you need to take care of. Here's the checklist that you need to adhere to: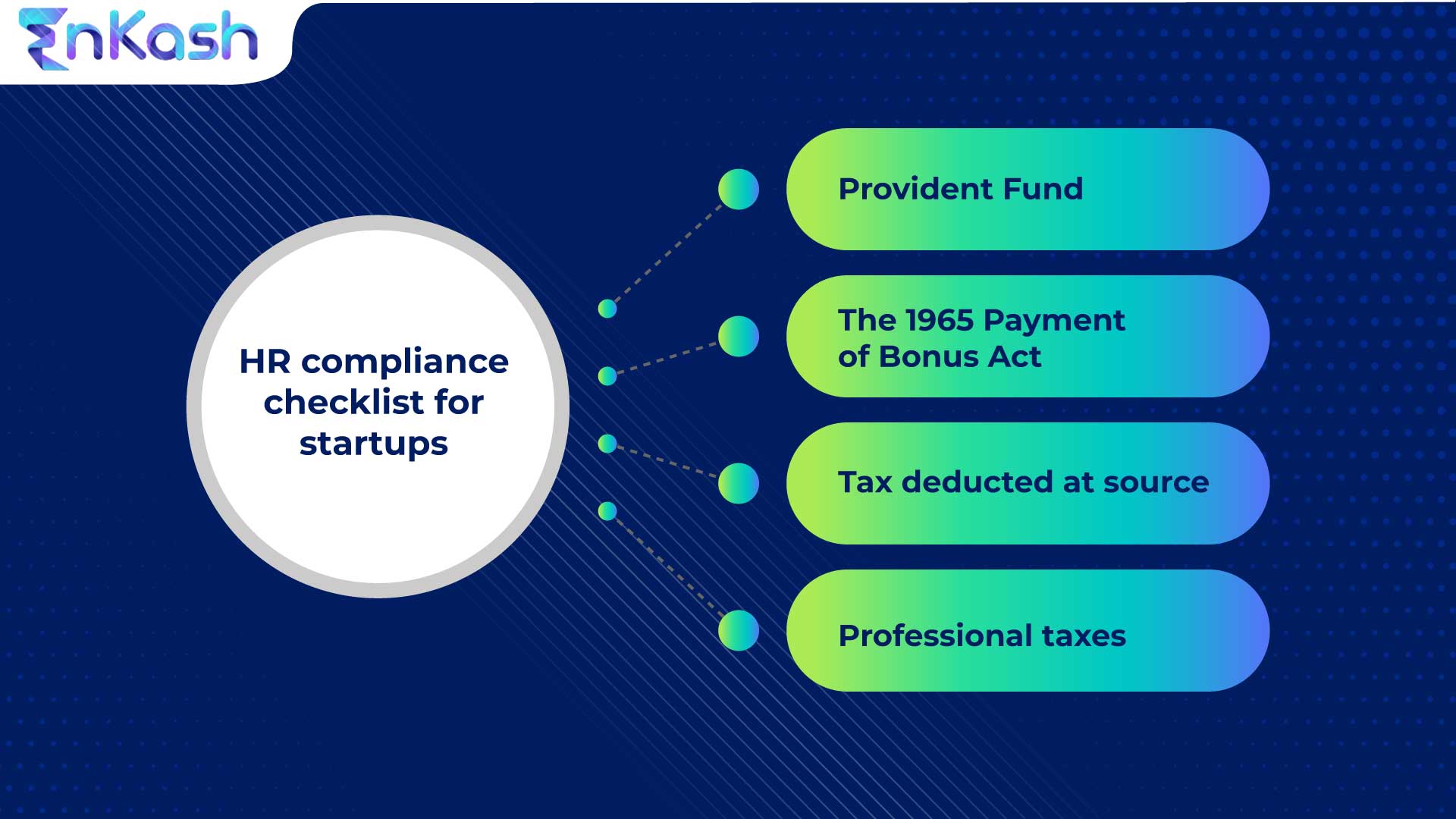 Provident Fund
Provident fund or PF as it is called is a vital component of HR compliance. A part of the employee's salary is (the employee can choose to have a percentage higher than mandated by the government) added to the provident fund and a contribution of the minimum percentage mandated by the government, comes from the company.
Also Read: 7 Benefits of Payroll cards for Employees
PF can be either state-run, or companies can create a trust to manage provident funds. The PF amount can be withdrawn by the employee when he or she retires or is given to the family in case of the employee's death. Non-compliance with PF has dire consequences for the business and should be taken seriously by companies.
The 1965 Payment of Bonus Act
The employer needs to provide bonus to employees under this act if they are a business with 20 or more employees. The bonus is determined by the profits your company makes and the salary of the employee. If an employee works 30 days and has a salary less than INR 21000, then they need to be paid a bonus for the current financial year. The range for bonus payment ranges from a minimum of 8.33% to a maximum of 20%. Employees who are caught in a fraudulent act will not qualify for the bonus payment.
Tax deducted at source 
Tax deducted at source or TDS as it is called is another aspect of HR compliance. The central board of direct taxes (CBDT) monitors this deduct. The income tax department considers the tax deducted at source when you file your taxes to ensure the right deductions have been made. You can consider perquisites like education allowance, medical allowances, investments, leave travel concession, etc while calculating TDS as these have an impact on the TDS amount.
Professional taxes
Each state government requires professional tax to be applied to individuals who earns in the state in any profession. The HR department needs to find the slab in the state in which the business is to deduct the right amount.  There are certain union territories and states in India where the professional tax may not apply and the HR team has to take this into account while deducting professional tax.
The HR compliance is mandatory as per the law and can attract serious penalties if not follow. However, the responsibility of the department does not end there. There are many aspects like payroll, safety, welfare, etc., that a HR department has to be mindful of.
At EnKash, as Asia's 1st and smartest spend management platform, we believe in extending our support through our smart fintech solutions. We offer facilities like purpose-made cards to be used for HR-related functions like fuel, rewards and recognition, reimbursements, travel and entertainment expense management, and more. Visit our website to learn more.