Fintech, a term derived from financial technology, refers to companies that have used this technology in recent years. The emergence of Fintech companies in India has been attributed to various factors, including a large unbanked population, increasing internet penetration, and supportive government policies.
The concept of has disrupted the traditional banking and financial services sector by offering faster, more convenient, and affordable services. Moreover, the concept of fintech company in India has been instrumental in reaching out to this population by providing financial services that are accessible through smartphones and other digital devices.
The Indian government has also played a crucial role in supporting the growth of Fintech companies by introducing various initiatives such as the Digital India campaign and the UPI. Continue reading and learn more about the impact of Fintech on traditional financial services, payable management, account receivable management, practical solutions offered by fintech, and prospects and challenges for Fintech companies in India.
Impact of Fintech on traditional financial services
Here are some ways in which a Fintech company in India can impact traditional financial services:
Disintermediation: Fintech companies in India have enabled direct connections between borrowers and lenders, bypassing traditional intermediaries like financial institutions. As a result, credit costs have decreased, and access to credit has increased for individuals and small businesses.
Digitalization: Fintech has leveraged technology to provide digital financial services that are faster, more convenient, and accessible to customers. This has shifted towards digital payments, lending, and banking
Personalization: Primary focus of any fintech company in India is to provide customized financial solutions based on customer data and behavior. This has led to a more personalized and tailored approach to financial services instead of the one-size-fits-all approach of traditional financial institutions
Competition: Fintech companies have given rise to competition in the financial service industry challenging the traditional institutions to innovate and improve their services. This has led to a more competitive market, where consumers have more options and better services
Regulation: Regulators are enforced by fintech company in India to adapt and create new regulatory frameworks to ensure consumer protection and promote financial stability. This has led to increased scrutiny and oversight of the Fintech industry, providing a level playing field for all players
Significant solutions offered by Fintech companies in India
Here are some of the practical solutions offered by Fintech company in India: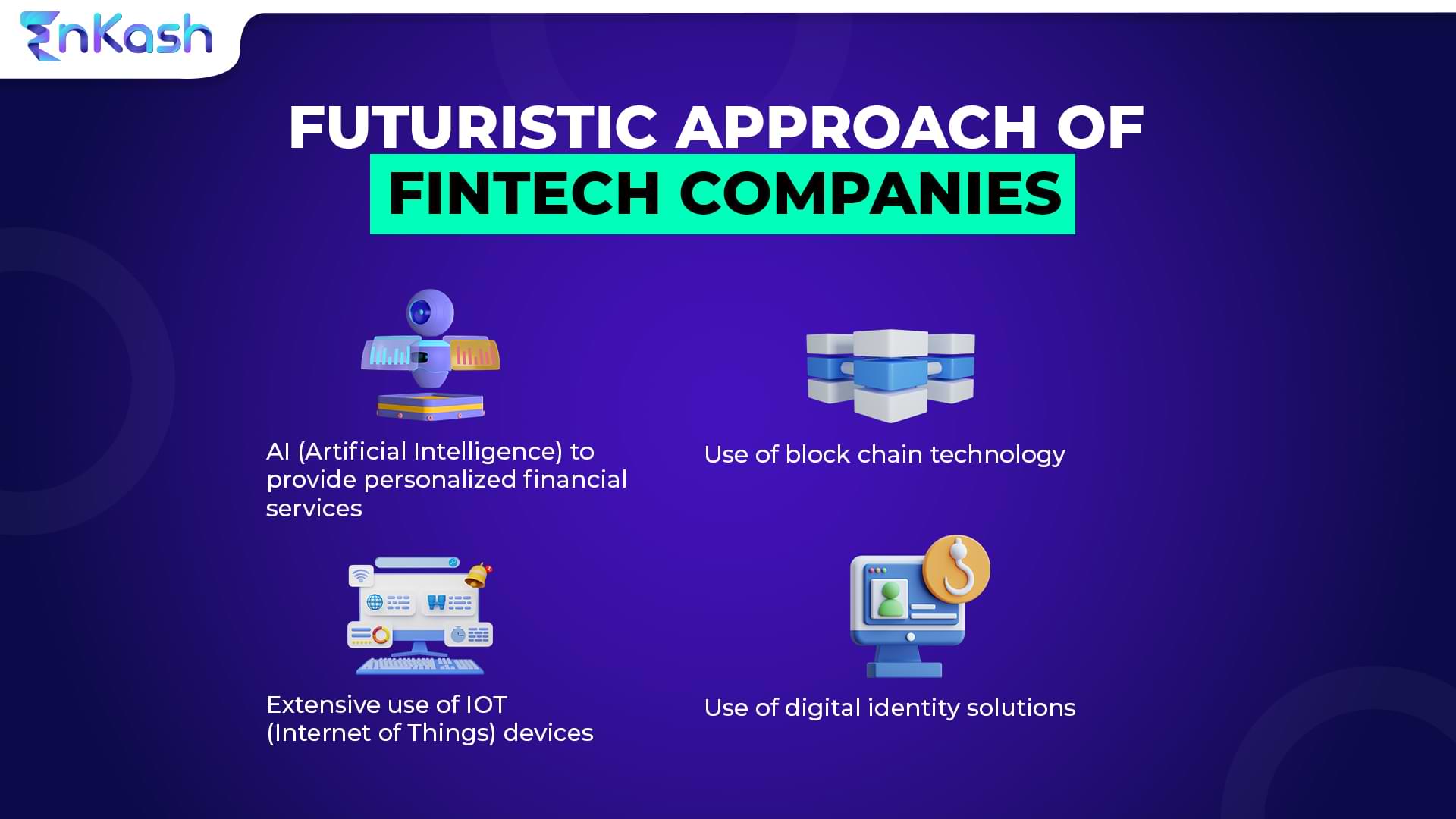 Digital payments: Various digital payment solutions such as mobile wallets, UPI-based payments, and digital payment gateways are introduced by fintech companies. These solutions have made transactions faster, more convenient, and accessible to everyone, including the unbanked population
Online lending: A new idea of online lending platforms that offers customized loan products to customers based on their credit history has been introduced by fintech company in India. These platforms have made credit accessible to a broader range of customers and have reduced the time taken for loan processing
Robo-advisory: Fintech companies have introduced robo-advisory solutions that use artificial intelligence and machine learning to provide personalized investment advice to customers
Digital banking: Fintech company provides digital banking solutions that cater to all banking services need of customer through a mobile app
Insurance: Fintech companies have also introduced online insurance platforms that provide customized insurance products to customers
Prospects and challenges for Fintech companies in India
There are several challenges that any fintech company in India must be aware of to succeed in the market.
Prospects for Fintech companies in India:
Large addressable market: With a population of over 1.3 billion, India represents a vast potential market for Fintech companies. This is especially true because traditional financial institutions still need to serve more people
Increasing digital adoption: The rapid adoption of digital technologies has opened new avenues for any Fintech company in India. Many Indians are now comfortable using mobile apps for banking and financial transactions
Supportive regulatory environment: The Indian government has taken several steps to support the growth of Fintech companies, including creating a regulatory sandbox and introducing a dedicated Fintech policy
Challenges faced by Fintech companies in India:
Limited access to capital: Many Fintech startups in India needs help to raise money, as investors often need to be more open to investing in companies with untested business models
Competition from established players: Banks and financial institutions should invest more in digital technologies as they are starting to offer services similar to those provided by Fintech companies in India.
Lack of trust: Many Indians still hesitate to trust Fintech companies, especially regarding data security and privacy issues
Infrastructure challenges: Despite the rapid growth of digital technologies, there are still many areas where internet connectivity could be improved. This can make it difficult for any Fintech company in India to reach customers in these areas
With a large population, increasing digital adoption, and a supportive regulatory environment, Fintech companies have a vast potential market in India. Connect with our platform EnKash, a platform leading change with cutting-edge technology and industry-first solutions. Boost the efficiency of your business operations with a modern and user-friendly centralized spend control platform. It also streamlines payable management, expenses, and collections, leading to considerable time savings.