When small and medium sized businesses or startups hear the term 'CRM' their usual reaction is to shrug and say that CRM is necessary for larger companies and not them. In this article, we will explore why investing in CRM is important and the importance of CRM software for small businesses. Let's start by understanding what CRM stands for and what it does. The full-form of CRM is customer relationship management. As the name suggests the CRM software is used to manage customer relationships with ease.
The first thing to consider while deciding whether to invest in CRM or not, is by looking at the core of your business. And the core of any business is universal – the customer or customers. The better your relationship with your customers, the more likely it is for your business to survive and thrive. Given that logic, don't you think investing in CRM is important? Yes, it is a substantial capital investment and will require a long-term finance arrangement. But it will also ensure that your business is more profitable. 
What does CRM do?
A CRM helps you capture all the information about customers onto a common platform. Every interaction that any team in the company has is logged into the customer account. For instance, the marketing team has had the customer click on a link to download an asset. This will be taken as a marketing-qualified lead and nurture the customer with more information via emails.
Once the customer has opened the emails, consumed the information, and shown interest in a demo or discovery call, he or she is passed on the sales team. All the interactions and actions taken by the customer at each stage is recorded on the CRM. This enables the sales team to tailor their pitch accordingly. In the same way, once the sale is complete, all the customer-related information is stored in the CRM to ensure positive interactions, more sales, and so on.
Also Read: 9 Tools to Grow Your Business Exponentially
Now that we understand that CRM can help you maximize the customer lifetime value, build a reputation as a customer-centric company, and improve overall profitability. 
9 reasons that showcase the importance of CRM for SMBs and startups
Ability to do less with more
As a small business, doing more with least amount of resources is always the aim and your investment in the CRM can help you do that. For instance, the work of data mining to see what customers are saying about your business and service levels can be collected from the CRM. You can also use the CRM to ensure that there is common information available to all the departments without the need to generate reports, share, and disseminate the information.
Increased sales
The need to improve revenue generation is the aim of most businesses and more so for smaller businesses because their access to funds is lesser. With a CRM in place, increasing sales becomes easier. There are two ways that this happens, repeat sales to those customers who are ripe for it based on the information in your CRM or referrals from existing customers because they are happy with the seamless experience you have provided thanks to the information access provided by your CRM.
Customer retention
In a smaller business or startup, the loss of a single important account or customer can have a big impact and therefore customer retention is of vital importance. The importance of CRM is showcased here when all your customer-facing teams are able to provide a comfortable and pleasant experience to customers. Imagine the delight customers will express when your accounts receivables team thanks for them timely payments instead of calling them to make payments, which happens by default when there is no CRM.
Easy access to data
Whether your business is a large one or a small startup, data is the fuel that keeps your business running. Want to know how much sales have happened or want to know which product has the most complaints or want to understand the trend for sales volumes across various time periods, the CRM can mine the data and enable better decision-making.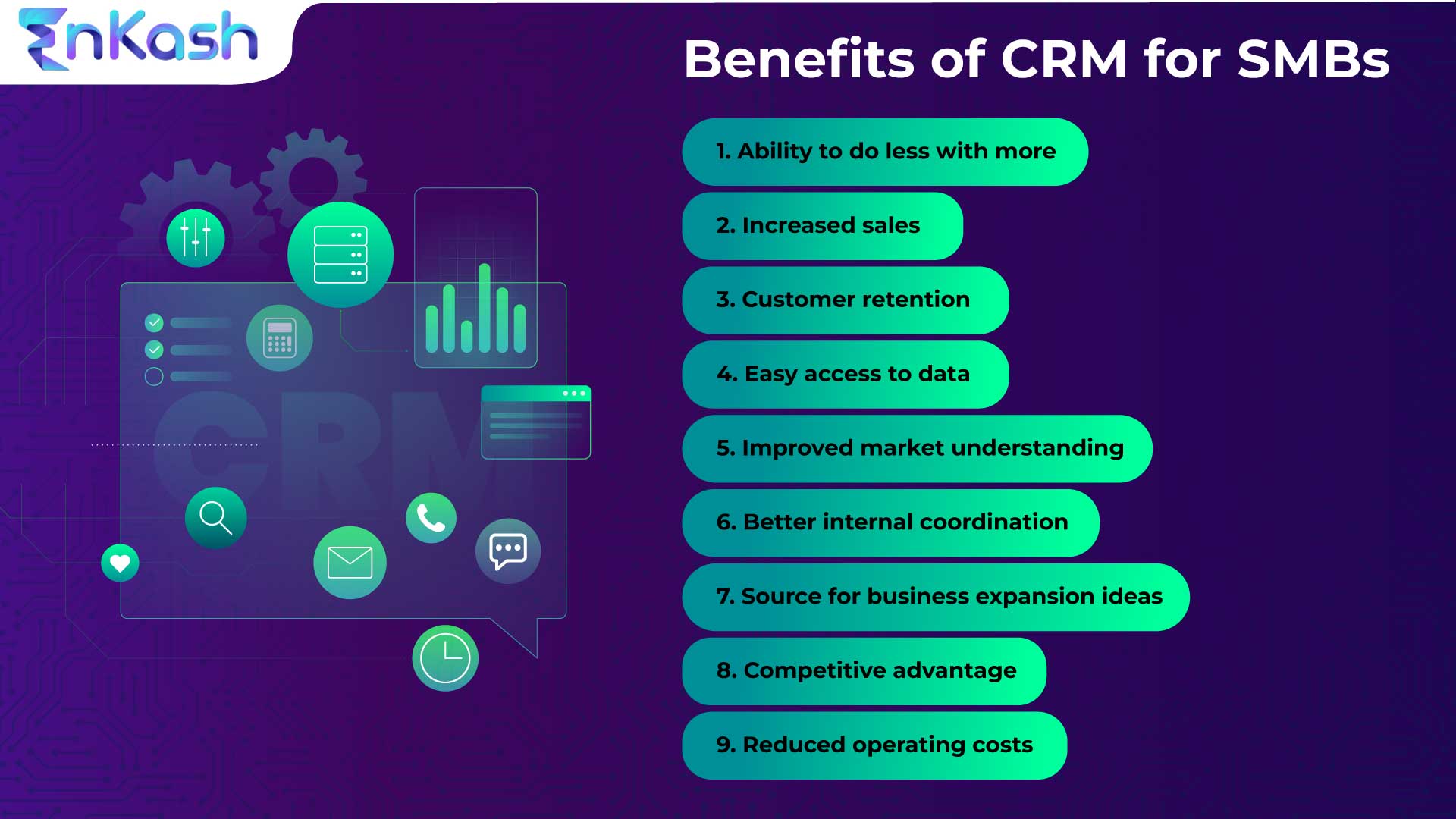 Improved market understanding
In today's market conditions, only those companies that listen to customers and understand market trends can thrive. And carrying out market surveys and purchasing expensive reports can be time-consuming. With the CRM, you can pick out information from various sources, including leads that did not get converted, to get an understanding of market trends and the pulse of customer needs.
Better internal coordination
As a startup, it is likely that you are operating with a smaller team for each department and this often burdens the people working on different teams. As a result, the customer experience could suffer because people did not have enough time to share the information. With CRM, all teams have access to real-time information making coordination easier.
Source for business expansion ideas
The importance of CRM software for SMBs and startups can be felt the most when you want to expand your business and want some ideas. Not only with the CRM point you in the right direction but also substantiate the idea with solid data collected over the course of time.
Competitive advantage
In a world where competition is rife, it is essential to stay ahead and the differentiator in most cases, is the way you make your customers feel. With the CRM software in place, you will be able to ensure that the customer needs are anticipated and met with, giving you the competitive advantage.
Reduced operating costs
As a growing business, cutting costs is one of the topmost concerns and CRM for small businesses can offer a ready solution. The CRM helps you do more with less, ensures that data mining is easy, cuts down the lead time to close a deal, and reduces paperwork, thus, helping reduce costs.
At EnKash, Asia's 1st & smartest spend management platform, we believe in empowering our customers with the best fintech solutions to manage their needs. Check out solutions to find the one that fits you the best.