As you know in today's world cash no longer rules the roost and various other modes of payment have taken over. Credit cards are one mode of payment that have been around for a few decades, and continue to thrive.  However, credit cards have also evolved from their original positioning as elite to being available for people from all walks of life. 
There's been a paradigm shift in the way finance and financial services work with the changes in policy and the role that technology has started to play. The concept of credit cards to support personal and business expenses is not new. Today with modern financial services evolving, we see a big change in the way companies manage expenses. Often, it is with the help of business credit cards that they give their team to ensure quick and easy payments. 
However, even today, there's a lot of confusion on what constitutes a business credit card vs personal credit card and how they differ. Let's start by defining the difference and then focus on the top reasons to learn the difference between business credit cards and personal credit cards.
What is a business credit card?
As the name suggests, a business credit card is issued expressly for business purposes. More importantly, a business credit card in most instances is based on your company's financial credentials. If you are wondering what a corporate credit card is, then it is similar to a business credit card.
What is a personal credit card?
As the name suggests, the bank or financial institution provides a credit card with a limit based on the personal finance credentials of the main applicant. 
Main differences between business and personal credit cards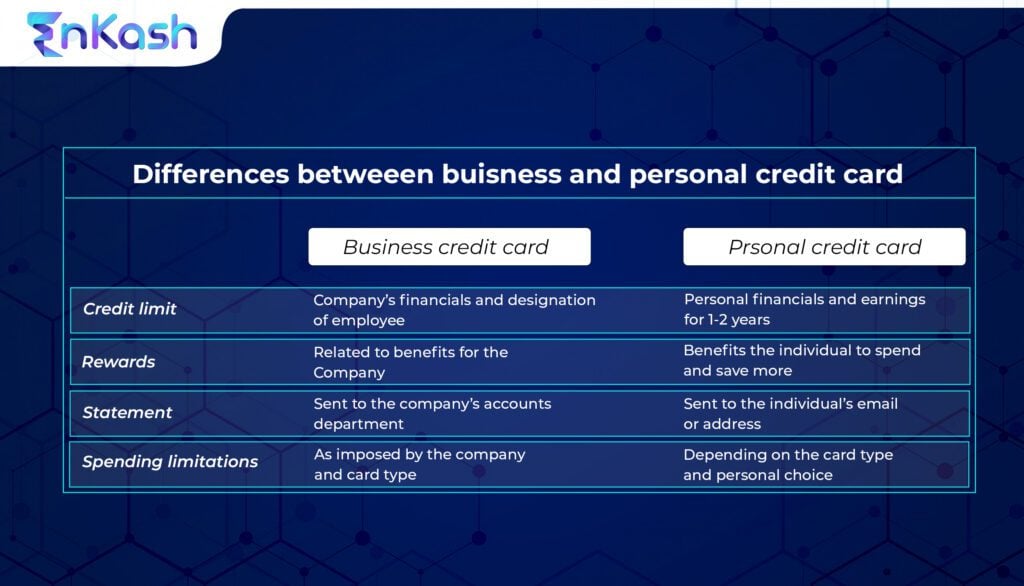 Credit limit
The credit limit for the business credit card will be determined by not only the company's financials, but also the designation of the employee who will be using it. Also the company can decide to allocate the overall credit limit they have to different people depending on the needs of the business.
For instance, the operations manager will have limits that will enable the payment of transportation fees, utilities, etc. In the same way a salesperson who travels for work will have limits that meet travel and entertainment (TE) expenses. In most cases, the end-user of the business card may not need to submit their personal financial documents to get the limit. 
In case of the personal credit card, the credit limit will be based on your personal financials for the past 1-2 years, your current earnings, credit score, and if applicable, the credit history.
Rewards
The type of rewards and promotions for business credit cards will be more oriented to the benefit of the company rather than the individual. It could range from discounts on bill payments, fuel, or office supplies. For the personal credit card, the rewards and promotions are aimed to make their spending better and beneficial. These include a redemption of reward points for a gift of their choice, cashback, etc.
Statement
For business credit cards the statement is generated and sent to the company unless otherwise specified. For the personal credit card, the statement will be sent to either individual's address or email ID as the case may be. In many cases, the personal credit card will allow you to make part payments whereas that may not be the case with business credit cards.
Spending limitations
In the case of company credit cards, where you use the card, what you spend on, and how much you can spend could be restricted. In case of personal credit cards, the limitations on spending are up to the user. Most of the issuers of credit cards for personal use enable the user to set the limitations on where or how to spend. For instance, you can cancel online purchases and go with only point-of-sale usage. 
Now that we have done a comparison of business credit card versus personal credit card, let us look at the top reasons the distinction is important:
Accountability: A corporate credit card or business credit card is issued for business expenses. When you make personal purchases on the card, it can create accounting issues and make bank reconciliation a mess
Credit score: In case you use your personal credit card for business purposes and your company does not reimburse you on time, it can lead to default and poor credit score
Misuse penalty: Many companies have strict policies in place for use of the business credit card and any personal use can often be penalized by imposing a fine or in extreme cases, even termination of employment
The differences between business card vs personal credit card are significant to establish accountability and a positive credit score. It is better to ensure that the usage be restricted accordingly.