Your ability to answer detailed questions about what's going on in your organization's databases can make or break a compliance audit or security investigation. Apart from the obvious need for this information in the event of a violation, this is also important because the government, financial, and health regulations and fines related to data scrutiny have intensified.
The general database auditing concept is about tracking database records and authority use. When you audit trail in database, each operation on the data can be monitored and logged to an audit trail in DBMS, including information about which database object or data record was touched and when did the activity occur?
Continue reading and learn more about what is an audit trail in DBMS, audit trail in accounting software and their significance in the business world.
What is an audit trail in DBMS?
The basic principle of an audit trail in database is to track the authorization and use of database records. When you audit a database, every operation on the data may be observed and recorded to an audit trail. This information includes the database entity or record that has been touched, the account that acted, and the time that activity took place.
Not all audit records are equally valuable to auditors. From the auditors' point of view, they require logs that convey understandable and contextual information. Moreover, the audit trail also detects any intrusions into internal or external data. A thorough data audit trail will enable you to identify who accessed the information, when they did that and what changes they made in the event of any discrepancies. Stand-alone database monitoring solutions are the only ones that can produce this type of report.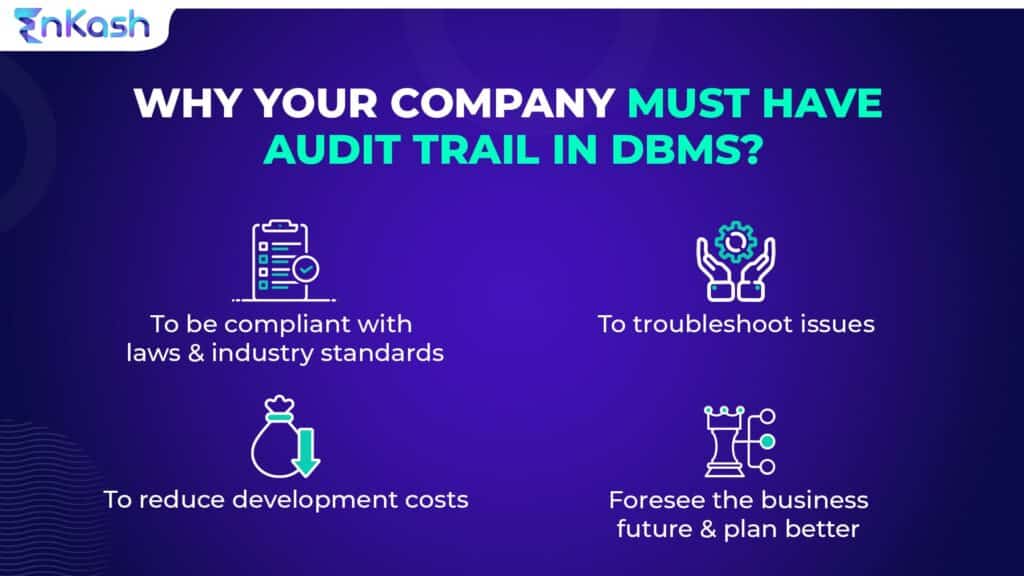 Additionally, there are differences between conducting an audit just for compliance and performing an audit for compliance and security. For instance, in a typical compliance scenario, a business might keep an eye on a certain data set, including access to credit card information and national ID numbers. Moreover, they would keep an eye on 'privileged users,' who have access to much private information due to their area of work.
A report is generated monthly or quarterly using the audit trail in DBMS for these data and users. When unauthorized behavior is detected, such as a request to retrieve more than ten social security numbers, monitoring systems with warning features can be configured with policies to detect and send out alerts.
Significance of audit trail in the business world
Firms must keep a thorough audit trail in DBMS to trace any irregularities and identify process breakdowns when they occur. Tracking people and their actions on a company's data and a rigorous audit trail enables businesses to detect internal fraud.
Additionally, an audit trail in DBMS can aid in locating concerns with an external data breach. Malware and ransomware crimes are on the rise, and keeping track of an audit trail in DBMS can help detect and alert you about situations when miscreants are attempting to cause harm. Moreover, while detecting suspicious activities, an audit trail in DBMS also enhances the information security capabilities of your business
Most industries, including all publicly listed companies, are subject to regulatory obligations that mandate compliance with audits. Strong electronic records help to establish an accurate audit trail in DBMS to comply with regulatory requirements.
IT services are used to keep track of it, safeguard user access and data consistency, maintain privacy settings that may be tracked and changed as necessary. Furthermore, IT services can preserve the electronic records required to manage record keeping. Compliance also depends on maintaining consumer data privacy protections and information security, and an audit trail in DBMS serves as a means of doing so.
What are Types of Audit Trails
Audit trails are an important component of any robust debt management system, providing a detailed record of activities and transactions within an organisation's information technology infrastructure. These trails serve as vital tool for security, compliance, and troubleshooting purposes. There are various types of audit trails commonly used in a variety of industries:
Access logs: These trails track the authentication and authorization of the user and document who accessed the specific system, application or file and when
System logs: they record events related to the operating system; including startup and shutdown times, software installations, and hardware changes
Application logs: Application-specific trails are known to capture detailed information about user interactions, errors, and system events within a particular software or application
Database Logs: They monitor all the activities related to the database management system
Network Logs: These logs track the network traffic, including incoming and outgoing connections
With the help of various types of audit trails, business owners can detect anomalies, and potential security breaches, and demonstrate compliance with regulatory requirements. It is very important to implement proper security measures to protect audit trails from unauthorised access and tampering. This also ensures the integrity of the information contained.
Management of audit trail
A thorough audit trail in DBMS provides a robust framework that includes versioning and gathering all submitted data. Additionally, constant input and data management help to keep the audit trail intact. The inputs and actions should be handled and documented for future reference, whether your company is developing a new policy or procedure or modifying an existing one. For the maintenance and health of the audit trail in DBMS, it is crucial to construct, maintain, and manage a hub for the documentation of those systems and an audit trail for those workflows.
An audit trail in accounting software records each user's activity, including modifications and approvals, dates and timestamps, IP addresses, and user logins. The duration of time records kept for audit trail logs will vary depending on the laws and standards that apply to your line of work.
Final thoughts
Beyond merely satisfying legal responsibilities, what does an audit trail in DBMS mean for your company? It could entail developing new efficiency, preventing fraud, and defending your company from rigorous and stretched auditing procedures. In addition, as part of your company's standard operating procedure, you need an audit trail in DBMS to record the appropriate data and make it simple to access later.
EnKash is a spend management platform that can streamline your workflow and improve your audit trail in DBMS. It accomplishes this by streamlining documentation, removing edition control problems, automating administrative tasks, and raising visibility for team members through personalized, role-based dashboards. To know more about our solutions, browse through our website!