If you are a business that is considered a small or medium-sized business or in the initial stages of growth, you will find this article of interest. Often you will hear small business owners talking about their struggles to keep their heads above water. Most of the time the struggles that smaller or newer companies face have to do with financial issues. However, when you do a deeper dive, you realize that the problems go beyond that. 
The issues for SMBs and startups not only stem from money issues but also the lack of investment in technology which further affects their financial management and other aspects. According to CB Insights, there are many reasons that result in a small business failing, with finance issues and product-market demand mismatch topping the list. A slightly deeper dive shows that all these factors will reveal that the root cause of these issues is a lack of investment in technology.
5 reasons to invest in technology as a growing SMB or Startup business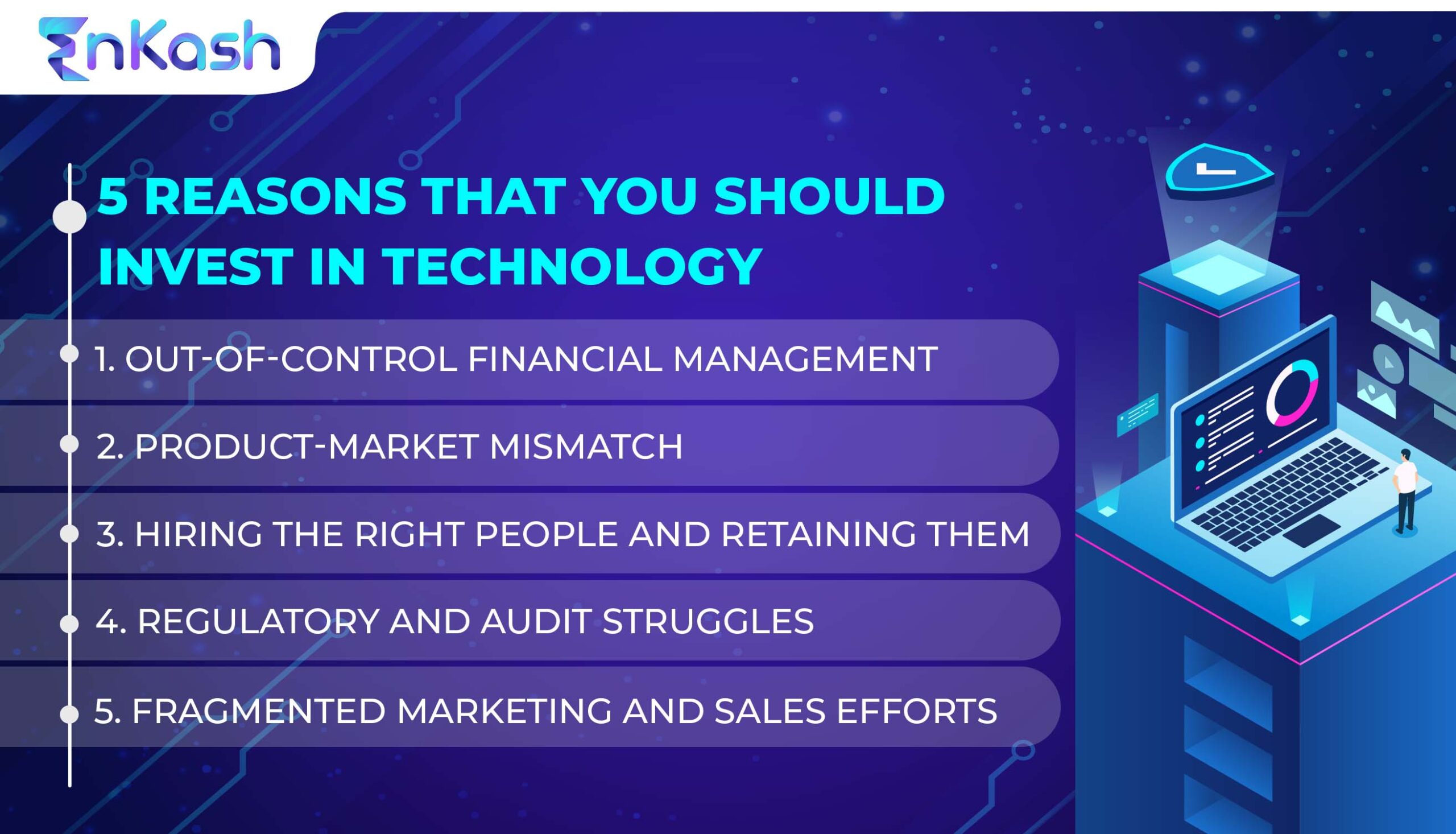 Out-of-control financial management
Often smaller businesses make the mistake of using manual processes to manage their finance and accounting processes. This not only results in cash flow issues but also affects their other functions. For instance, manual accounting can be frustrating and error-prone which results in employee attrition, not meeting compliance requirements, waste of resources, and a lack of analytics resulting in poor planning. Even external-facing factors like market reputation (due to late payment to vendors and suppliers) and customer experience (because of poor collection techniques) are adversely affected.
The solution: A complete spend management solution that not only helps them manage payables and receivables but also helps you with aspects like audits, bank reconciliation, insights, and overall customer experience.
Product-market mismatch due to lack of technology investment
Many SMBs and startups start their business based on radical product or service ideas they had at the beginning. While this works for their initial vision and based on the expertise and skill set they bring to the table, there may not necessarily be long-term demand for the same. If anything, the product needs to keep developing to meet the changing needs of the market. 
The solution: Get tools that provide you insights into how customers have responded to your product or services like social media measurement or survey tools.
Hiring the right people and retaining them
Most small businesses or startups start with the mindset of keeping all aspects within a chosen few who have been with the founders from the start. However, as the business takes off, the need for the right talent makes itself felt.
Whether it is gig workers or permanent staff, hiring can be a challenge if you do not have the right setup for it. All this starts with ensuring that you build a consistent reputation of being a fair employer.
To do this, you need to ensure that you make payroll on time, your rewards and recognition program keeps up with the times, and your gig workers have the choice of different modes of payment. What is more, you need to create a fine balance of allowing your employees to have the freedom to spend independently without losing control over how spends are made.
Solution: An integrated solution that will help HR set policies and hierarchies for spends, approval stages, preset spend limits, and types of expenses. An integrated dashboard that enables finance and HR to work together without IT dependence.
Regulatory and audit struggles
No matter the size of the business, there are always regulatory requirements that the business has to fulfill to ensure smooth running over time. While documentation of different transactions and creating a credible track of paperwork and approvals may sound simplistic when a business is starting operations, it becomes complicated when the business grows.
Not only do regulatory and audit issues take up resources like time, manpower, and money, but they also tend to put a lot of stress on different departments. In many cases, it could also result in the business being penalized.
Solution: You need a system that tracks and updates the details of transactions and the approval trail in real-time without errors. 
Fragmented marketing and sales efforts
Businesses of all sizes have had to add a digital touch to their marketing and sales efforts without that they would see a poor return on marketing investment.
Often SMBs and startups hesitate to invest in a holistic marketing tool that gives them an overview of the journey that a customer goes through before making the purchase decision. Today decisions, especially in the B2B segment are not made by a single person and usually take a longer time. Not only does the initial touchpoint with the customer play a huge role in the way the decision moves forward but the support you provide at each step matters a lot. 
Solution: Invest in a sales and marketing tool like HubSpot, ZOHO, Salesforce, etc to ensure that your marketing and sales teams have an overview of the customer journey at various touch points.
Conclusion and next steps
It is essential for SMBs and startups to start thinking of technology as an investment rather than an expense. Investment in the right technology can have a deep-seated impact on the operations of your business in terms of human resource management, finance, marketing, sales, and customer experience.
While evaluating the tech stack that you are planning to invest in, pay particular attention to ease of use, the initial investment, dependence of IT to configure changes, usability across functionalities, and sync with existing systems, if any.