EnKash's Olympus is an Industry-first product enabling businesses to achieve financial excellence. Let us take you through this product that has been designed keeping the needs of startups, small and mid-market enterprises (MMEs) in mind.
Before that, it is vital to know that Olympus is an outcome of understanding the needs of businesses and bringing solutions to empower them. 
Challenges faced by small and mid-market enterprises
Effective management of cash flows plays a pivotal role in ensuring financial stability for any business. Large enterprises have successfully resolved their cash flow challenges by leveraging ERP solutions and accessing banking solutions to automate their entire value chain around payable, receivable & reconciliation. Startups, small and mid-market businesses' resource constraints restrict them from adopting advanced products. These businesses encounter distinct challenges when it comes to handling financial processes efficiently.
One significant factor contributing to these challenges is the lack of cost-effective & plug-and-play products in managing accounts payable and receivable. None of the products in the market can solve these challenges holistically. Businesses rely on multiple high-cost providers to get the right kind of accessibility.
From delayed payments to cumbersome invoicing procedures, inefficient collection mechanisms, and limited resources for receivable management, small and mid-market businesses grapple with various issues that can hamper their ability to optimize cash flow, meet financial obligations, and drive sustainable growth. 
The creation of "Olympus" platform stems from the extensive experience and expertise accumulated by the team and founders over the course of several years in understanding the challenges faced by businesses that the banks or other software providers do not serve well. 
What makes Olympus a Holistic Product? 
Olympus is a cutting-edge product specifically tailored for startups and small to midsize businesses to automate and streamline their accounts payable and receivable. With its "plug & play" integration capability and DIY mode, Olympus seamlessly integrates with existing accounting and enterprise resource planning (ERP) software without disruption. 
This powerful technology stack empowers businesses with enhanced efficiency and 100% accuracy in accounting and auditing processes. It eliminates laborious manual tasks by automating transaction entries, bank reconciliation, payment management, collection management, expense tracking, and invoice management. Businesses can achieve remarkable process improvements through its user-friendly interface, resulting in substantial cost savings of close to 50%, as reported by our current beta customers. 
One of the standout features of Olympus is its ability to mitigate risk and fraud in business transactions. While Olympus excels in accounts payable, its unique selling proposition lies in its robust receivables management feature. 
Key Features of Olympus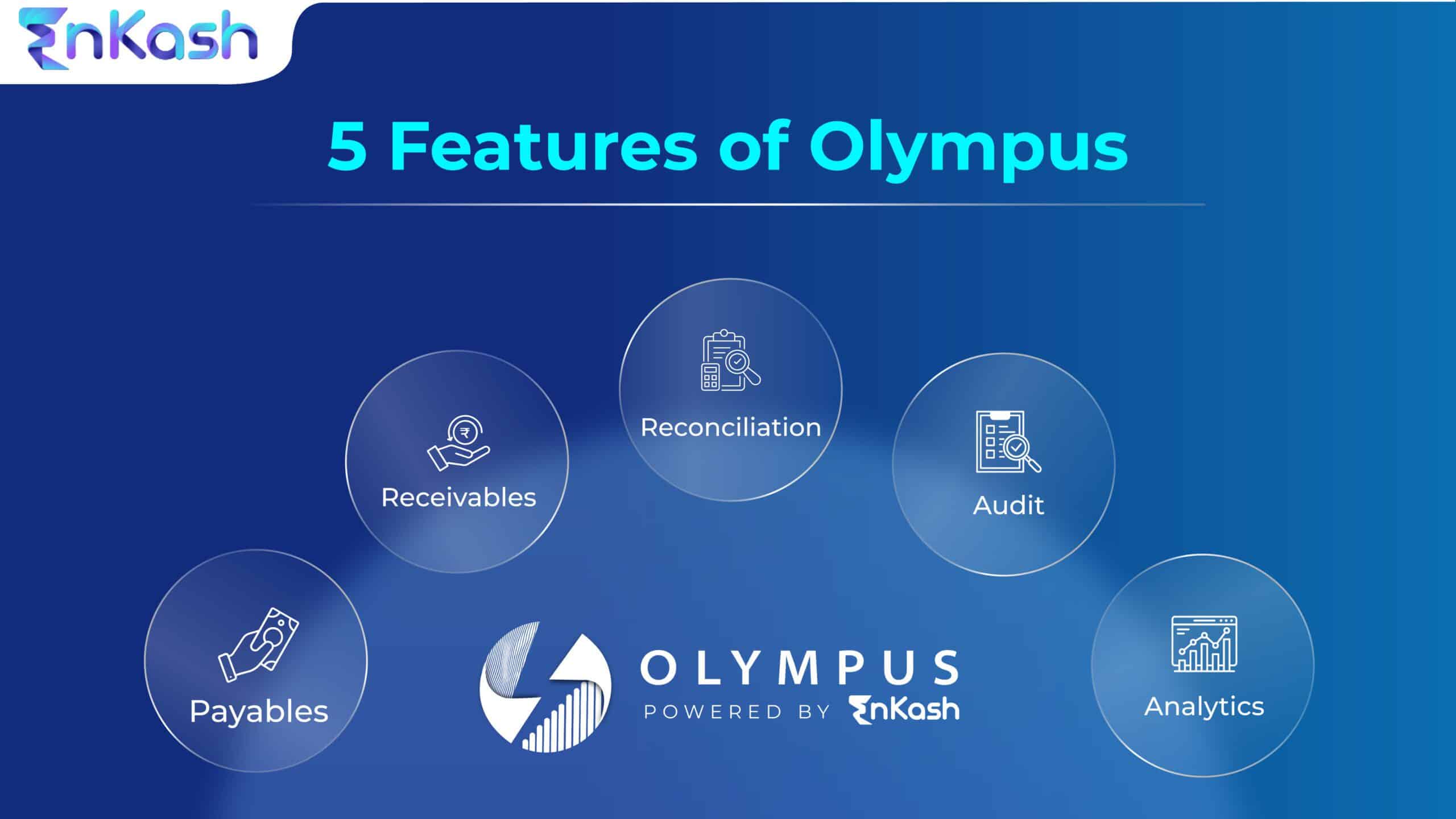 Why choose Olympus?
Here are some of the valid reasons:
It intends to make businesses independent by giving them access to digital payments at a cost-effective price

It automates finance-related operations like AP, AR, and reconciliation and accelerates growth by offering efficiency, transparency, and flexibility

It supports startups & small to midsize businesses by integrating their existing systems and accounting software to offer a seamless experience

Designed for businesses, this industry-first product works with zero manual intervention

It can function as a standalone platform if needed

It allows multiple modes of payment for maximum convenience

It only onboards validated buyers & suppliers and can auto-flag whenever a mismatch occurs

It provides real-time data that can help make quick financial decisions 
Businesses can function smoothly only when payables, receivables, reconciliation, audit, and analytics all work in the same direction to produce desirable results. 
Let's know how Olympus can become the binding force of all these different functionalities and change the game for you.
Role of Olympus in Accounts Payable
It onboards digitally validated vendors and suppliers seamlessly

It captures all the data from the invoices accurately & syncs back

It verifies all the payment-related paperwork, helping reduce manual intervention

It makes bulk payments in a single click giving real-time updates
Role of Olympus in Accounts Receivable
It monitors receivables with their due-dates 

It creates automatic payment reminders to ensure customers pay on time

It enables the timely dispatch of invoices 

It offers options like bulk collect and quick collect to accelerate collections

It has the ability to embed payment links in the invoices with multiple payment options
Role of Olympus in Reconciliation
It captures data from all sources  to reconcile 

It helps reduce work hours, ensuring that all records are updated

It maintains complete transparency across functions with accurate data

It showcases inconsistencies in the payable and receivable functions 
Role of Olympus in Audit
It checks and approves hierarchies in the system with a few clicks

It auto-creates electronic records of the payment process for easy retrieval

It makes statutory payments on time via the portal

It provides a clear trail of all the stages in any transaction at any time

It supports customers, vendors, and other stakeholders with timely documents
Role of Olympus in Analytics
It empowers different teams to create bespoke dashboards with updated data

It gives real-time updates to manage funds better and decide wherever cost-cutting is required

It highlights areas of data that need improvement for business growth and improvement

It offers intelligent insights which can contribute to decision-making 
Olympus can bring efficiency and transparency to your business without hampering your existing setup. Customers using Olympus at its pilot stage have reported a 40% improvement in their processes with 50% cost savings overall. 
They have also reported mitigating risk and fraud in their business transactions as Olympus validates buyers and suppliers and raises the issue whenever there is a mismatch between the data. 
In conclusion, Olympus is a game-changing product for startups and small to midsize businesses.
If you want to experience the freedom of payment handling, come under the parasol of Olympus today!