After the demonetization on 8th November 2016, when the high-valued notes overnight, people in India were obligated to acknowledge the significance of going cashless; even though India is still majorly cash-reliant, the majority of the transactions are still carried out with physical cash. However, due to the Covid-19 pandemic, people are slowly transitioning from cash to cashless, and virtual credit card for business is one such way of money transaction that is gaining momentum. For example, virtual cards let you manage your payables and expenses in one place with just a few clicks.
What is a Virtual Credit Card?
Virtual Credit Cards are still relatively new to many people in India. If you are wondering what a virtual credit card is, keep reading. The concept is simple, a virtual credit card for business functions exactly like a traditional credit card, but the only difference is you don't have to use a physical card to make transactions.
A virtual credit card is much more secure as it is a digital card created online. It allows us to generate a random 16-digit unique number with expiry date and card verification number (CVV) without any physical existence. The basic requirement to get a virtual credit card is to have an existing credit card, as the unique number generated is attached to this parent card.
Virtual Credit cards for business are an add-on for your existing credit card, providing extra security to your sensitive card details. Indian virtual credit cards can be used anywhere if the merchant accepts online payments.
Also, with EnKash Virtual credit card India, you can create unlimited virtual cards without affecting your credit score. It means you can use different virtual card numbers at different places without having to worry about your parent card details getting leaked or hacked by fraudsters.
Know how Indian virtual credit cards can help businesses?
EnKash virtual credit cards can be used for all professional needs. Businesses and enterprises need to share their card details with employees to make necessary business payments, which risks overspending.
It allows you to set spending limits on your card, so accidental spending or rogue spending can be curtailed. It also ensures businesses with additional security for their money as the fear of getting overcharged by vendors is eliminated.
Maintaining accounting records comes with various challenges if accurate details are not provided. In large corporations and enterprises, errors are likely due to the volume of invoices generated and received every month. Moreover, it is humanly impossible to monitor or audit every transaction in detail. But with Enkash virtual credit cards, accounting records of a business enterprise and corporation can easily be tracked and recorded with accuracy as transactions are immediately updated, avoiding any delay or discrepancy using the AI-based spend management system.
Benefits of a Virtual Credit Card
Using an EnKash virtual credit card gives you an additional level of security as it reduces the risk of theft or fraud. The details you provide for payment do not stay in the records forever; instead, it disappears from the recipients' records within 24 to 48 hours.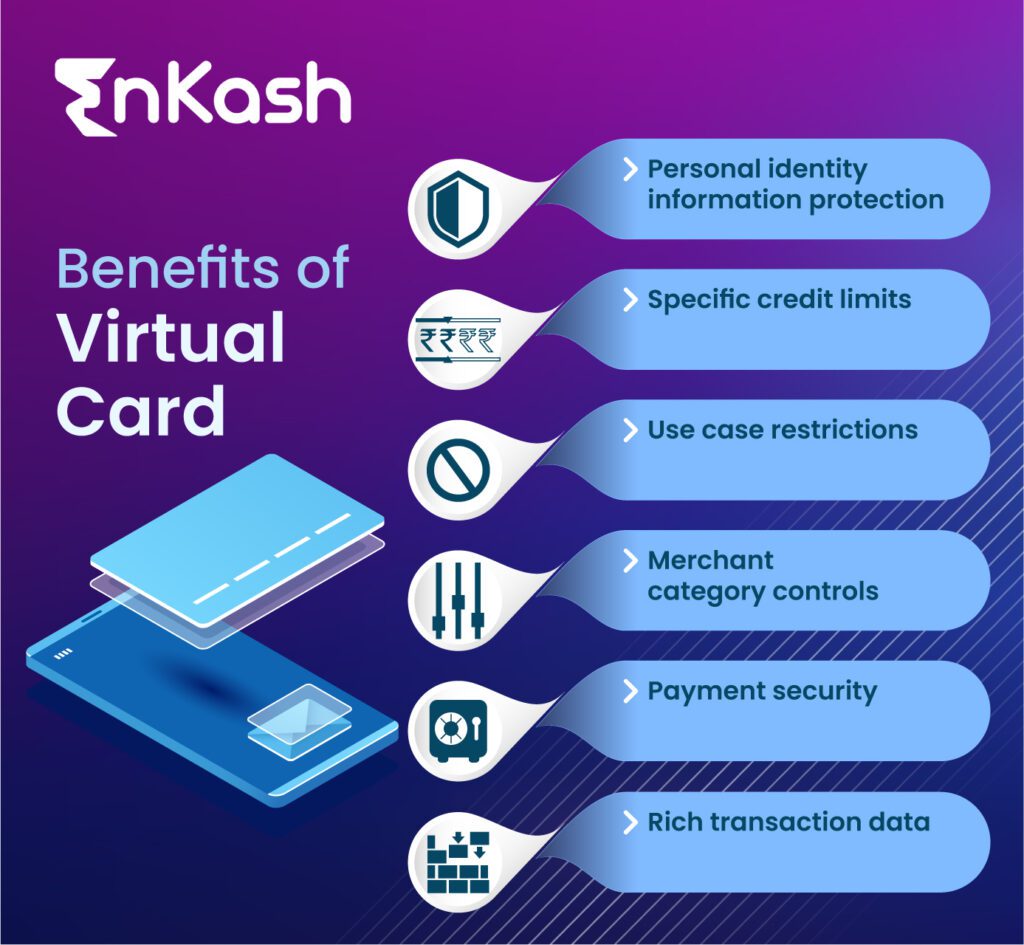 It is easy to set a limit on the card amount and control overspending with virtual credit cards. Having a virtual credit card is extremely helpful for enterprises and corporates as the employees can't spend accidentally.
For businesses dealing with multiple vendors, recording and auditing every transaction is not physically possible. With EnKash virtual credit card, balancing accounts gets easier as you get notified online for transactions made, without the hassle of maintaining invoices.
EnKash virtual credit card protects your card information preventing you from getting duped as the unique 16-digit number cannot be traced back to your real bank account.
Having a virtual credit card is extremely convenient as you do not have to carry physical credit cards around; you need the virtual card details, which you can easily save on your phone.
Manage your company's subscriptions smartly with EnKash virtual credit cards, as you can make recurring subscriptions for different vendors effortlessly. Also, you can track if any merchant overcharges you for their services.
It is easy to cancel your virtual credit card anytime without closing your actual credit card. If there is a balance of payment in your virtual card at the time of cancellation, the balance gets added back to your parent credit card.
Virtual credit cards give you the benefit of one-time usage. In addition, you can easily schedule the date to close the card, which provides you with an extra layer of protection from fraudsters.
The main reason to choose virtual Credit cards is their level of security, and it can be used for both Indian and international payments. EnKash virtual credit card makes it easy to maintain and audit SaaS subscription, vendor transactions and set spending limits for enterprises and businesses.
Also, there are no associated fees charged with Enkash virtual credit cards, unlike other credit cards that charge you extra for issuing. Enkash Indian virtual credit cards notify you via email about any transactions immediately to keep track of spending.
Today online transactions are safer and more secure due to virtual credit cards.
To know more, visit EnKash. You can also click below on Signup Now and we will reach out to you soon.