We can all agree that small businesses form the backbone of our economy. Not only do small businesses lead the way forward, they also provide employment, nurture innovation, and ensure affordable goods. However, while there is a lot being done for the development of small and medium businesses, small business finance is one aspect that many of them struggle with. There are several reasons for issues with small business financial management, the top of which include:
Lack of formal funding leading to capital struggling
Low awareness of options to get easy finance
Failed collections resulting in cash issues
Too many resources used for non-core activities like finance
Unclear data and insights to enable planning
Poor supply chain management due to delayed payments
Lack of communication and control between different teams
Given that small and medium-sized businesses would normally not prefer to invest in IT infrastructure beyond their core business, they face issues like finance and manpower management. There is no denying the importance of money management in business, which when ignored leads to poor performance.
Read More: Best Accounting Software in India for Small Business
Now that we have a clear understanding of the issues that small businesses face, let's look at some tips that will help you manage finances better for your business.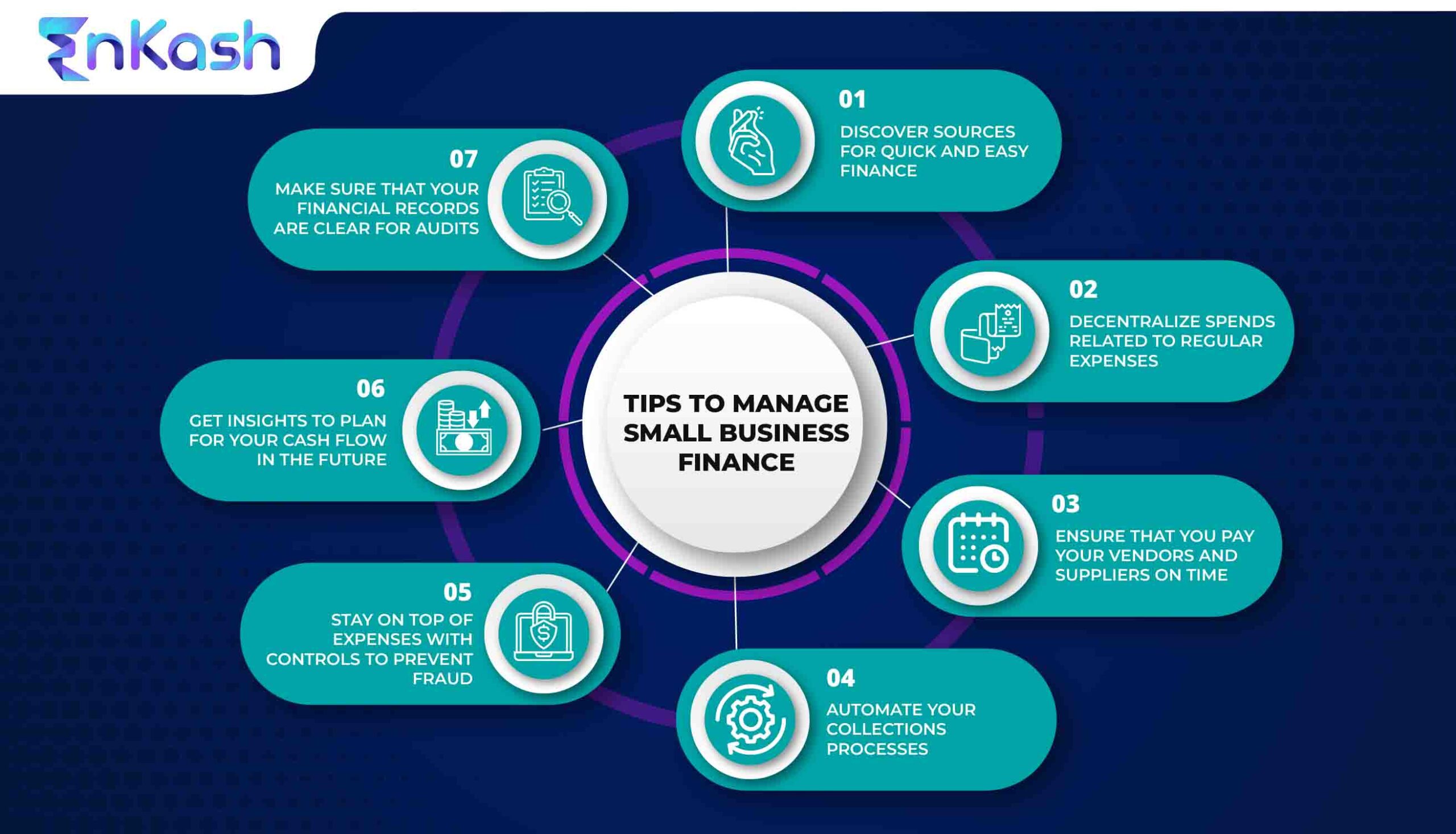 7 Super Easy Tips to Manage Small Business Finance
Tip 1: Discover sources for quick and easy finance
If you talk to entrepreneurs of small and medium businesses, you will find that their top concern is that of finding sources for quick and easy finance for business owners. Since most business owners may not have the financial or educational background to easily gain access to finance, making sure that working capital is always available can be a major issue. Today, companies like EnKash have made this easy with quick and collateral-free finance with minimal formalities. In fact, you can even tap on free sources for finance by tying up with such companies.
Tip 2: Decentralize spends related to regular expenses
Besides finance, another aspect that often causes problems in the path of a small or medium-sized business is the time spent on looking at expenses, ensuring that they are correct, and then disbursing them. The time spent increases either due to lack of trust or due to lack of authority given to the person who needs to make the expense. What you need is a way to decentralize payment but without diluting the controls. All these factors showcase the importance of money management in business, but more so for SMBs.
Tip 3: Ensure that you pay your vendors and suppliers on time

To run a business, you need to deliver goods or services to your customers on time, in the right quantity, with the right quality, and at reasonable prices. As simplistic as this sounds, this is easier than done for a small business. The problem could arise because you are not in a position to pay your vendors and suppliers on time. Which in turn, means that this affects your ability to deliver goods and services as promised, which results in poor collections and ends in a cash flow problem. What you require is a solution that lets you pay on time and provide you with required credit limits as per your needs.
Tip 4: Automate your collections processes

As mentioned in the earlier section, the cash flow of your business is affected by poor collections. Often companies face collection issues because they are unable to send invoices on time as a result of manual processes. In some instances, it is the lack of convenient options to make payments that acts as a deterrent to the timely payment of the dues. Something as simple as automation of the invoice creation and dispatch process and adding a payment link will ensure better collections and help with small business financial management.
Tip 5: Stay on top of expenses with controls to prevent fraud

When you are a small business, you need to have complete control of your expenses. Often, the process to establish this kind of control also results in restricting your people from quickly purchasing what they need for work. When you have a holistic spend management platform in place, it becomes easy to enable payments while still ensuring that there is no fraud. For instance, providing your system admin with a corporate credit card to specifically spend on AWS kind of purchases will ensure there is no fraud while enabling faster operations. You can also remove access when an employee leaves if you manage the whole process with a DIY dashboard.
Tip 6: Get insights to plan for your cash flow in the future

Small business finance is a function that becomes essential when you are able to get smart insights on how your money is working for you. Having a dashboard that you can customize to get an overview of your spends, collections, account payables, and more will ensure that you are able to plan better. Once you have insights on the way your cash works, it becomes easier to save on interest rates, penalty charges, and also get rebates on early payments.
Tip 7: Make sure that your financial records are clear for audits

Another aspect of small business financial management that the finance and accounts teams will confirm is that much of their time is spent on preparing for audits and statutory compliance. Having a dashboard to approve, record, and update all the financial transactions will definitely help you increase your focus on core activities.
At EnKash, we specialize in quick and efficient solutions for companies like yours. Our solutions will help you track spend, make payments, collect quicker, reconcile bank accounts, and much more. What is more, we also have a quick and collateral-free loan to meet your urgent needs.