In a world where online is no longer a good to have but a must-have option, e-payments rule the roost. Today, you will rarely see people, especially the younger generation carrying a lot of cash. In fact, many businesses stand to lose their market share if they are not in a position to offer the option of e-payments.
Cheques, demand drafts, pay orders, and other such payment instruments seem to have lost their usefulness in today's world. The younger generation may not even know such an option exists.
E-payments or electronic payments are nothing but payments that are made through electronic or online means. Some of the well-known online payment modes include credit, debit, and virtual cards, internet banking, e-wallets, direct debit, standing instructions, UPI payments, etc.
The way the world functions today, most of us know the different modes of e-payment or online payment modes. As a growing business in today's world or as a consumer, you would have definitely enjoyed the benefits of electronic payments. The speed and convenience of such e-payment methods cannot be overlooked. However, did you know the benefits go beyond mere speed and convenience? At EnKash, we offer a variety of financial solutions to help growing businesses cope with their financial needs, which include the means to make, track, receive, and manage e-payments.
Let's take a closer look at the advantages of the electronic payment system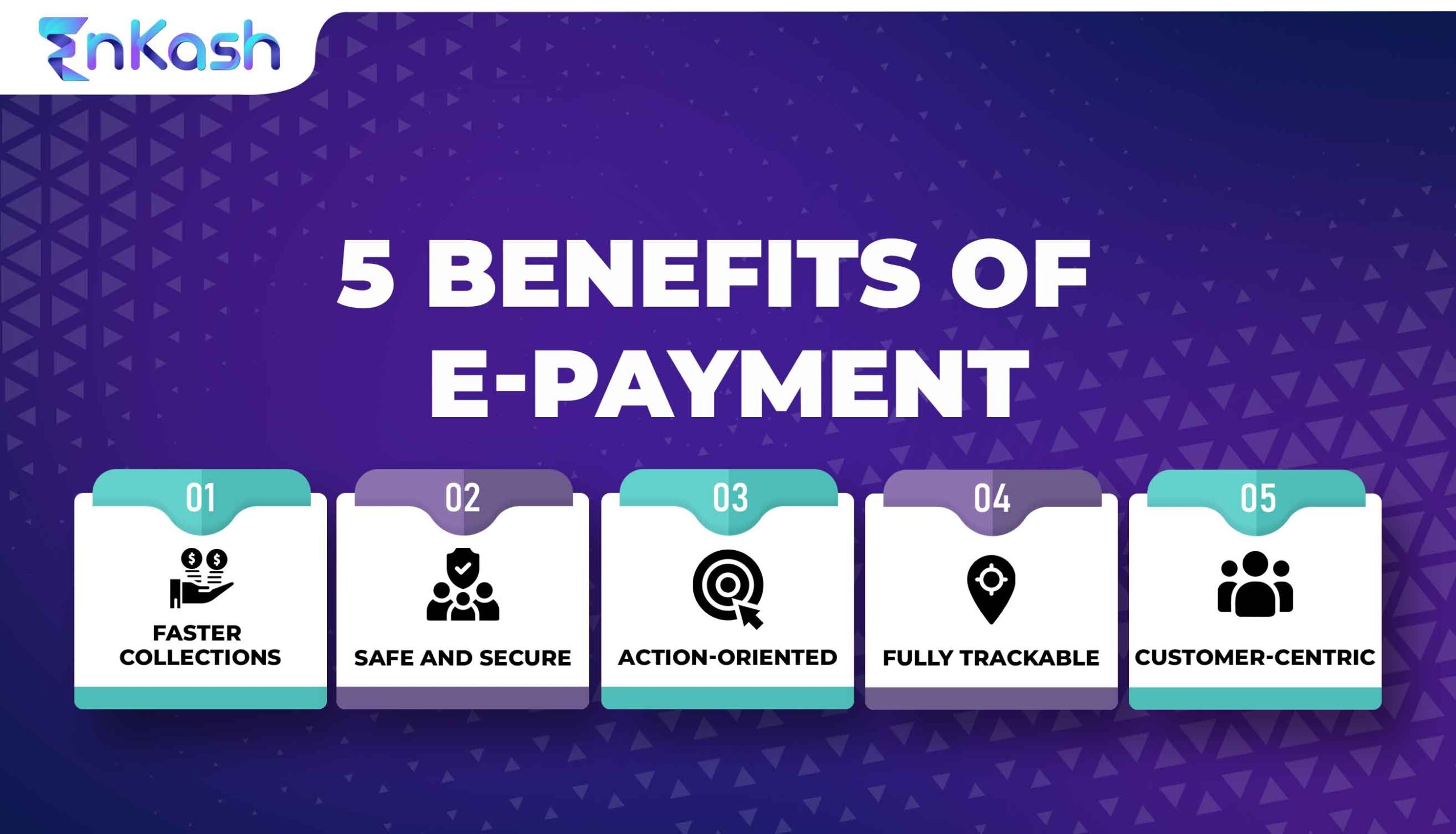 5 Benefits of E-Payment
Faster collections
Yes, we are talking about collections here rather than payments. How do e-payment options ensure quicker and more efficient collections? It's simple. When you embed an online payment link onto the bill or invoice, it spurs the receiver to take action. In most cases, the delay in payment is because the customer or buyer has to switch from one device to another and in most cases go through a long process to make the payment. With the e-payment option, most of the actions take very little time including entering the OTP to make the payment.
Safe and secure
Imagine you had to make a huge payment to your utility provider or your supplier. If you had to carry the cash to make payments, it would make you vulnerable to losing it or getting robbed. Or if you had to write a check, get it signed or sign it yourself, it would take time. What is more, wrong date or amount mismatch or signature mismatch in the payment failing. But with online payments, not only do you have security in the virtual sense but also in the physical and timeline sense.
Action-oriented
With the more conventional methods of payment, the chance of not paying on time or missing out on-time rebates becomes a possibility due to the longer process. It is a daunting process to get a physical payment instrument or cash ready but electronic payments are not like that. You have the option to check for the availability of funds, click on a link to authorize the payment, or get the authorization and proceed to make the payment without moving from the place you are working from. Online payments are more action-oriented, spur you on to the next steps, and help you close the loop.
Fully trackable
When you make cash payments or use drafts to make the payment, it becomes a longer process to track the expense. You either need a bank entry to be updated when the check is encashed or get a receipt for the cash payment. Among the many benefits of electronic payments, easy-to-track would be on the top. The request for payment, the checking and authorization, the approval to pay, the payment received, and the reflection of the amount deducted from your account, takes place automatically.
Customer-centric
While the availability of options for electronic payment offers you many benefits, one of the leading benefits is making you more customer oriented. Imagine that you had a business where you deal with many stakeholders like vendors, suppliers, customers, shareholders, employees, etc. but did not have provisions to receive or make e-payments. The sheer amount of paperwork would make it difficult for you to meet the requirements of external and internal customers.
E-payments are here to stay. Here's what you need to do next
As a business owner in today's competitive environment, you need to make sure that you reinforce the e-payment or online payment system that you have. You could consider a complete spend management platform like the one that EnKash offers. Our platform offers an AI-powered dashboard to help you keep track of expenses. Additionally, we also offer corporate credit cards, purpose-built cards, prepaid cards, and an easy credit line of up to INR 1 cr. Talk to customer support to learn more.
To know more, visit EnKash. You can also click below on Signup Now and we will reach out to you soon.