Did you know that the structure and category of your business can make a big difference when it comes to many aspects? Yes, it does. Whether it is the kind of capital you have to raise or the kind of orders you want to get, in terms of venture capital, or your liability in case required. 
Each country has some distinctive types of businesses or categories and in this article, we will look at the different types of businesses in India. We will go deeper and discuss the pros and cons of each type of business and the one most suitable for you if you are starting a new business.
What are the different types of businesses in India?
Let us look at the different business categories that you can consider if you are starting a new business or considering restructuring your business. 
Private limited company
A private limited company has a lesser number of shareholders and the equity is defined as per the articles of association. In most instances, the transfer of shares is restricted and private limited companies generally cannot offer shares to the public.
Here are the main features of a private limited company:
Distinct legal existence
As opposed to a sole proprietorship, a private limited company is a distinct legal entity and is considered separate from the promoters. This, in turn, means that any legal action taken on the company need not apply to the promoters, though they do have some responsibilities. In the same way, a private limited company can sue others as a distinct legal entity.
Capacity to borrow
As a distinct business entity, the private limited company has the option to borrow on the strength of its financials. Banks are more likely to consider private limited companies as an acceptable entity for borrowings than other partnerships and sole proprietorship businesses 
Option to exit
As specified in the articles of association, you may exit the business by selling your shares with other directors or promoters. Unlike a sole proprietorship, where this is not possible private limited companies offer you this option.
Partnership firms
In a partnership firm two or more people get together to form a partnership firm. The investments, the responsibilities, and the profit sharing is decided mutually by the partners and are entered into the agreement to use as a reference in the future. Though it is not mandatory to register a partnership agreement, it is advisable to do so. The liabilities are shared among the partners with no limits.
Here are some of the features of partnership firms:
Shared responsibility
Due to the shared responsibility for all aspects of a partnership, there is a cohesive approach to business, and this benefits and partners as well as the business.
Trust and synergy
Partnerships arise out of trust between the partners and the belief that each of them brings in their own skills and contributions. This, in turn, ensures that the partners have a lot of trust in each other and there's a synergy in all their actions.
Ease of financing
Banks and financial institutions tend to be favorably inclined to finance partnership firms due to their performance and continuity in comparison with sole proprietorships.
Sole Proprietorship
As the name implies, sole proprietorships are owned by a single individual. As a result, there is no distinction between the legal status of the business and the owner in this case.  This, in turn, means that a single person has ownership of all assets, liabilities, and profits of the business. 
While sole proprietorship seems a good option for those who want complete control and ownership, it also has some disadvantages.  Here are some of the main features of sole proprietorships:
Control
The complete direction of the business, the spending, and the way ahead are all decided by the owner. In case you want to retain complete control of your business, this is the way to go.
Flexibility
Sole proprietors have complete flexibility in the direction of their business or any other aspect since they are the sole authority. But this also means that any mistakes or errors are going to be the responsibility of the owner.
Finance
Since the owner of the business and the business are the same, there can be some hesitation when it comes to finding ways to finance the business. Banks and financial institutions often worry about the continued performance of the business and its ability to repay loans unless the financials and past performance of the business are strong.
Other types of businesses include Hindu Undivided Family, Limited Liability Partnerships, One Person Companies, Non-profit Companies, Joint Venture Companies, and Non-Governmental Organizations. All these are variants of the four basic categories of companies in India. 
Public limited company
A public limited company has been defined as a company that is not a private company. The public limited company has to have at least 7 people with a minimum paid-up capital each. Many public companies are listed on the stock exchange and the shares of the company are traded on the stock exchange. Public limited companies that offer shares to the public are subject to a lot of regulations. 
Here is a list of features of a public company:
Liability is limited
Since there are at least 7 members as shareholders on the minimum side and there is no limit to the maximum number of shareholders, the liability is limited to the extent of your share in the company. 
More members
It is likely that if your business is a public limited company, then there are many members as far as shareholders are concerned. However, as a member of the board of directors, your responsibilities could be different from general shareholders.
Longer existence
A public limited company is a separate entity and is not affected by the loss or demise of a shareholder. And if well run, can enjoy a longer existence than other forms of businesses.
Bigger capital
As a public company, your company has more options and venues to raise capital or even float debentures to raise money for your business. 
How to choose the right business type for your startup or small business?
Given below is a summary of the pros and cons of each type of business. You can make your decision based on your requirements and preferences for the well-being of your business.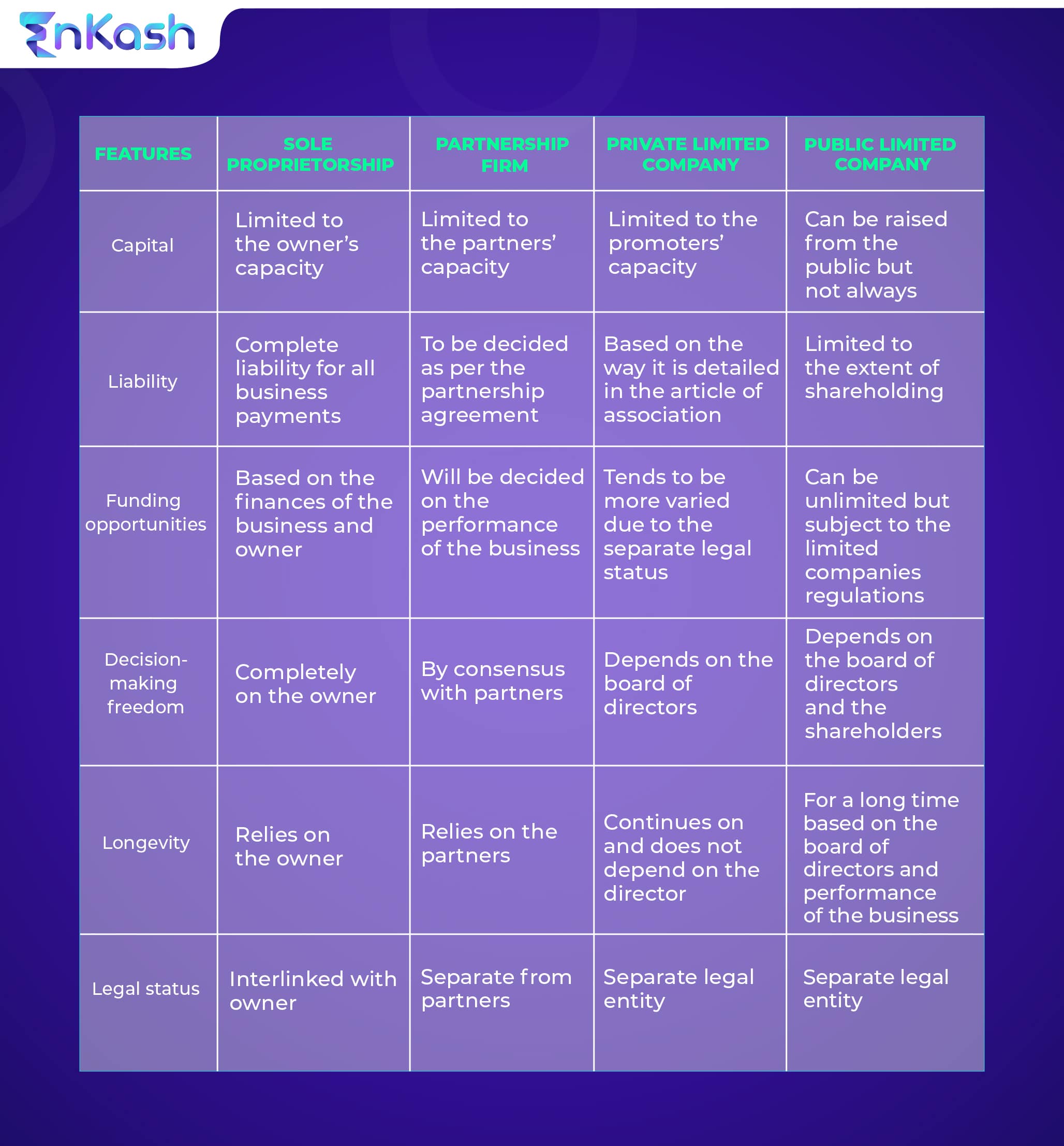 At EnKash, as Asia's 1st and smartest spend management platform, we specialize in supporting businesses like yours grow more, spend optimally, and save more.